Toby Lightman Comes Home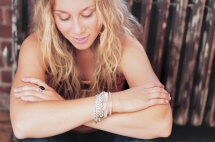 Cherry Hill's nationally acclaimed "petite" songstress, Toby Lightman, returns home to Camden County with fellow soul-infused contemporary, Raul Midon, making an exclusive stop at the Ritz Theater in Oaklyn on Thursday, February 17 at 7:30pm.
No stranger to the road, Lightman has garnered critical acclaim in previous travels with Howie Day, Gavin DeGraw, Josh Kelly and Edwin McCain. Most recently, the sultry chanteuse was handpicked by Prince to open a select date for him on his sold-out Musicology tour.
This winter is a busy time for Toby. In addition to her touring schedule, she is continuing to write and record the follow up to her critically acclaimed major label debut, Little Things (Lava/Atlantic). Collaborating with Lightman on her sophomore effort are Drew Ramsey and Shannon Sanders (India Arie), Jeff Trott (Sheryl Crow) and Michelle Bell (Mary J. Blige), among many others. The powerful vocalist Ialso is guest starring in an episode of the popular TV show, American Dreams, airing this month. Joining other singer-songwriters like Alanis Morrisette, Gavin DeGraw and Bonnie McKee, who have performed in the show's The Lair, Toby is showcasing her soulful range with a heartfelt rendition of Otis Redding's, "That's How Strong My Love Is".
Since the release of her Lava Records debut, Little Things in March of 2003, Toby Lightman has created quite a buzz. The hypnotic singer-songwriter has appeared several times on national TV, including performances on the Late Show with David Letterman, Late Night with Conan O'Brien, Last Call with Carson Daly and the Late Late Show with Craig Kilborn. According to Entertainment Weekly, "Lightman's debut suggests bigger things to come," while the Boston Globe reports, "Lightman's confidence is a thing of beauty, as is her songwriting skill."
Raul Midon straddles pop, soul & jazz with a hair-raising, show-stopping voice and dazzling guitar technique. He's been called the "spiritually and socially conscious, optimistic" (Miami Herald) new voice for our times.
After several years as the first call background vocalist in Miami's Latin industry, he made the move to New York City. Raul continued his solo performances around the city in such notable venues as The Beacon Theater, BAM Opera House and Joe's Pub. In spring 2004 he was invited to join The Tour of the Curbside Prophets led by Jason Mraz, which spanned the U.S. and Canada. This musical adventure allowed him to share his music across the continent! Midón's debut album will be released this year on Manhattan Records and will feature several special guests, including Stevie Wonder.
Tickets, $15, can be purchased at Echelon Mall, Winslow Service Center, Cherry Hill Mall and the new Gloucester Township County Store at 1333 Blackwood-Clementon Road, Clementon. Tickets can also be ordered by phone at (856) 858-523 or online at www.ritztheatreco.org.
Visit Camden County Parks at www.camdencounty.com.
Visit Toby Lightman at www.tobylightman.com.
Visit Raul Midon at www.midon.com.
Article continues below
---
advertisement


---
Author:
Press Release-Randex Communications
Archives
---
A TALE OF THREE WEDDINGS
Timber Creek's Leary heads to Illinois
One of Us
Truer Words Have Been Spoken
A Thriving County
Executive Q&A
A Man of Many Faces
Super Women
Vocal Leader
Seeking Acceptance
The Business of Health Care
Mommy's Gone Viral
Singles: December 13
2017 Men of the Year
The Weekender
More...