Help Warm Up America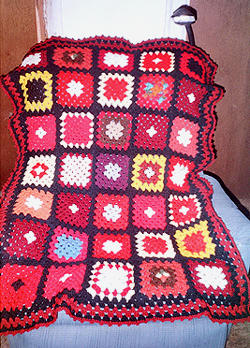 The Burlington County Library and Crochet Guild of America, South Jersey Chapter invite all county residents to help Warm Up America.
What is Warm Up America? - In 1991, a knitting yarn retailer in Wausau, Wisconsin, decided there had to be a way to help the homeless. Their simple concept of asking the community to knit and crochet 7" X 9" sections that would be joined into afghans grew into a nationwide program that has produced more than 80,000 afghans. These afghans have been donated to victims of natural disasters, battered women's shelters, the homeless, and others less fortunate than ourselves.
The Burlington County Library and all of its branches are joining the project by becoming designated drop-off locations for the 7"x 9" sections. We will also be helping out by having our knitting and crocheting groups make sections during their classes for the next two months.
How can you help? – You can make a difference to someone in need by crocheting or knitting one or more sections. Knit or crochet one or more 7"x 9" sections, any style, any color of yarn and drop them off at your local branch of the Burlington County Library system.
Putting it all together – Join us on Saturday, October 8th from Noon to 4pm. Members of the Crochet guild along with library staff will congregate in the meeting room of the Burlington County Library in Westampton to join the 7" X 9" sections into afghans and prepare them for distribution.
For more information about "Warm Up America," visit their website at http://www.warmupamerica.com/.
The Burlington County Library is located at 5 Pioneer Boulevard at the corner of Pioneer Boulevard and Woodlane Road in Westampton. For additional information call (609) 267-9660 x. 3036
Article continues below
---
advertisement


---
Author:
Press Release
Archives
---
A TALE OF THREE WEDDINGS
Timber Creek's Leary heads to Illinois
One of Us
Truer Words Have Been Spoken
A Thriving County
Executive Q&A
A Man of Many Faces
Super Women
Vocal Leader
Seeking Acceptance
The Business of Health Care
Mommy's Gone Viral
Singles: December 13
2017 Men of the Year
The Weekender
More...