The Battle of Iron Works Hill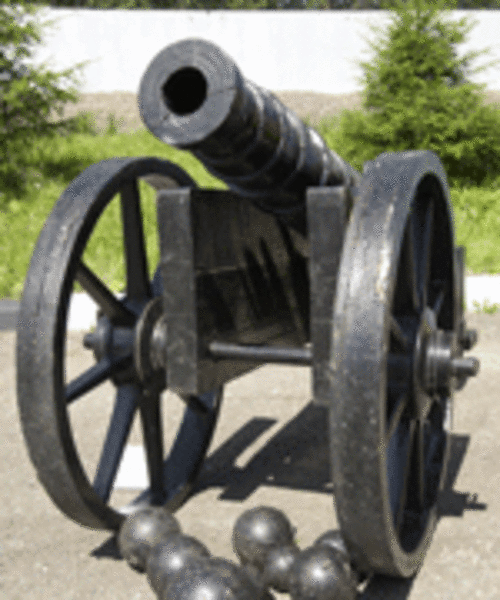 The Battle of Iron Works Hill, which took place more than 239 years ago, was Mount Holly's contribution to the Battle of Trenton.
By December 1776, the British army had claimed victories on White Plains, New York City and on Long Island, and were hunkering down for the long, cold winter. The Brits stayed mostly in New York, but there were roughly 3,000 troops (soldiers) staying in New Brunswick and in Princeton; 1,500 in Trenton; 2,000 Hessians and Scotsmen at nearby Bordentown; and some smaller groups at Black Horse (Columbus) and Mansfield Square.
The British forces believe that Washington's Pennsylvania forces (5,000 troops around Newtown, 1,500 at Bristol, and 1,000 in Philadelphia) were also all laying low for the winter.
That was not the case. On December 17, General Washington ordered Colonel Griffin to cross the Delaware River with 600 men and march through Moorestown to Mount Holly. His troops comprised mostly untrained boys and men from local towns and farms and two companies of Virginia riflemen and artillerists, who encamped at Mount Holly and set up a few "3-pounder" artillery pieces on Iron Works Hill.
The Hessian commanders at Black Horse and Bordentown received reports that there were 3,000 American troops in Mount Holly and amassed some 2,000 troops by Christmas at The Mount in Mount Holly. There ensued a one-day cannon battle with rebel forces occupying Iron Works Hill, south of Rancocas Creek, on the far side of the town. The Americans left their positions that night and moved on to Moorestown. The Hessians stayed, celebrating with the confiscated contents of a local brewery.
On December 26, the highly successful Battle of Trenton was underway, resulting in an incredible victory, including the capture of 1,000 prisoners. The outcome of this battle was greatly affected by the number of Hessian soldiers that had been drawn away from that site by Colonel Griffin's troops in Mount Holly.
Since 2003, Main Street Mount Holly has held an annual commemoration of the Battle of Iron Works Hill. (Go to ironworkshill.org for information about his year's event). More than 100 period living history interpreters in full regalia come to town for drill and musket firing demonstrations, campfire cooking, period crafts, surgical field hospital demonstrations, and camp activities in the yard of the Burlington County Prison Museum, along with other historical sites that are open that day. The Friend's Meeting House hosts presentations by authors and historians. The downtown is the site of a cannonade and skirmish between Hessians and militia. The primary goal of this event is to educate the public on the importance of this event in the success of Washington's victories at Trenton and Princeton.
Go to mainstreetmountholly.com or ironworkshill.org for more information.
6/12/15
© SouthJersey.com 2015. All rights reserved. This article or parts thereof may not be reprinted or reproduced by any other party without the express written consent of SouthJersey.com. For more information, please call 856-797-9910.
For more South Jersey History, visit our South Jersey History page.
Article continues below
---
advertisement


---
Author:
Editorial Staff--SouthJersey.com
Archives
---
A TALE OF THREE WEDDINGS
Timber Creek's Leary heads to Illinois
One of Us
Truer Words Have Been Spoken
A Thriving County
Executive Q&A
A Man of Many Faces
Super Women
Vocal Leader
Seeking Acceptance
The Business of Health Care
Mommy's Gone Viral
Singles: December 13
2017 Men of the Year
The Weekender
More...