Shutter Speak: S. Jersey's Photographers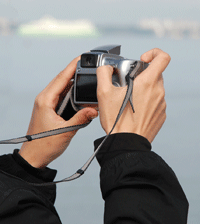 Creative Genius Art Gallery & Studio is teaming up with the South Jersey Camera Club to present an unusual new exhibit of original photography from the brightest emerging photographers in South Jersey. The fine art and fine craft gallery and studio, located in the heart of Medford and recently expanded, is the perfect venue for the photographic collage that will be presented. The exhibit is titled "Shutter Speak" and will showcase the talents of many South Jersey Camera Club members in good standing. The list is extensive and includes photographers of all levels, from award-winning professionals to some of the newest members. The exhibit opens on Saturday, January 17th, 2009 with an opening reception from 6-9pm. Refreshments will be served and many of the photographic artists will be in attendance. This exhibit will be on display through March 1st, 2009.
Gallery owners Julie Basello-Holt and Chris Holt think this exhibit will go a long way in presenting photographic art as a wonderfully creative addition to home decor. The gallery works with many collectors of photography and showcases unusually interesting photographs from a variety of local photographers on a regular basis. For this exhibit, all of the photographs showcased will be hung in an unusual way: they will be presented unframed in standard-sized mattes.
Each print will be matted simply and presented without a frame so that viewers may focus on the true quality of the photographic art without any distractions. Rather than a specifically themed exhibit, the focus will be on the outstanding variety of photographic genre from South Jersey Camera Club members. For artist information and a sample of the work in the upcoming exhibit, please visit www.creativegeniusonline.com/currentexhibit.htm
Because Julie Basello-Holt works as a portrait photographer when she is not in her gallery, she decided that this photography exhibit would be a great way to give back in a way that is important to her. A portion of the proceeds from all exhibit sales will be donated to Flashes of Hope, a non-profit organization that is dedicated to creating powerful, uplifting portraits of children fighting cancer and other life-threatening illnesses. The portraits are taken by award-winning photographers who donate their time and resources to help children feel better about their changing appearance by celebrating it. For families of terminally ill children, it's especially important to have a portrait that preserves forever the beauty, grace and dignity of their child. "I admire anyone who can use their talents to help others in such a direct way", says Basello-Holt. "People don't always think of the arts as having such a direct impact and when I found out about this organization I knew I had to help in whatever way I could." She aspires to one day be a volunteer photographer for Flashes of Hope and thought that tying this exhibit in would be a great way to start to help. For more information about Flashes of Hope, please visit www.flashesofhope.org
The South Jersey Camera Club is celebrating their 32nd year promoting the art and science of photography. Among its goals is the desire to unite others in sharing similar interests, to exchange ideas and photographic expertise and to enhance the skills of the club members. The club sponsors and active program to achieve these goals which includes competitions, speakers, workshops, field trips, a monthly newsletter and more. Monthly programs are open to everyone (membership is required for entering competitions and attending field trips and workshops). The club meets at 7:30pm the third Tuesday of each month from Spetember through June at Medford Leas Community Center in Medford. For more information, visit www.sjcameraclub.org.
If you have never been to Creative Genius Art Gallery & Studio you are in for a visual treat. Named Best Art Gallery in SJ Magazine's Best of SJ Issue in 2007, Medford's first contemporary fine art and fine craft gallery now has even more space to dedicate to hand-crafted, decorative and functional fine art and fine craft. On display are works created by over 150 artists both locally and from throughout the United States. There are items available in many styles and price ranges and the atmosphere is accessible and friendly. New and exciting creations arrive all the time from different artists so clients can take advantage of the opportunity to look for creative finds for that special gift or as a treat for themselves. Conveniently located at 32 North Main Street in historic Medford Village, Creative Genius Art Gallery and Studio has, for the past five years, offered American-made creations and proudly supports the American artists who create the art showcased. In addition to the gallery, Creative Genius is also comprised of a studio, offering art instruction and events for both children and adults including weekly classes, a full schedule of workshops, Girl Scout clay and ceramics badge classes, custom art parties, children's summer day camps and more. Additional information about classes may be found on the Creative Genius website. Basello-Holt stresses that adults have just as much fun as children do in the classes, workshops and parties they attend. "Art activities are a great way to get together with friends, learn something new and enjoy time spent together", she says.
Gallery owners Julie Basello-Holt and Chris Holt combine many years of skill in art instruction, education and operations management with their passion for visual arts to create the Creative Genius experience. The gallery and studio offer a personalized and unique artistic shopping and learning experience and a chance for everyone to get inspired, to tap into their creative genius side, what the Holts like to refer to as "Art for who you are!".
Article continues below
---
advertisement


---
Author:
Press Release
Archives
---
A TALE OF THREE WEDDINGS
Timber Creek's Leary heads to Illinois
One of Us
The Weekender
Hometown Flavor
Hoop Dreams
Symon Says
Food & Drink: Raise a Glass
Off the Ice
Rewarding Work
Dig This
The Berlin Cemetery
A Southern Mansion
Fire on the Morro Castle
Pine Barrens Fire of 1936
More...