Jersey Devil: Fact or Fiction?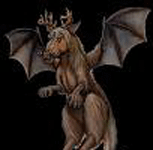 If you are from South Jersey, odds are that you are somewhat familiar with the legend of the Jersey Devil. Even folks from Pennsylvania, Delaware and Maryland have claimed to see the beast. There are some varied versions of its origins, but there is one version that remains the most well-known.
Legend has it that in the 1700s, a woman by the name of Deborah Smith married a Mr. Leeds, and they lived around the New Jersey Pinelands area. Together, they had 12 children. During the painful birth of her 13th child, she cursed the child:"May the devil take it!" This child was said to then have been born deformed, or changed from a beautiful baby immediately to a grotesque combination of species--some say with the head of a collie, face of a horse, wings of a bat, and cloven feet. It immediately escaped by flying out of the house through the chimney, terrorizing the people of the area, and mutilating animals--supposedly to this day.
There are actually a few different origin stories, but in most, the name Leeds is mentioned. Some say Leeds was the family name, others claim the location of the unfortunate family was Leeds Point. Regardless of where it came from, there are accounts on record of sightings of the creature over the years-- with the most frequent sightings occurring in 1909. The most famous account was when Councilman E.P. Weeden of Trenton was awakened by a flapping sound outside of his home. He reported finding cloven footprints in the snow as well.
The largest sighting ever reported took place the week of January 16, 1909, where tracks were found all over South Jersey and Philadelphia. The devil was first sighted in Woodbury where the witnesses claimed to spot a flying creature with glowing eyes.
Another sighting took place in 1927 when a Salem cab driver was fixing a flat tire. The creature flew onto the hood of his car and shook it violently. It flew away shortly after, not harming the man.
In 1961, a couple that was parked in the Pine Barrens fled the scene of the devil crushing the roof of their car. They returned later and heard the screeching sound of the creature. They, too, were not harmed.
In the early '80s, there weren't as many sightings as there was evidence of the creature's attacks. Animals such as cats, dogs, livestock, and others were found killed, torn apart, with unidentified tracks around the bodies.
There are many theories as to what type of creature the devil might be. It is believed that it might be a sand hill crane. This animal used to reside in South Jersey, until man forced it out. It is about 4 feet tall, weighs about 12 lbs. and has a wingspan of about 80 inches. It will fight if confronted, however it wouldn't attack livestock, which flaws this theory.
Some believe it is a Jurassic creature that survived underground; however, the Academy of Natural Sciences couldn't find records of any creature, living or not, that resembled the devil.
The devil is about 260 years old now, and sightings have decreased over the years. However, whenever the Jersey Devil is reported dead, another sighting is documented shortly thereafter. Interestingly enough, the state of New Jersey has capitalized on its unique folklore with t-shirts, toys, comic books, and as the name of the state's NHL team.
While some have accepted the fact that the devil is nothing more than a myth to entertain and unite the natives of New Jersey, others take it extremely seriously, and believe that this creature does exist, and that he is a threat to the safety of all those that reside in and around the Pine Barrens. They claim to hear its screeches in the woods, and see evidence of its tracks around the woodsy area. One thing is certain though, whether or not the devil does exist, it is an interesting tale, and one that is unique to our state's history. And that is something to take pride in…or be frightened of. Either way.
Don't just take our word for it... do some research. The stories are exciting, scary, and maybe even a little silly, but you can't get past the fact that so many South Jerseyans have seen what they believe to be The Jersey Devil!
7/20/15
© SouthJersey.com 2015. All rights reserved. This article or parts thereof may not be reprinted or reproduced by any other party without the express written consent of SouthJersey.com. For more information, please call 856-797-9910.
For more South Jersey History, visit our South Jersey History page.
Article continues below
---
advertisement


---
Author:
Editorial Staff--Southjersey.com
Archives
---
A TALE OF THREE WEDDINGS
Timber Creek's Leary heads to Illinois
One of Us
Truer Words Have Been Spoken
A Thriving County
Executive Q&A
A Man of Many Faces
Super Women
Vocal Leader
Seeking Acceptance
The Business of Health Care
Mommy's Gone Viral
Singles: December 13
2017 Men of the Year
The Weekender
More...