Greenwich: To Tea or not To Tea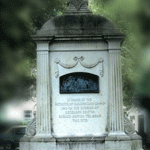 Greenwich is a town along the Cohansey River in Cumberland County, just five miles from the Delaware Bay. A man by the name of John Fenwick, who established Salem, planned on Greenwich being a manor town; however, he died before the town was settled. His plan was followed, though, and the first manor acreage was sold to Mark Reeve in 1684. And by the 1690s, a small port community was developing. Interestingly enough, this little town has a richer history than how it was founded.
Thriving Community
By 1701, Greenwich had become one of three official ports of entry for New Jersey. Foreign ships would unload their cargos, where they then were either taken by land or transferred to smaller boats to go to Philadelphia or Burlington. Warehouses and merchants began to turn up and shipbuilding and repair became an industry.
The Last Tea Party
The townspeople of Greenwich were just as appalled as those in Boston, New York and Annapolis by the British Tea Acts. Similar to the protest in Annapolis, December 22, 1774 became known as the Last Tea Party. After that, it was war against British loyalists.
The tea burning at Greenwich was inspired by Philip Vickers Fithian, who passed through Annapolis on his way home from Virginia just after the tea burning that had taken place there. About the time he arrived home, the ship Greyhound was bound for Philadelphia with a load of tea. He knew a loyalist in Greenwich, so he put into port and hid the tea in the cellar of Daniel Bowen. This didn't please locals, who protested paying taxes in Greenwich around 1714. On the night of December 22, 1774, a group assembled at the home of Richard Howell, and together rode to the home of John Fithian, and emerged dressed as Indians. They then broke into Daniel Bowen's cellar and removed the tea and burned it.
The owners of the shipment appealed to Gov. William Franklin, who then advised Sheriff Jonathan Elmer to arrest the well known participants. He did, and then chose a jury of sympathetic Whigs and his nephew to be foreman. The trial verdict was "no cause for action." Insulted by this, Gov. Franklin removed the sheriff and appointed Daniel Bowen. The second jury gave the same verdict, and eventually the owners of the tea, the Governor and the loyalists gave up.
Life after the Tea Burning
Those who took part in the tea burning ended up living very public lives. Most went on to enlist in the Continental Army: four would give their lives in the fight for freedom. Sheriff Elmer was elected as one of the first two US senators from New Jersey. Richard Howell was elected as Governor of New Jersey in 1792. Joseph Bloomfield, who was the defense attorney at both trials, succeeded Howell as Governor of the state. The town of Bloomfield was named after him.
In September of 1908, a monument was created to honor the Greenwich Tea Party. Greenwich continued to flourish as a port town during the revolution, but gradually other towns began to overtake it as important sites. The growth of railroads bypassed Greenwich, which hindered the community's commercial life.
Interesting Facts
Settlers of Greenwich stayed close to the philosophy of John Fenwick. Surprisingly diverse in a time where tolerance wasn't common, Quakers, Baptists, Presbyterians and Episcopalians would sell land and accept church buildings of all other faiths. Acceptance was a big part of this community.
In 1725, Zachariah Barrows left money in his estate to found a public school for poor children. He wanted them to be taught to read, write and figure. It is one of the oldest public schools in New Jersey.
Greenwich remains a quaint bayside town of South Jersey. Full of history and charm, it has a lot to offer anyone who visits.
© SouthJersey.com 2014. All rights reserved. This article or parts thereof may not be reprinted or reproduced by any other party without the express written consent of SouthJersey.com. For more information, please call 856-797-9910.
For more South Jersey History, visit our South Jersey History page.
For more South Jersey Town information, visit our South Jersey Town News page.
Article continues below
---
advertisement


---
Author:
Sarah Arot
Archives
---
A TALE OF THREE WEDDINGS
Timber Creek's Leary heads to Illinois
One of Us
Truer Words Have Been Spoken
A Thriving County
Executive Q&A
A Man of Many Faces
Super Women
Vocal Leader
Seeking Acceptance
The Business of Health Care
Mommy's Gone Viral
Singles: December 13
2017 Men of the Year
The Weekender
More...