A Brief History of Camden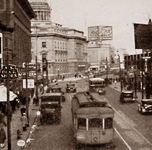 European activity in the present day Camden first occurred along the Delaware River, where Dutch and Swedish settlers tried to gain control of the local fur trade. In 1626, the first attempt at settlement was when the Dutch West India Company built Fort Nassau. It served as a trading center and storehouse until 1651 and was located in the present boundaries of Gloucester City. The growth of Philadelphia contributed to the industrial success of Camden. It attracted much trade, and because of this, ferries were put into use.
Industry in Camden
For more than 150 years, Camden was considered a secondary economic and transportation hub for Philadelphia. However, that changed in the early 1800s. One of the United States' first railroads, the Camden and Amboy Railroad, was chartered in Camden in 1830. This allowed for the travel between New York City and Philadelphia through the use of ferry terminals in South Amboy and Camden. This led to an increase in population and commerce in Camden.
Because of its location between two waterways, and its closeness to Philadelphia, it's no wonder why Camden was such a desired site for business. Also, with its transportation services connecting it to all the important towns of South Jersey, it made for an ideal place for business. Such businesses included lumber dealers, manufacturers of wooden shingles, pork sausage manufacturers, candle factories, coach maker shops that manufactured carriages and wagons, tanneries, blacksmiths and harness makers.
Originally just a suburban town with a ferry service, Camden grew into its own city, with industry and neighborhoods thriving. Richard Esterbrook's steel pen factory was flourishing. John W. Starr's twenty-five-year-old Camden Iron Works was on its way to becoming one of the largest manufacturing enterprises in South Jersey. Camden's lumber firms, oil cloth factories, woolen mills, chemical plants, and carriage factories showed growth as well. Through 1929, Camden was also the headquarters of the Victor Talking Machine Company, now known by its successor RCA Victor, the world's largest manufacturer of phonographs and records.
The John H. Dialogue Shipyard at Kaighns Point, later called Wood, Dialogue and Company profited by government contracts during and after the Civil War. Joseph Wharton's Camden Metal Works, later known as the American Nickel Works, began production in 1862 in a plant on Cooper's Creek near Tenth Street. It was the only nickel refinery in the country and served as the major supplier of nickel to the United States Mint for the manufacture of coins.
Important advancements in the transportation systems paved the way to the Industrial Revolution. Great improvements to the railroad systems and the implication of a trolley system helped with the connection of Camden to other towns in South Jersey.
Camden's Diverse Neighborhoods
The most significant growth of the population occurred between 1870 and 1920, during which time industry was flourishing. The population climbed from 20,000 to 116,000. The ethnicities of these people drastically changed during this time as well. German, British and Irish immigrants were the majority during the turn of the century, while in 1920, Italian and Eastern European immigrants dominated. These groups formed their own individual communities, having churches and synagogues contain the social center.
The Polish community developed in the area surrounding St. Joseph's Catholic Church on Mechanic and Tenth Street in 1913. The architecture of the church and the row homes leading to it, remain a beautiful sight today.
The Jewish community located in the Parkside area formed the Congregation Sons of Israel, the first Orthodox synagogue in South Jersey. That synagogue no longer remains, but the congregation has moved to Cherry Hill. The only remaining part of the Jewish population in Camden is the Moorish-inspired Temple Beth El designed by architects Edwards and Green at Park Boulevard and Belleview St.
The Italian neighborhood developed in the Bergen-Lanning area. Antonio Mecca's White House at the corner of Fourth and Division Streets is the best example of the former character of this neighborhood. The White House, a Mediterranean Villa built in 1908 for realtor and mortician Antonio Mecca, is sited close to two Roman Catholic churches, Our Lady of Mt. Carmel Church, 832 South 4th Street, and the church of St. Peter and St. Paul at Spruce and St. John Streets. The Italian Baptist Mission at 252 Line Street is another historic remnant of the Italian community.
Camden initially began as a medium through which travel to Philadelphia was made possible. It developed its own identity after the growth of industry began to take place. Once people began settling in, it finally became a community. Through the years, Camden has experienced many changes, but still retains its historical relevance.
Photo: Tri-County Jewish Historical Society.
© SouthJersey.com 2010. All rights reserved. This article or parts thereof may not be reprinted or reproduced by any other party without the express written consent of SouthJersey.com. For more information, please call 856-797-9910.
For more South Jersey History, visit our South Jersey History page.
Article continues below
---
advertisement


---
Author:
Sarah Arot
Archives
---
A TALE OF THREE WEDDINGS
Timber Creek's Leary heads to Illinois
One of Us
Truer Words Have Been Spoken
A Thriving County
Executive Q&A
A Man of Many Faces
Super Women
Vocal Leader
Seeking Acceptance
The Business of Health Care
Mommy's Gone Viral
Singles: December 13
2017 Men of the Year
The Weekender
More...