"Beautiful" story is anything but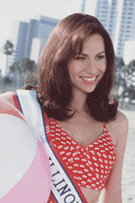 Minnie Driver is trashing her way through "Beautiful" (Columbia TriStar, PG-13) - asking us to believe that she could represent the state of Illinois all the way to the final three in the Miss American Miss contest. She plays the ultimate overachiever - a woman of common looks and modest talents who, through sheer will and singular ambition, claws her way to the top of the beauty queen heap.
In the middle of this movie, it hits me: "Survivor" is the post-modern beauty pageant.
So long, Miss America. Hello, Richard Hatch.
Stay with me on this one: New rules for the new millennium. Same results. No longer do we need to watch a bevy of white anorexic females who, from birth, are trained like racehorses to do one thing - win the tiara. We knew for years that the message they transmitted was sad, pathetic and very wrong. But there was nothing better on TV. So, we watched. And rooted for somebody, anybody, to beat Miss Texas.
Then "Survivor" came along. Same rules, same results - but playing with a set of values and aesthetics more in tune with today.
Now we get a group of contestants who no longer represent states. "Survivor" contestants represent states of mind. They encompass all ages, genders, ethnic groups, economic classes and educational strata. They parade before us and undergo many tests that enable us to judge them for personality, talent, swimsuits, ability to think and, of course, the sexiest attribute of all - the ability to survive. They scheme, they consort, they lie to each other, they form coalitions, they stab each other in the back - all the things we knew beauty pageant contestants did off camera.
"Survivor" has pageantry and a host who maybe can`t sing like Bob Barker, but he can deliver impressively shallow observations on the meaning off all that has transpired.
Perhaps the greatest improvement over traditional beauty queen pageantry, "Survivor" candidates get to vote against each other. This is the 21st century. We`re in an egalitarian mood in this millennium. Everyone has rights, everyone has a vote.
If "Survivor" survives, you will be seeing Little Miss & Junior Survival Schools, where kids will be taught the strategies and tricks needed to get a coveted slot on the show and win the big tiara.
Mona - Driver`s character - would make a wonderful "Survivor" candidate. She would poison her teammates, push them into crocodile pits, rub poison ivy all over their skin - anything to be the sole survivor. In this case, all she has to do is win beauty pageants, something she is driven from childhood to do - not by her lush of a mom or her lecherous boyfriend.
To Mona, beauty pageantry is an escape pod from a miserable white-trash life and dim future. She pushes herself hard - very hard - and uses everybody she can along the way. Through sheer persistence, at age 26 (retirement time for most beauty queens), Mona is named Miss Illinois and wins a trip to the Miss American Miss pageant in Long Beach, Calif.
But for six years, she`s hidden the fact that the daughter her best friend and seamstress Ruby (Joey Lauren Adams) claims as her own, really came from Mona. Ruby is as warm and giving as Mona is selfish and manipulative. Nice pair. The baby, Vanessa (Hallie Kate Eisenberg) has grown to despise Aunt Mona for her self-centered shallowness.
A couple of problems with "Beautiful."
There isn`t a character here you could really root for. Mona`s past is tragic but it can`t excuse who she has become. Vanessa is just a tad less unpleasant than the adult-voiced kid she plays in those Pepsi commercials. Ruby is just pathetic and to be pitied for her slavish devotion to Mona. Secondly it is darn hard to wring parody or satire from a beauty pageant. Half the time (the half taken up with Mona competing in pageants) you don`t know if this is meant to be funny or just a reflection of actual pageantry.
Maybe Mona was just ahead of her time. On "Survivor" Mona would have fed Richard Hatch to the fishes in the first episode.
ALSO THIS WEEK
"The Book of Shadows: Blair Witch 2" (Artisan, R, VHS/rental) The "Blair Witch" sequel arrives on video tap (next month on DVD) with something extra for fans. The film`s creators have inserted five secret words and images into the film, which are clues to "The Secret of Esrever." A little feature at the end of the movie explains all. The movie itself begins with a "documentary-like" look at the impact of the original low-budget psychological thriller on the Maryland town in which it is set. It is a fictional look at a fictional town set in a fictional movie. "BW2" plays it all as if it were real. Five young college-age kids descend on the town and the Black Hills woods in search of the missing trio from the original. As they camp overnight, five hours of their lives seem to have been misplaced ... much to their horror.
"The Watcher" (Universal, R, VHS/DVD) Keanu Reeves and James Spader star in this thriller about a man who must hunt down a serial killer. Reeves is the hunter of lonely women and Spader is the FBI guy who must bring him down before he kills again. More gore than one movie viewer can digest in a single sitting. Also stars Marissa Tomei, Ernie Hudson and Chris Ellis.
"Warren Miller`s Learn to Ride" (Buena Vista, VHS) The guru of eye-popping snow sport movies knocks out an instructional video for snowboarders, from beginners to advanced shredders. But, dude, don`t try this at home. Hit the slopes.
"Jackie Chan is The Prisoner" (Columbia TriStar, R, VHS/rental, DVD/$25) In this week`s Jackie Chan movie ... we find the master a prisoner in the toughest high-security prison in Hong Kong. Our man Jackie is almost turned into pudding the first night. Chan joins forces with his rescuers (Sammo Hung and Tony Leung) to clean up the corruption rampant among prisoners and prison officials alike. The DVD contains an audio commentary track by martial arts expert Phillip Rhee.
"Highlander: End Game" (Dimension, R, VHS/rental, DVD/$30) In this newly re-edited film - More steamy scenes! New ending! - the immortal Duncan McLeod of TV`s "Highlander" (Adrian Paul) and the theatrical immortal Connor McLeod (Christopher Lambert) join forces to fight the evil Jacob Kell (Bruce Payne) and his mob of immortal warriors. DVD bonus stuff includes commentary track by the movie`s producers, an earlier 100-minute cut, deleted scenes, two making-of featurettes and a game.
"Butterfly" (Miramax, R, VHS/rental, DVD/$33) Based on a collection of short stories by Manuel Rivas, "Butterfly" takes place in rural Spain in 1936 that cannot escape the strife of clashes between government and fascist forces. A blacklisted teacher and his young student struggle to maintain their strong friendship during the persecution. In Spanish with English subtitles.
DVD UPDATE
Available on DVD this week: "32 Short Films About Glenn Gould." Also this week and for the first time on DVD, from MGM: "The Abominable Dr. Phibes," "Die Monster Die!" "Dr. Phibes Rises Again," "The Wild Angels," "Man from Planet X" and "Attack of the Puppet People." DVD debut on March 13: The Michael (ex-Monkee) Nesmith underground comedy "The Tapeheads," starring John Cusack and Tim Robbins as a couple of video geniuses who engineer the "revival" of the fictitious band The Swanky Modes (Junior Walker and Sam Moore).
Coming April 24: A cult classic: Long before Jim Carrey stole the "Grinch," the real Dr. Seuss created a live-action movie based on one of his own stories, "The 5,000 Fingers of Dr. T." Surreal, to say the least. The wonderful Hans Conried played the evil Dr. Terwilliker in this 1953 film. (It is currently available in VHS format, if you can find it. Try Amazon.com.)
COMING ATTRACTIONS
April 24: Oscar winner for Best Documentary last year "One Day in September." Also, Jason Alexander directs Gretchen Mol and Patti Lupone in coming-of-age comedy "Just Looking."
May 1: Matt Damon and Penelope Cruz in "All the Pretty Horses."
(c) Copley News Service
Article continues below
---
advertisement


---
Author:
Robert J. Hawkins
Archives
---
Quirky form of amnesia makes movie memorable
Sooner or later, you root for Joe Dirt
Outtakes may have saved The Mexican
Chocolate a sweet confection
You can count on this movie
Last dance, last chance
We have seen the enemy
Before Night Falls
Clueless in Chicago
A trilogy of hope
"Billy Elliot" a fairy tale for our times
The Titans - United they stood
"Almost Famous" is always entertaining
"Meet the Parents" is "comedy-torture"
Getting Netflixed
More Articles