Wedgewood Defends Tri-County Swim Title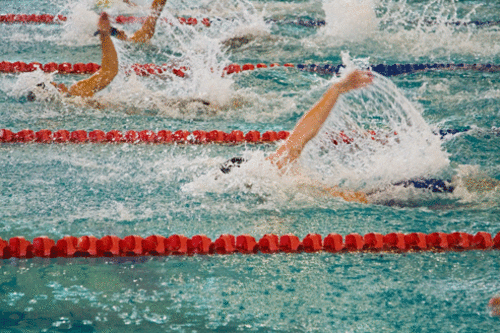 Last year, Wedgewood of Haddonfield won its first-ever Burt German Tri-County Swim championship, earning the title by 38 points. This year, the Ducks defended their title in a much more convincing fashion, claiming the championship by scoring 760.5 points. Second place Pheasant Run of Cinnaminson ended with 611 points. Another perennial Burlington County power, Deer Brook of Medford, captured third place with 542.5 points.
All three of the top teams, not surprisingly, compete in the A Division. There are six divisions with six teams each. The champion in Divisions B through F move up a division next year, while the last place teams in Divisions A through E move down a division next season.
Over the last few years, Wedgewood and Pheasant Run have enjoyed a strong rivalry. Pheasant Run had won eight consecutive Tri-County championships before Wedgewood interrupted that string last year.
In 2012, Wedgewood won the Division A title, only to see Pheasant Run come back to win the overall Tri-County title.
This was the 58th annual championships, held this year at Westwood Swim Club in Mount Holly. It was the culmination of the summer swimming season for one of South Jersey's most popular sports.
There are 36 swim clubs in the Tri-County League, comprising more than 4,000 participants. For a swimmer just to qualify for the championships is quite a feat because of the strong competition.
The age groups go from 8-and-under to 18-and-under, and what is special about the sport is seeing the younger swimmers and older swimmers bond with each other. It also means that the work of the 8-and-unders carries as much weight as the work of the older swimmers.
For Wedgewood, the victory was achieved because of the team's outstanding depth.
"It was a total team effort, with all the age groups contributing," said Wedgewood coach Jim Villa.
Before getting to Wedgewood's swimmers, it must be noted that several individuals set Tri-County records.
Nolan Jess of Greenfields in West Deptford set two records in the boys 9-10 competition. He won the 25 meter breaststroke title in 17.56 seconds and the won the 50 freestyle in 30.05 seconds.
Carter Orth, a long-time standout from Pheasant Run, also set two records. She went 1:04.02 in winning the Girls' 15-18 100 individual medley and 27.69 seconds in the 50 butterfly.
Julianna Foss of Deer Brook set the mark in the Girls 15-18 backstroke, in a time of 29.33 seconds.
Marissa Moskalow of Glassboro's Brookside set the record in the Girls 15-18 50 breaststroke in a time of 33.35 seconds.
Colin McHugh of Greenwood Park in Washington Township, claimed the Boys 15-18 record in the 100 breaststroke (1:02.54).
And David Rowe of Tavistock Hills earned the Boys 15-18 mark in the 50 butterfly (24.53 seconds).
Wedgewood's Tyler Christianson won two gold medals in the Boys 11-12. He won the 100 individual medley (1:10.09) and the 50 breaststroke (35.78).
Lilliana Kuball won the Girls' 8-under 25 breaststroke (22.50).
Conor Skelly captured the Boys' 13-14 50 butterfly (28.21).
Wedgewood's relays winners were the following: Girls' 8-under 100 medley relay (1:25.90) and the Boys' 15-18 200 free relay that won the meet's final race in a time of 1:37.42.
There were also many Top-6 finishers for Wedgewood both in the individual and relays, and it led to a repeat title. With so many talented young swimmers, Wedgewood will again look to make a bid to three-peat next season.
© SouthJersey.com 2014. All rights reserved. This article or parts thereof may not be reprinted or reproduced by any other party without the express written consent of SouthJersey.com. For more information, please call 856-797-9910.
For more Local Sports features, visit our South Jersey Sports page.
Article continues below
---
advertisement


---
Author:
Marc Narducci
Archives
---
Can't Hack It
Filling a Critical Void
Flyers reshape team
Power 50
A strong showing by South Jersey products in the MLB Draft
Cryptocurrency: Seeing Through the Hype
(Almost) Business as Usual
High school football teams keep a healthy balance during summer workouts
Putting the Success in Succession
Phillies' Realmuto is heating up
South Jersey pitcher is 37th pick in MLB draft
Mainland grad fully enjoys MLB draft
Millville's Kenndy moving up the minor league ladder
Phillies not in a bad position at the All-Star break
Memorable season for Bishop Eustace baseball
More...