Things are Heating Up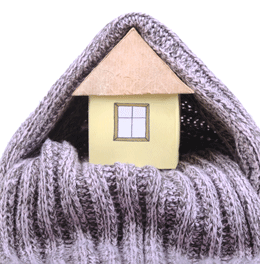 …From the pages of House & Home…
When it comes to staying warm, which option is best for you?
The basic necessities of life are food, water, clothing and shelter. It is said that as long as you have all four, you can make it through the grind of everyday life. Of course, having certain types of these necessities—including plenty of nutritious food, bountiful amounts of water, and climate-appropriate clothing and shelter—can be just as important. For example, as we head into the cooler months, having a shelter over our heads that provides plenty of warmth is a key to survival.
When it comes to heating your home, there are various options and they all come with their own pros and cons. From forced air to geothermal, homeowners have some decisions to make when deciding what type of system will work best for their home. We spoke with the experts to find out the details on a few different types of systems, and why homeowners might be inclined to choose one type over another.
Geothermal
Geothermal heating and cooling systems use energy from the ground to provide heating and cooling. The system requires a duct system and a series of drilled wells for extracting the energy out of the ground, according to Tom Chiavaroli, comfort specialist for C&C Heating & Air Conditioning in Souderton, Pa. "The air handler, hot water coil, water tank and water pumps complete the system," he says.
As one of the most energy-efficient systems, geothermal heating can reach close to 99 percent efficiency, says Matthew Corby, service manager for Binsky Home in Piscataway, N.J. Though energy efficient, they do have their drawbacks when it comes to installation. "They are the hardest to install which is why they are the most expensive system," he says. "Because of the efficiency, the higher price of these systems is worth it."
Nate Smucker, president of Smucker Mechanical in Gap, Pa., adds that another advantage to the geothermal system is that all of the mechanics are contained inside the home. "There are no outside units that can rust," he says. "[The components of the system] are located in the home, in the basement."
Possibly because of their cost, Chiavaroli says his company sees geothermal systems being installed more in commercial applications than residential, but they do see occasional new construction interest.
Forced Air
Of all the systems our experts discussed, forced air was cited as the most popular.
"It is one of the most efficient systems, with ratings of 80 and 90-plus percent," Corby says. "These systems are the easiest to install, for both new and remodel [projects]. They are also the easiest to add air conditioning to, replace and maintain."
These systems circulate air by fan, according to Chiavaroli. "The air is discharged through ceiling, wall and floor registers and there are either furnaces or air handlers," he says. "They can be fueled by electric, gas or oil."
Chiavaroli notes that forced air heating systems seem to be the most popular in the HVAC market and that C&C uses them a lot for replacement business and new home construction. "[The systems can also] be accessorized easily with air quality items like media filters, humidifiers and ultra violet systems," he adds.
Hydronic
Hydronic, or radiant heat systems, distribute water or steam heated by a boiler throughout the home, either by baseboard, radiators or tubing, Chiavaroli says. These systems are typically found in older homes. "They do take up space and are losing popularity, except for maintaining the vintage styling of the home," he says.
"We have been seeing more tubing systems in floors over the past 10 years due to material and product enhancements, but they are still not as popular as forced air systems."
John Brown, owner of John's A-C & Heat in Bellmawr, N.J., says another reason hydronic systems are losing popularity is because they are mostly heat-only applications. "You end up having to put two systems in—you have to have a separate forced air system for air conditioning because everyone wants air conditioning," he says. "Very few people want to spend twice the amount of money to get a heating and cooling system installed."
In terms of efficiency, Corby says the boilers used in these systems have a wide range of efficiencies, and "as expected, the more efficient the system is, the more expensive it is." He does note these systems are not difficult to install or maintain.
Making a decision
As with any decision a homeowner must make in regard to his or her home, what it really comes down to is what will work best for the individual home. While geothermal may be considered the most energy efficient system, it may not be the best option for homes that don't have a basement where the system can easily be installed.
Cost is also a factor, as Brown points out. "Unfortunately, with new construction, everything is about 'How cheap can I put it in?'" he says. "That doesn't normally translate into high efficiency. For example, heaters are rated by their annual fuel utilization efficiency, which is like miles per gallon. Eighty percent is the federal minimum for heaters, so that's what most houses are built with. The dollar difference is probably not more than $300 to buy a 95 percent over an 80 percent, but the builders want to buy the cheaper system. That's sad because the average homeowners, given the opportunity to spend $300 more on a more efficient system, would likely do so."
Consulting with a qualified installer can also help to clear up any questions or concerns, and can help make the decision a little easier. Keeping your home properly heated is a priority, after all, and you want to make sure you're doing it with the system that is best suited for your home.
RESOURCES
Binsky Home
Piscataway, N.J.
(732) 885-0700
BinskyHome.com
C&C Heating and Air
Souderton, Pa.
(215) 799-0515
CC-HVAC.com
John's A-C & Heat, Inc.
Bellmawr, N.J.
(856) 933-9300
JohnsAC.com
Smucker Mechanical
Gap, Pa.
(717) 768-8142
SmuckerMechanical.com
The Fixer Heating and Air
Newark, Del.
(302) 540-5152
TheFixerHeatingAndAir.com
Published (and copyrighted) in House & Home, Volume 15, Issue 4 (October, 2014).
For more info on House & Home magazine, click here.
To subscribe to House & Home magazine, click here.
To advertise in House & Home magazine, call 610-272-3120.
Article continues below
---
advertisement


---
Author:
Amanda Hamm Hengel
Archives
---
A TALE OF THREE WEDDINGS
Timber Creek's Leary heads to Illinois
One of Us
Truer Words Have Been Spoken
A Thriving County
Executive Q&A
A Man of Many Faces
Super Women
Vocal Leader
Seeking Acceptance
The Business of Health Care
Mommy's Gone Viral
Singles: December 13
2017 Men of the Year
The Weekender
More...