The Excitement Builds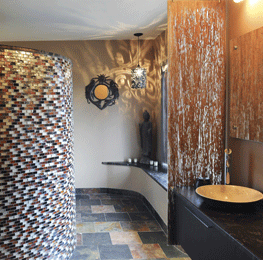 …From the pages of House & Home…
Beginning that much-desired kitchen or bath renovation
There may be no more thrilling home renovation than the bathroom or kitchen. The most crucial spaces in our homes, they are also complicated rebuilds not exactly known for their quick completion time. So homeowners may find themselves in need of help getting through it all.
Things to think about
At the beginning of the process, many homeowners feel overwhelmed, says Martha Reinhardt, vice president of Robinwood Kitchens Inc. of Berkeley Heights, N.J. "There are so many choices, and … considering most projects are for a large sum of money and have to be lived with for a long time, this is a very valid feeling," she says.
Before getting started, think about your motivation and goals for the project, says Steve McGill, estimator/designer of Munz Construction of Holland, Pa. "These can vary drastically—from a tired space that needs updating to parts of the space that are damaged or not functioning properly."
"[Homeowners] should think about how long they plan on living in their home, and what budget amount they do not want to exceed," says Dave Dilworth, director of Sales and Design for Dilworth's Custom Design, Inc., serving parts of Chester and Montgomery counties within a one-hour rush-hour drive of their Phoenixville, Pa., shop.
Budgeting is definitely a first step when it comes to kitchen or bathroom renovations, says Jeffrey Huddle, showroom manager for All Marble, Granite & Tile of Cherry Hill, N.J. "Determining a budget first can help eliminate wasteful shopping, and looking at the wrong materials that may look great but be completely [beyond available funds]."
Robin Reinhardt, president of Robinwood Kitchens, Inc. of Berkeley Heights, N.J., shares similar sentiments.
"A cabinet is a cabinet. Some … are better than others. It's really who is doing the job that counts," she says.
Ask yourself questions, suggests David R. Cerami, CKBR, president of HomeTech Renovations, Inc. of Fort Washington, Pa. "What looks good? What appeals to you? What is your personal style? What do you like?" He says that for some homeowners, this may mean differentiating between "desire" and "need."
Begin assembling a plan, says McGill, either doing it yourself or hiring a professional. "The devil is in the details. Kitchens and baths are complex spaces," he says. "At the same time, they are typically spaces filled with more design elements that need to be incorporated together, such as tiles and woods, fixtures and lighting, colors, textures and finishes."
Deborah Spinosa, profit center manager of Weinstein Bath & Kitchen of Collegeville, Pa., has a few tips of her own for homeowners taking on a kitchen or bath renovation.
• What are you trying to accomplish—increased efficiency of space, better flow, or general updating of the space?
• What is your preferred style (modern, traditional or transitional) and color scheme?
• What will the remodel add to your home's value?
• What is the desired completion date? "Set a realistic target completion date so that [you're] not frustrated by the process," she says.
Mistakes we make
When taking on any home renovation project, there are always pitfalls you can avoid. First, keep track of the budget, says Huddle. "Too many times [projects have] spiraled out of control because the budget was not followed. Another mistake is choosing the lowest bid or cheapest price for product and services. It's always best to get at least three estimates. Make sure that cheap price isn't because of inferior quality, or the contractor is unreliable," he notes.
Homeowners tackling a job that is over their head is another huge mistake, says McGill. "[T]hey can encounter problems they didn't even know existed," he says. Finding a contractor you can trust can be a challenge, too. "Trust is an important part. … These remodels can take weeks to months to complete," he says. "You can be dealing with the contractor for an extended length of time. Knowing that you can work with the firm is important."
Another mistake is not doing your research, says Spinosa. "Ask for references from any prospective tradesperson and call [them] to see if a project was completed to the satisfaction of the homeowner," she says. Get clear and written cost estimates with expected completion dates. Doing this protects the homeowner and the tradesperson, should there be a disagreement or confusion, she says.
Being unclear of what you want is another big no-no, explains Spinosa, since this adds time and cost to the project. "Sit down with the [design professionals] before purchasing anything to identify the things that are most important to the homeowner," she says.
Hard realities
Another rule of thumb? A remodel always takes longer than expected and costs more, says Huddle. "Timetables fluctuate and delays are common. Understanding that is key to keeping one's sanity." Almost always there are unforeseen things that arise during a project [that were not budgeted for]. To make things easier, listen to the contractor. "Discuss budgets and review the contract and payment schedules. But make sure that when things change, there is a face-to-face discussion." He notes that "I thought" statements can only cause confusion and arguments between homeowners and contractors. "If things change from what was agreed upon in the contract, make sure that change is in writing and that both you and the contractor sign and approve it," he says.
"Kitchens and baths are tough spaces because they affect homeowners' daily routines," says McGill. Be prepared for how this will change your routines, he says, and "have a plan in effect to cope with a kitchen or bath not being functional." Set up a "temp kitchen" during the construction and prepare simple meals while the project is under construction, he suggests.
Tips
If a homeowner has never taken on a renovation project, they could be unaware of the number of decisions it requires, says McGill. "If a client wants to ease the process … talk to someone in the field or someone who has gone through the process before." That includes the contractor, he says. "The most important topics to discuss are budget, scope of work, timeline and the relationship between the three," he says. Having a contractor that can work with a homeowner on all three is important to the project's success.
Some customers find looking at websites like Houzz to be helpful as well, Reinhardt says. Once the project begins, have a good idea of what weekly progress should be, and know who is going to be working at your house, advises Reinhardt. Are they long-time employees, vetted subcontactors [that are] licensed and insured? What is their skill set?
The right contractor/designer will meet with homeowners to legitimately understand their desires, says Cerami. "They really have to understand the homeowners' needs, existing infrastructure, budget. [You have to] have open discussions. There's no one price for a kitchen or bathroom. You have to establish a comfort level. Part of our process is a multi-page design survey to get homeowners thinking, what is important?"
Also, there is a difference between craftsman and designers/builders, says Cerami. "A design/build engineer has good communication and can put it all together," he says. "The guy who can do carpentry isn't necessarily good at everything. There is no substitute for somebody accredited, experienced, educated, so things endure and are done right."
Being involved in the process will also make a difference, says Spinosa, from choosing a reputable tradesperson to having a written contract (with costs and estimated completion dates) to deciding on important aspects of the remodel. Visit bath and kitchen showrooms or speak with a showroom specialist. Even visit manufacturers' websites to explore the products, finishes, colors, applications and warranties offered by manufacturers.
Huddle adds that homeowners should account for a 10 to 20 percent contingency reserve. If you're undertaking a $20,000 remodel, have $2,000 to $3,000 for unforeseen items. This can help offset upgrade costs as well. He also says to save time and reduce stress by preparing the home, making space available to store materials, and setting makeshift areas for washing dishes or cooking quick meals.
Contracts matter, reminds Reinhardt. "We use two contracts from The National Kitchens & Bath Association. The financial contract spells out what payment is to be made at each juncture of the job, also known as progress payments." The second is the specification contract, where project details are broken down. "Make sure every detail is addressed and written down. Don't assume anything."
RESOURCES
All Marble, Granite & Tile
Cherry Hill, N.J.
(856) 354-4747
AllMarbleGranite.com
Bath, Kitchen & Tile Center
Wilmington, Del.
(302) 922-9210
BathKitchenAndTile.com
Dilworth's Custom Design
Phoenixville, Pa.
(610) 917-9119
DilworthsCustomDesign.com
HomeTech Renovations, Inc.
Fort Washington, Pa.
(215) 646-7477
HTRenovations.com
Master Shower Doors
Newark, Del.
(302) 368-7888
MasterShowerDoors.com
Munz Construction
Holland, Pa.
(215) 953-8833
MunzConstruction.com
Robinwood Kitchens, Inc.
Berkeley Heights, N.J.
(908) 665-5900
RobinwoodKitchens.com
Weinstein Bath & Kitchen
Collegeville, Pa.
(610) 409-8500
WeinsteinBathAndKitchen.com
Published (and copyrighted) in House & Home, Volume 15, Issue 4 (October, 2014).
For more info on House & Home magazine, click here.
To subscribe to House & Home magazine, click here.
To advertise in House & Home magazine, call 610-272-3120.
Article continues below
---
advertisement


---
Author:
Daniel Sean Kaye
Archives
---
A TALE OF THREE WEDDINGS
Timber Creek's Leary heads to Illinois
One of Us
The Weekender
Hometown Flavor
Hoop Dreams
Symon Says
Food & Drink: Raise a Glass
Off the Ice
Rewarding Work
Dig This
The Berlin Cemetery
A Southern Mansion
Fire on the Morro Castle
Pine Barrens Fire of 1936
More...