Attention Getter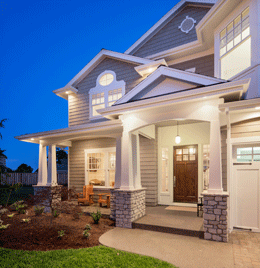 …From the pages of House & Home…
Take care of your home's exterior for enhanced curb appeal.
Winter is on the way out, but not without leaving some seasonal damage in its wake. Now's the time for you to see your home with fresh eyes, identifying areas of need and damage. It's the season for recognizing what you can do to boost your home's curb appeal—and make it a place you can't wait to come home to every night.
At first glance
"Siding is probably the first area people should look at since it covers the most square footage of your home's exterior," says Adam Parnes, VP of marketing for Global Home Improvement, which serves Pennsylvania, New Jersey and Delaware. "Siding can also be a large investment, so it is important to pick a product that is going to look good and last forever, like stone siding or fiber cement siding."
Changing things out to a fresh and new color is crucial, especially if the home currently has the older asbestos siding, says Gabriella Mattucci, co-owner of MW Roofing LLC, with her fiancé Chad Wloczewski. MW Roofing works in southern Chester County, as well as Lancaster and New Castle counties. "There are siding options that can improve the energy efficiency of the home as well," she says.
"While most consumers may think of landscaping and exterior painting to increase curb appeal (and those things do have an impact), the better investment that delivers a real combination of curb appeal and home value improvement is investing in improving maintenance-free vinyl siding, replacement windows and doors ... and especially your home's roof," says Scott Devenny, founder and president of All American Roofing Company, servicing Delaware, Southeastern Pennsylvania and South Jersey.
"Because curb appeal is all about perception, by creating a positive perception of your home with a beautiful roof, you can increase its value," says Devenny. "Your roof can account for 40 percent of a home's curb appeal [and] because first impressions are everything when it comes to selling a house, realtors consistently place roof replacements among the top of the home improvement list in terms of returns on investment," he says. Residential home valuation experts say that a new roof makes your house easier to sell while increasing its value by contributing to lower energy bills due to increased insulating values of today's roofing systems.
Others agree that the roof is a primary target area when it comes to curb appeal.
"A new roof would not only add to the curb appeal of the home, considering the variety of shingle colors and styles that are available today, but could also help in selling the home with [transferable warranties]," says Mattucci. "Installing new siding, windows, or a new roof offers potential buyers a feeling of security knowing that they have an energy-efficient home that will reduce their utility bills and that they won't have any large out-of-pocket expenses any time soon."
Gutters and downspouts should also be taken into account, and kept in working order to avoid unsightly damage.
"There are so many different types of homes and so many different needs," says Mario Galli, residential manager of Jamison Home Services, LLC of Oreland, Pa., serving Montgomery, Philadelphia, Bucks and Delaware counties. "But I'd have people look at the damage that comes from gutters and downspouts. When they're cracked or broken, the water runs all over, creating black stains on the walls. This [kind of] damage to the masonry looks terrible. I tell people to be proactive and to make sure they stay clear and work the way they're supposed to. People think masonry is impervious but the truth is, if you let water leak, it'll wreak havoc. Once done, it's hard to get the black out of it."
Areas not to overlook
Despite roofing being a "first look" area for some, many people don't even notice the impact it can create. "A home's roof is often overlooked when we think about improving curb appeal. But actually with new designer shingles, dimensional shingles and the wide variety of shingle colors available, a home's roof can become a real 'fashion statement,' while providing much more than just a cosmetic improvement," says Devenny. "Specially formulated shingle color palettes accentuate a home's appeal."
"People often overlook the roof. They think a roof is just there to just protect your home when it can be so much more than just a 'roof over your head,'" says Parnes. "We offer lifetime metal roofing solutions including standing seam for older historic homes or contemporary homes with sharp lines, as well as metal slate and metal shingle for more traditional homes," he says.
Another overlooked area is where most first impressions are made. "An area often overlooked is the front entryway," says Mattucci. "For a fast turnaround and a considerable less amount of money compared to new siding and/or a new roof, installing a new front door including a new light, mailbox, street numbers, etc. can offer a lot of bang for a little buck and the work can be completed in a day." Other options for fast, inexpensive curb appeal boosts include changing the color of the shutters, painting the front porch area and sprucing up the landscaping with flowers and mulch.
Also, when trying to find unsightly areas of your home—get low. "If you have an older masonry home, really look at the house down at ground level. Look for cracks and discoloration three to four feet off the ground," advises Galli. "Also, really be aware of the pointing [the mortar between the joints in bricks and stone] because it needs to be in good shape. It can deteriorate over time, but it's crucial because it creates a barrier to keep water from creating damage. If the customer doesn't have the budget to replace it completely, we can blend colors to make it look much better," he says. "Nothing is better for curb appeal than a clean house."
Looks aren't everything
"Beyond the obvious aesthetic benefits, investing in roofing, siding, gutters, windows and doors makes a home much more attractive to potential buyers—and has even been shown to contribute to increasing a home's value," explains Devenny.
"New roofing, siding and gutters can transform your home into the star of the neighborhood. It's like the old saying, 'keeping up with the Joneses.' If your house has a stunning exterior, all the other neighbors will be fighting to catch up," says Parnes.
And the look of a house simply isn't everything.
"In addition, new homebuyers are looking for more than just a stylish exterior. They want to know that the roofing, siding or gutters will not only last a lifetime but will have little to no maintenance, too," says Parnes. "Maintaining old wood siding or having to repair or patch a leaky roof can turn away buyers faster than you can ever realize."
Quick tips
There are many things a homeowner may choose to do on their own as DIY improvements to their home's exterior. "From landscaping to painting, caulking windows and doors and power-washing existing brick and siding, to sealing a driveway," says Devenny. "But to maximize improving a home's exterior, we always urge consumers to consult a trusted, locally owned and operated contractor with a proven track record of performance, and hundreds of positive testimonials from members of the community and an A+ rating with the Better Business Bureau."
"If you do not want to replace your entire roof, siding or windows, you can look to replace the outside trim in addition to the gutters," suggests Parnes. "More and more homes are switching from white window trim and fascia to a brown or bronze color with matching gutters. This is an easy way to change the look and style of your home without breaking the bank," he says.
RESOURCES
All American Roofing Company
Wilmington, Del.
(302) 334-3000
Roofers.org
Global Home Improvement, Inc.
Feasterville, Pa.
(888) 234-2929
GlobalHomeInc.com
Jamison Home Services, LLC
Oreland, Pa.
(215) 884-7000
JamisonHomeServices.com
MW Roofing LLC
Newark, Del.
(302) 595-2486
MWRoofing.net
Published (and copyrighted) in House & Home, Volume 15, Issue 8 (February, 2015).
For more info on House & Home magazine, click here.
To subscribe to House & Home magazine, click here.
To advertise in House & Home magazine, call 610-272-3120.
Article continues below
---
advertisement


---
Author:
Daniel Sean Kaye
Archives
---
A TALE OF THREE WEDDINGS
Timber Creek's Leary heads to Illinois
One of Us
The Weekender
Hometown Flavor
Hoop Dreams
Symon Says
Food & Drink: Raise a Glass
Off the Ice
Rewarding Work
Dig This
The Berlin Cemetery
A Southern Mansion
Fire on the Morro Castle
Pine Barrens Fire of 1936
More...