Investing in Convenience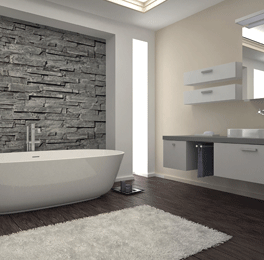 …From the pages of House & Home…
Boost value and quality of life with an additional bathroom in your home
Adding a bathroom on any floor can be a wise venture. It not only produces a good return on investment but it's also something that improves quality of life by making a home more comfortable and functional. "Adding a bathroom is great in terms of resale value, but even more people these days are thinking in terms of convenience," says Tim McHale, owner of McHale's Inc. "Older homes weren't always built with multiple bathrooms and homeowners also have changing life situations that would benefit from an additional bathroom, such as having an aging parent move in."
Many homeowners have almost come to expect at least two bathrooms these days, but older homes often only have one full bath and a powder room, adds Todd Wenger, president of Wenger Contracting.
"If you have a home with one-and-a-half baths, adding an additional bathroom is a no-brainer," Wenger says.
Dan DiFrancesca, CKD, sales manager with Bella Kitchen Design, adds that in today's economy both parents are typically working and an investment in an additional bathroom can make getting ready in the morning much more efficient.
"When you have two parents getting ready for work, along with children getting ready for school, you need at least two or three shower facilities," DiFrancesca says. "It's become the norm to have at least two full baths; in some cases, more. It just really increases the efficiency of how the home operates."
In terms of where to add a bathroom, it's a matter of both personal preference and accessibility. Wenger says that homeowners often want a bathroom added to their master bedroom but he's also added them to a refinished basement or even added a powder room to the first floor of a home. "If you're in an older home that doesn't have a first floor bathroom, adding even a small powder room can be a huge convenience factor," he says.
However, Wenger does point out that if you're creating new space to add a bathroom, it's important to check with the local township. It's also obviously much easier to add a bathroom to the existing footprint of the home. Wenger says he recently worked on a project that involved relocating the laundry room into the garage and then using that existing space for a new bathroom.
"Using the existing footprint and doing an upgrade is really popular right now," adds McHale. "We've taken master bedrooms and made them into suites by adding a bathroom. There are often ways to get creative and make it work with your existing footprint."
Some of the latest trends
Adding a bathroom gives you the opportunity to start from scratch and make the space whatever you want it to be. Dave Cerami, CKDR, owner of HomeTech Renovations Inc., says that many homeowners are opting for a more contemporary space, even if the rest of their home is traditional.
"A bathroom is often more of a personal sanctuary for homeowners and they may not feel as compelled to include those traditional elements you find in the rest of their home," Cerami says. "Most homeowners don't invite guests into their private master bath. As a result they often don't feel they have to be as sensitive to décor as they might in other areas of the home."
Cerami says this has equated to things like clean lines and more of an overall zen look to the space. Homeowners often opt for large format porcelain tiles that give a nice clean look on their floors.
Glenn R. Wyder, general manager of Mediterranean Tile, says that another trend has been porcelain wood planking on the floor. It's a wood floor look but in porcelain tile which is impervious and virtually maintenance free.
"It's beautiful to have the look of wood on your bathroom floors and with today's technology you can barely tell the difference," Wyder says.
In terms of color trends, Wyder says he's also seeing a lot of homeowners opt for grays and whites in their bathroom tile. It's a relatively neutral color and allows for a lot of opportunity to bring in other colors and styles that complement the look.
As the aging-in-place trend also takes hold—that is, homeowners staying put in their homes as they age—adaptations to existing bathrooms have also become popular to make them safer. But spaces can also be designed from the start to be aging-friendly. McHale says that bathrooms that meet ADA requirements have come a long way from the institutionalized look they once had. Grab bars are much more attractive and fit the existing décor, and whether homeowners require ADA compliance or not, many simply prefer the look of a barrier-free space.
Shower focused
Many homeowners are also interested in barrier-free showers, says Cerami. In many spaces, an oversized shower has become the main focal point of the bathroom and homeowners may even forgo the tub altogether.
"In bathroom renovations we're often doing tub-to-shower conversions because homeowners don't want those giant builder-grade tubs," Cerami says. "They often take a very long time to fill up, use up much of the hot water and are a pain to clean. The majority of our customers say they don't even take baths. They'd rather have a luxurious shower."
Melissa Eppler, designer with Monk's Kitchen & Bath Design Studio, says that showers have definitely become a focus in bathroom remodels or additions due to "changes in lifestyle and the pace we are now living."
"Showers have taken on a hierarchy as the focal point of the space," Eppler adds. "Frameless glass shower doors have become a must for many homeowners, offering a clean, open feel with a direct line of sight to the tile selection and design within the shower itself. Popular selections of wall tile in the shower have become simple, clean line tiles—such as a subway tile—with a pop of color and interest in an accent tile. Mosaic tiles are second to none as an accent tile choice. Patterns of the lay of these tiles are another design element and are determined by the designer and homeowner which can dramatically or subtly change the look of the space."
Greg Scharfstein, co-owner of Cutting Edge Glass, a company that installs glass showers, agrees that showers are being given much more attention these days. Homeowners are opting for showers that have all the bells and whistles. "A tub may look nice, but most homeowners aren't using them," he says. "They'd rather have a larger shower with upgraded features like water jets or even a steam shower. It's more like a spa experience."
And with high-quality glass coatings being installed on the interior of the glass, Scharfstein says the water beads up and runs off, making for much less maintenance.
"A frameless shower enclosure can really make a bathroom pop and can make a small space feel larger and more luxurious," adds Ben Weaver, a general manager for Alderfer Glass Company, which designs and installs shower enclosures and mirrors for bathrooms. "Typically, the modern frameless enclosure is designed to accent and highlight the existing bathroom design; but done wrong, it can be a visual and functional mess."
That's why it's so important to hire a reputable company. Weaver says that buying the wrong enclosure or one that is poorly fitting can often make the difference between a successful remodel or construction project—and one that feels like it fell short.
In general, hiring a reputable company is so important—particularly with a large investment project like a bathroom addition.
"My very best piece of advice for homeowners is to work with a true design professional," Cerami adds. "Find someone who knows the engineering and mechanics behind design and who will truly be able to guide you through the process. You may already have a vision in mind, but you need to find someone who can execute it properly."
RESOURCES
Alderfer Glass Company
Telford, Pa. | (215) 723-1192
Lansdale, Pa. | (215) 855-5012
Quakertown, Pa. | (215) 536-7807
Limerick, Pa. | (610) 489-2221
AlderferGlass.com
Bella Kitchen Design
Wilmington, Del.
(302) 502-3600
BellaKitchenDesign.com
Cutting Edge Glass
Parsippany, N.J.
(973) 664-9893
NJShowerDoors.com
HomeTech Renovations Inc.
Fort Washington, Pa.
(215) 646-7477
HTRenovations.com
McHales Inc.
Levittown, Pa.
(215) 949-3333
McHales.net
Mediterranean Tile
Fairfield, N.J. | (973) 808-1267
Bernardsville, N.J. | (908) 953-9990
MedTile.com
Monk's Home Improvements
Morristown, N.J.
(973) 685-5063
MonksHomeImprovements.com
Wenger Contracting Inc.
Chester Heights, Pa.
(610) 361-2860
WengerRemodeling.com
Published (and copyrighted) in House & Home, Volume 15, Issue 10 (April, 2015).
For more info on House & Home magazine, click here.
To subscribe to House & Home magazine, click here.
To advertise in House & Home magazine, call 610-272-3120.
Article continues below
---
advertisement


---
Author:
Lindsey Getz
Archives
---
A TALE OF THREE WEDDINGS
Timber Creek's Leary heads to Illinois
One of Us
Truer Words Have Been Spoken
A Thriving County
Executive Q&A
A Man of Many Faces
Super Women
Vocal Leader
Seeking Acceptance
The Business of Health Care
Mommy's Gone Viral
Singles: December 13
2017 Men of the Year
The Weekender
More...