Cool Pools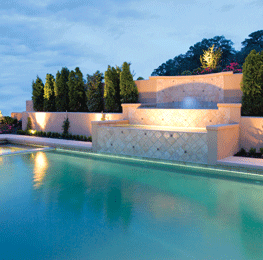 …From the pages of House & Home…
Hot trends to make your pool truly special.
Imagine easing into a pool with a beach entry on a warm summer day. Perhaps you head over to the sun shelf to sit under an umbrella with your toes in the water. When it's time for a dip, swim over to the gorgeous rock waterfall or grotto built into the hardscape. Enjoy the sounds of laughter from your kids as they head down the waterpark-style slide.
Sounds like something out of a Caribbean vacation or Disney resort, right? That may have been the case 10 or even five years ago, but nowadays scenes like this are being played out in backyards all over our area. Instead of the cookie-cutter pools of the past, most homeowners are choosing unique pools for their property that include amenities you used to only see on vacation.
H&H spoke to area professionals about this trend, which continues to gain steam. They shared the most popular new items for a backyard pool, the amenities that tend to be a little pricier, and the other features that might not fit in this part of the country.
What's trending
Most experts agree that the No. 1 feature for new pools is a sun shelf. A sun shelf is a shallow area where homeowners like to put lounge chairs, and it usually includes a built-in umbrella for shade. It doubles as a nice play area for small children who might not be able to swim yet.
"The sun shelf is a must-have in any pool whether you have kids, grandkids or no kids," says Swim-Mor general manager Mike McCool. "The best thing I can compare it to is when it's a hot day at the beach and you want to cool off, but not go in the water, so you dip your feet in or put your chair on the edge of the breakers and read a book. With a sun shelf, you can do that with your pool in your backyard—[with] no greenheads."
Almost as important as a sun shelf is LED lighting, which not only helps for parties on summer nights, but also just provides a general vibe for the outdoor space.
"The LED lighting is huge right now," says Bryan Hull, general manager of Del Val Pools & Spas.
"It's not the standard one light down in the deep end anymore. More people are adding multiple lights to the pool. It's definitely for nighttime use and also for ambiance."
There are LED packages that include programmed light shows where the lights change colors.
Water features are also frequently found in area pools, and sometimes they go hand-in-hand with the LED lights.
"The technology has advanced to the point we are adding lighting to water features such as sheer descent falls, floor bubblers and laminars," McCool says.
Waterfalls are another popular choice.
"Probably 85 percent of our pools are going with waterfalls," Hull adds. "We at least prep them with a water line, even if you don't do it out of the gate but you might want to do it in the future. A waterfall is one of the things you can always add on, but we'll have it prepped for you if you want to do it in two years or five or whatever. They're really popular."
Another major contributing factor to the resort feel for a backyard is the area around the pool. The use of natural stone for the decking is becoming more common, and the overall idea of the backyard as an entertainment phase remains trendy.
Something for the kids
McCool believes that the slide, which wasn't such a popular item for many years, is making a big comeback in backyard pools.
"The popularity of slides has gone hot and cold over the years," he says. "Today we are certainly in a hot trend as the design and look of slides have gotten more elaborate and appealing. Homeowners tend to try and decide between a diving board and a slide. My answer is always, 'How many waterparks do you see diving boards in?' None; it's all about the slides and kids of all ages are always racing to go back down one more time."
The baby blue fiberglass slides of the past have been replaced by longer, winding slides that are often built into rock formations. Sometimes an indoor tunnel is also involved.
"The metal pole slide isn't even in existence anymore," Hull says. "Now it's nice resident slides and we actually build them into hardscapes. They're all custom-made and the slides have absolutely become more elaborate. If you want something simple to the left or you want it to take up the entire back edge of the pool, we can do all of that."
Increasing the price tag
While sun shelves, LED lights and to some extent even the slides are fairly affordable options, there are resort-style amenities for the backyard pool that will cost a pretty penny.
One high-end addition is an infinity or negative edge pool, which produces a stunning effect for one side of the pool to make it look like the water is vanishing or blending into the background. Not only is this effect expensive, but it might not be best for this region.
"The infinity edge is for a certain yard and a person who wants to spend a certain amount of dollars," Hull says. "We've done two total, so it's really not that popular. In California, it's a huge trend ... Everything is hilly out there and it fits into the landscape more. And the average pool cost here to out there is a lot different. The infinity edge is definitely pricey."
What's next
McCool says there are no limits to what can be done to create elaborate, resort-style pools in any backyard. "As technology advances, making it more affordable, and the availability of new products hitting the market designed to bring the resort pool experience into the backyard, I believe its popularity is only going to grow."
RESOURCES
Del Val Pools & Spas
Turnersville, N.J.
(856) 629-2999
DelValPoolsAndSpas.com
Swim-Mor Pools
Mount Ephraim, N.J.
(856) 456-3332
SwimMor.com
Blue Haven Pools & Spas
Colmar, Pa.
(215) 996-0900
BlueHaven.com
Cider Mill Landscapes
Garnet Valley, Pa.
(484) 574-4666
CiderMillLandscapes.com
Published (and copyrighted) in House & Home, Volume 15, Issue 11 (May, 2015).
For more info on House & Home magazine, click here.
To subscribe to House & Home magazine, click here.
To advertise in House & Home magazine, call 610-272-3120.
Article continues below
---
advertisement


---
Author:
Matt Cosentino
Archives
---
A TALE OF THREE WEDDINGS
Timber Creek's Leary heads to Illinois
One of Us
The Weekender
Hometown Flavor
Hoop Dreams
Symon Says
Food & Drink: Raise a Glass
Off the Ice
Rewarding Work
Dig This
The Berlin Cemetery
A Southern Mansion
Fire on the Morro Castle
Pine Barrens Fire of 1936
More...