Decked Out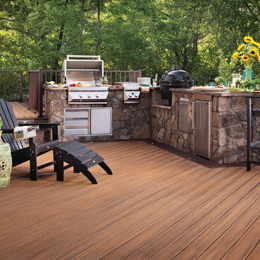 …From the pages of House & Home…
Today's decks are all about becoming an extension of the home.
Decks are no longer just a utilitarian outdoor space, home to a patio set and maybe a tiki torch or two. Today's homeowners are transforming their decks into extravagant outdoor retreats, with furniture, accessories and electronics to make it the most desirable place to spend a long summer's day.
House & Home polled our experts to find out the best way homeowners can fine-tune their decks to create a lush retreat— outfitting the space with everything from cozy outdoor sofas to high-end kitchens—making it the perfect place to entertain family and friends, relaxing with a cool drink and some magazines or having the guys over for a game.
"Outdoor living has taken a new turn this season," says Michel Mesnier, who owns Casuwel Outdoor Furniture/Outdoor Lighting Perspectives of Northern N.J. with his wife, Sylvie. "Homeowners want to transpose to their outdoor living spaces the comfort they experience inside their living rooms. This means a new level of design and a need for more high quality furniture, accessories and fabrics."
While all our experts offered varied opinions on what makes a deck great, they all agree on one thing: Today's homeowners want their deck to be an extension of their homes.
"Most homeowners want a custom design and custom built deck with lots of features, to transform their deck into an extension of their home," says Randy McHenry, owner of McHenry Decks. "Even deck furniture has changed to look much more like an outdoor living room. Features can include outdoor kitchens, fire pits, hot tubs and outdoor TVs. There are many ways to customize decks, and make them a great outdoor retreat."
Juan Cardona, owner and president of Archadeck of Chester County, agrees. "For folks who can make an investment in the outdoors, there are some very elaborate outdoor rooms," he says. "They are really stunning spaces with fireplaces and outdoor kitchens, televisions and stereo systems—you name it. Basically, they're extending the indoor living space to the outdoors."
Mesnier also echoes this sentiment. "We now need to think of these outdoor spaces as entirely new and dedicated rooms. Design-wise, this brings an unparalleled aspiration for colors, shapes and fluffy cushions. Sectionals have become the norm as homeowners now want to customize their space—whether it be a deck, a patio, or simply a hardscape area overlooking a fountain. These spaces are used to entertain and [for] stargazing. Family, friends gather and want to be at ease."
Popular features
There are many features homeowners can add to their decks to up the ante. Covering the deck is one option, McHenry says. "Covered decks have been increasingly popular as a way for homeowners to get more use out of their decks."
Lighting is another way to add ambiance, says Ryan Glick, salesman and designer at Keystone Custom Decks. "Some of the most popular features that people are going with right now is lighting.
"Many people love the accent lighting that can be installed on their outdoor living area. I highly recommend adding step riser lights to your deck. They not only add some very nice accent lighting to your backyard, they are also very practical and will help any person avoid tripping at night," he says. "Other than step riser lights, there are many options for lighting— post cap lights, side mount lights, in-deck lights and many more. These lights can add some fantastic ambiance to your deck."
For those who may not want to make a permanent lighting decision, there are other options, Glick continues. "[I]f you have the opportunity to hang string lighting, I would not think twice about that. String lighting creates such a great, homey feel when sitting out at night," he says.
Colleen Fidelibus, furniture manager for Sequoia Out Back, says that a refinishing or renovation project can transform a deck into a luxurious outdoor retreat.
"[Homeowners] can start with resurfacing their old wood deck with new low maintenance decking and railing with lighting add-ons in their railing system to really give you some nice ambience," she says. "They can add a pergola or a roof for some coverage from the sun, or if that's not in your budget, you can purchase a cantilever umbrella to add coverage from the sun and add color to your outdoor space."
Outdoor kitchens are another popular choice, she says. "There's the element of an outdoor kitchen which can be as simple as a grill with a small counter and side burner or as elaborate as if you took your indoor kitchen and put it outside, [such as a] sink, refrigerator, warming drawer, pizza oven. Make sure you incorporate some heating element such as a fireplace, fire pit or heating lamp. Last but not least, some amazingly comfortable, good quality furniture made for the outdoors but makes you question if it's for the outdoors."
Sean McAleer, president of Deck Remodelers, says that today's decks are embracing one major trend—curves. "Curves in general have become very popular. Homeowners are looking for unique features. They are tired of the standard rectangle. That's one of the great benefits to using synthetic decking; its malleability allows us to create awesome new designs," he says.
Rob Lane, general manager of outdoor furniture at Ski Barn, notes that when it comes to popular features, comfort is key. "Deep, comfortable, cushioned seating continues to complement the traditional dining set. Cantilever umbrellas are the answer to instant shade. These huge umbrellas are engineered to offer a multitude of angles with just the touch of a finger," he says.
Temperature control
Regulating the temperature in an outdoor space is also important, Lane notes. "Homeowners need to control the temperature as best possible in order to get outside comfortably. Shade is a deck owner's best friend in the summer. We offer a huge selection of quality umbrellas. Sizes, shapes and colors will add life to your space. Warm air will enable you stay out on your deck in both early spring and late fall. Fire pits and even bar height sets with built-in propane fire pits, and space heating towers that can be relocated are a must."
Fire pits are a popular way to offset any temperature issues, according to Rob Dougherty, outdoor furniture planner and sales consultant at Green Lea Garden Center.
"Fire pits not only look fun, but they also heat your patio, allowing you to enjoy the outdoors well into November. Available in round, square, oval and rectangle shapes, they come in a multitude of styles and finishes," he says. "They are set up for a normal propane tank that you would use in a gas grill, or you can have a plumber install a natural gas line and convert the fire pit to run off of that. They are so easy to use that during football season, I'll go out and use it by myself, and watch the game on my iPad—my own man cave."
The "Staycation"
Dougherty says he sees another major trend contributing to the outdoor living space boom.
"A phrase that has become really popular to explain what is going on in our industry is the 'staycation,'" he says.
"People are deciding to forgo traditional destination vacations and instead are making their backyards that outdoor oasis that they've always dreamed of. We sell outdoor bars that have cabinets, shelving and outdoor coolers. We have dining sets that can accommodate 10 guests at the same table, and … tables that have leaves that can transform from seating for six to a large party of 10 just by folding out the extensions. Have a television outside? Well then you need to see our outdoor recliner chairs, even indoor La-Z-Boys are jealous."
When it comes down to it, homeowners just want to indoor the outdoors—especially after the last few rough winters, Fidelibus says."[A]fter the harsh winter of the past two years people can't wait to get outside and breathe in the fresh air, enjoy the warm weather and make their living space outdoors as comfortable and enjoyable as possible to entertain or relax as a family or just find that personal space, admiring nature." We couldn't agree more.
RESOURCES
Archadeck of Chester County
West Chester, Pa.
(610) 696-3340
Archadeck.com
Casuwel Outdoor Furniture/Outdoor Lighting Perspectives of Northern NJ
Dover, N.J.
(973) 486-0819
NewJerseyOutdoorLighting.com
Deck Remodelers
Sparta, N.J.
(973) 729-2125
DeckRemodelers.com
Green Lea Garden Center
Voorhees, N.J.
(856) 767-4413
GreenLeaGardens.com
Keystone Custom Decks
New Holland, Pa.
(717) 355-0592
KeystoneCustomDecks.com
McHenry Decks
Spring City, Pa.
(484) 369-1261
McHenryDecks.com
Sequoia Out Back
Hatfield, Pa.
(866) 650-DECK
DeckSupplies.com
Ski Barn
Paramus, N.J.
(201) 445-9070
SkiBarnPatio.com
Published (and copyrighted) in House & Home, Volume 15, Issue 11 (May, 2015).
For more info on House & Home magazine, click here.
To subscribe to House & Home magazine, click here.
To advertise in House & Home magazine, call 610-272-3120.
Article continues below
---
advertisement


---
Author:
Rachel Morgan; photograph courtesy of Trex
Archives
---
A TALE OF THREE WEDDINGS
Timber Creek's Leary heads to Illinois
One of Us
The Weekender
Hometown Flavor
Hoop Dreams
Symon Says
Food & Drink: Raise a Glass
Off the Ice
Rewarding Work
Dig This
The Berlin Cemetery
A Southern Mansion
Fire on the Morro Castle
Pine Barrens Fire of 1936
More...