Phillies Beat the Chill & the Cubs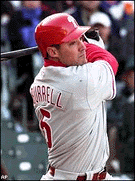 Numbed by wintry weather, the Philadelphia Phillies warmed up in the ninth inning Tuesday with a four run rally that cooled off the wild Chicago Cubs.
"We didn`t come here to play for four hours and freeze our backsides off and not win a ball game," Scott Rolen said after a 6-3 Phillies victory ended the Cubs five-game winning streak.
"The weather and the wind, I don`t think I`ve played in colder," said Pat Burrell, who hit a two-run, go-ahead double in the ninth after Chicago closer Jeff Fassero walked the bases loaded.
Burrell`s drive sailed over Sammy Sosa`s head in right.
"I thought Sammy was going to catch it. I was just trying to get my legs going to run," said Burrell, now 9-for-13 with 22 RBIs in his career with the bases loaded.
The game-time temperature was just 41 with a wind chill of 16 and a 28 mph northeasterly wind whipping from left field to right. The game was played less 24 hours after Monday night`s series opener was postponed by snow.
Several players and umpires wore hoods and ear warmers under their baseball caps, Sosa sported a thick sweatshirt under his jersey and a small crowd announced at 18,189 was huddled under blankets and winter coats.
Fassero (0-1) had saved six games in as many opportunities and not walked a batter in 7 1-3 innings this season.
But with Philadelphia behind 3-2, Travis Lee, Rolen and Mike Lieberthal worked walks to load the bases with one out and Burrell hit his drive to right.
"I was terrible with my control, just wild enough," Fassero said.
"I wasn`t missing by much. It was hard to throw the breaking balls. It was cold. I had no grip on my slider or forkball."
Sosa said he was playing in when Burrell came up, hoping to cut down a run.
"I was playing shallow, so I could make a play at the plate. He just hit it over my head. The ball took off," Sosa said. "No excuses."
Marlon Anderson followed with an RBI single through a drawn-in infield and Jimmy Rollins greeted Manny Aybar with another run-scoring single.
The Cubs loaded the bases with one out in the ninth against Jose Mesa, before the right-hander struck out Todd Hundley and Ricky Gutierrez for his fifth save.
Vicente Padilla (1-1) got the win by pitching a scoreless eighth.
"It was so cold our guys were having trouble throwing strikes out there and I said to Jose: `Just get this last guy out,"` Phillies manager Larry Bowa said.
But the Phillies didn`t have nearly as much trouble finding the plate as the Cubs. Fassero`s walks were three of the 11 allowed by Chicago pitching.
"It was a tough day to play defense and to pitch," Cubs manager Don Baylor said.
"The way the wind was blowing you couldn`t tell where the ball was going. ... But that`s not what beat us."
Hundley, just 3-for-29 when he came to the plate, hit an RBI single to give the Cubs a 3-2 lead in the seventh.
Julian Tavarez, who said he will begin serving a five-game suspension Wednesday for his role in a spring training fight, pitched six strong innings and gave the Cubs a 2-1 lead with an RBI single in the fourth.
Philadelphia tied it in the sixth on two walks and Rollins` two-out run-scoring single.
The Phillies were on the verge of a big first inning when Doug Glanville led off with a single and stole second. Rolen`s fly ball into the right field corner was initially ruled fair with Glanville scoring and Rolen going to second.
But as the Cubs protested, the initial call was overruled and changed to a foul ball. Bowa argued with second base umpire Ed Montague, but Glanville was sent back to second and Rolen back to the plate where he struck out. Abreu then doubled into the left field corner to score Glanville and make it 1-0.
Notes:
Abreu plays his best at Wrigley Field. He`s 21-for-56 there lifetime with 17 RBIs. ... A movie crew was at Wrigley filming part of the movie "On the El" with several hundred fans bundled up in the grandstands for part of one scene. ... Joey Fatone and Lance Bass of `N Sync sang "Take Me out to the Ballgame" during the seventh-inning stretch. ... The teams play a doubleheader Wednesday to make up Monday night`s postponement. It will be their final meeting of the season.
(Copyright 2001 by The Associated Press. All Rights Reserved.)
Article continues below
---
advertisement


---
Author:
6 ABC - Action News (AP)
Archives
---
Bucs Get Chance to Pay Back Eagles
Phillies Erupt Over Expos
Phils Shutdown Expos With Shutout
Phillies faces biggest deficit of season
They Won!
Phillies Continue Falling
Phillies Skid Continues
Phillies Blunders Blow 9th Inning Lead
Phillies Fall Out Of 1st. Place Tie
Phillies tied with Braves
Phils Protest in Loss to Expos
Phils Fall to Mets
Phillies Fall From First
Phils Homer Past Mets
Person Pitches Phillies Past Arizona
More Articles