Bridgeton High School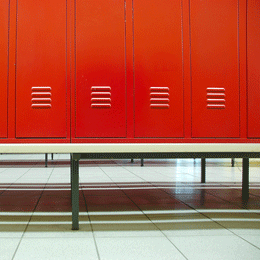 Bridgeton High School provides opportunities for students from Bridgeton, Lawrence Township and Downe Township in Cumberland County to become members of society who are thoughtful, informed, involved and committed to life-long learning.
The school district has a submission page called Let's Talk that allows students and parents to choose a topic, a school and/or a department and send a message that will be answered by an appropriate staff member within 3 business days. Learn more at https://www.bridgeton.k12.nj.us/let-stalk.html.
Bridgeton High is a Talent Development High School. According to the school's website, the Talent Development High School Model is a comprehensive reform model for large high schools facing serious problems with student attendance, discipline, achievement scores, and dropout rates. The model includes organizational and management changes to establish a positive school climate; curricular and instructional innovations to prepare all students for high-level courses in math and English; parent and community involvement to encourage college awareness; and professional development to support the recommended reforms.
The school has announced that they will be providing the opportunity for 50 Bridgeton High School students to earn an Associate's degree and their high diploma by the end of 12th grade. Through an agreement established with Cumberland County College, students of BHS will have opportunity to earn an Associate's degree in Computer Science/Information Technology, Network Management/Cyber Security, Health Sciences (the Nursing or Biomedical track), or Business Management/Entrepreneurship.
The Ninth Grade Success Academy aims to provide an environment that supports the growth and development of freshmen's interests and talents while preparing them for the next three years of high school.
The Academy of Arts and Humanities is dedicated to helping students gain valuable and marketable skills in the areas of performing and graphic arts, communication, music and media. Through academies and hands-on activities, students will be prepared upon graduation to continue in post-secondary education and/or enter the world of work. The Creative Arts Pathway prepares students for careers like photographer, painter, sculptor, illustrator, vocalist, instrumentalist, actor, dancer, or news anchor. The Law & Public Service Pathway allows students to prepare for careers like lawyer, judge, legal assistant, corrections officer, police chief, sheriff, parole officer, and park ranger.
The Business and Industrial Technology Academy will provide students with instructional programs for and about business, industry and technology according to their interests and needs. Students interested in careers such as sales, accountant, bookkeeper, tax preparer, financial planner, treasurer, bank teller or FBI agent will follow the Business Pathway. Students interested in careers like architecture, engineering technology, computer aided drafting, designer, technician, machinist, mechanic or construction contractor.
The Math, Science and Medical Arts Academy includes the Math, Science and Engineering Pathway, as well as the Medical Pathway, both which offer many career-specific courses that prepare Bridgeton High School graduates for post-secondary education and then their career.
The school also celebrates their students in a number of programs, organizations and extracurricular activities, including National Honor Society, Merit Awards Program, Scholar Athlete, People's Choice Awards, Student of the Month, African American Club and Choir, Latin American Cultural Club, Student Government, Peer Mediation, S.A.D.D., Ski Club, Choir and Mixed Chorus, Drama Club, Leo Club and others.
Athletics at the school include football, girls & boys soccer, girls & boys tennis, boys & girls cross country, field hockey, cheerleading, winter track, girls & boys basketball, girls & boys spring track, golf, softball, and baseball.
The school has many talented student athletes, including Angel Martinez, Cameron Posey, Christian Bagnati, Jobany Martinez, Marquis Sulton, Miguel Ramos, Nelson Martinez, Shakur Thomas, Tymir Gravely, Darion Childers, Dequan Solomon, Jonte Weldon, Markquese Bell, Miguel Rivera, Noah Lindsey, Nyzhir Warren, Shawn Baldwin, Shyheim Vargas, Stephan Morris, Jada Edwards, Okzana Gault, Dejuana Thompson, Brenda Ramos, Denise Gross, Kierra Dredden, Desere Thompson, Mikayla Thompson-Young, Lizbeth Cacahuatitan, Scott Walker, Shania Bell, Aaliyah Collins, Alesha Govan, among others.
Bridgeton High School is located at 111 N. West Avenue, Bridgeton, NJ 08302. For more information about the school and their programs, call 856-455-8030 or visit http://www.bridgeton.k12.nj.us/index.php?option=com_content&task=blogcategory&id=53&Itemid=342.
© SouthJersey.com 2017. All rights reserved. This article or parts thereof may not be reprinted or reproduced by any other party without the express written consent of SouthJersey.com. For more information, please call 856-797-9910.
For more information about what's going on in our local schools and what today's students are up to, visit our South Jersey Schools page.
Article continues below
---
advertisement


---
Author:
Meghan Shott
Archives
---
More Articles