Soaking up the Sun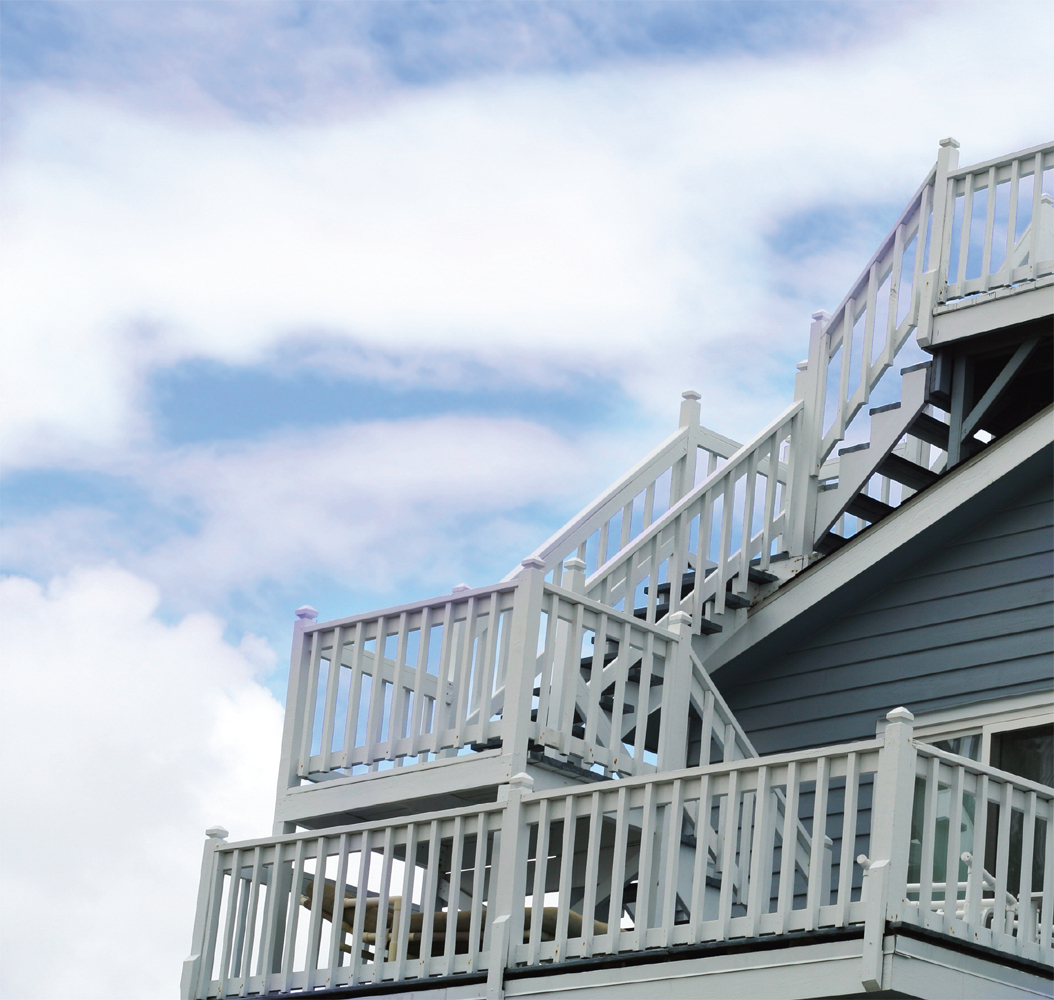 ...From the pages of House & Home magazine...
Sun and the Shore go hand-in- hand: Nothing beats a beautiful day at your favorite beach town when the sky is blue and clear. But when you're off the sand and back at your Shore house, are you making the most of the sunny skies?
Rooftop decks can be the best way to catch a few extra rays at home while also creating extra space for lounging, dining or just enjoying the summer. It also provides homeowners with the opportunity to virtually add another floor to their home, while creating the possibility of covered space below for rainy days.
HAVE A GAME PLAN
If you don't already have a rooftop deck structure in place, the idea of installing one on your Shore home may seem far-fetched. But with the right resources and a clear plan it can create a lifetime of memories and provide more than just a roof space.
"We are seeing that many house raisings are now converting what were originally ground level decks into fiberglass decks once the house is raised to provide dry patio/outdoor living spaces below," says Peter Mooney, owner of Hot Coat Fiberglass.
Gordon Keil, president of Keil Design & Construction, says to start planning and getting quotes by January or February.
"Once you hit the late spring, then that's when you have the rush of people wanting work done for the summer," he says. "And for something as structural as a rooftop deck, you need time to work and plan."
When it comes to installing a new deck, homes with pre-existing pitched roofs will require structural work. Presnell Building Group owner Taylor Presnell suggests working with experts who can take that into consideration, while also paying attention to safety and permitting laws.
"Before you do anything else hire a designer or architect first, and they'll work with an engineer to put together a plan for you because the structural work is very important," says Presnell. "From there you'll bring that plan to the permit office, then go through a contractor."
While material selection isn't part of the first step, the installation process will take time, so plan accordingly. "Fiberglass can be installed in cold weather but only in dry conditions," explains Mooney.
MIND YOUR STRUCTURE
Article continues below
---
advertisement


---
Like any construction project, structure and build are incredibly important. This rings especially true with a Shore rooftop deck, as a poorly designed structure can be dangerous, unsightly and can also lead to leaks into the home.
"If you want to put a flat deck on a pitched roof you have to do a lot of structural work, so you have to consider the budget, time and the structural support of your pitched roof," says Presnell. "Especially at the Shore, because there is a lot of wind and there are storms, and you don't want your deck flying away."
"If a deck is correctly built it will withstand any element. And modern decks are a lot stronger than they were 30 years ago," explains Keil. "You want the appearance of the deck to work with the style of the home. And you also want to make sure that your roof is in perfect shape before you begin."
That means making sure your roof is structurally secure.
"Whenever you put anchors into the roof you're poking a hole into the roof, and you want to make sure those holes are sealed," says Presnell. "And it helps to work with waterproof materials like Elastomeric coating paint, a three-coat acrylic that holds up to weather and is 100 percent waterproof."
Mooney says to consider run-off as well.
"On an existing deck there is no slope or pitch. You would need to have the deck properly pitched or sloped for proper water run-off," says Mooney.
"You have to make sure the deck goes through the roof and the structure, [and that] the posts for the decks don't cause leaks into the home. You also really have to focus on fastening it down to protect against storms or hurricanes," says Keil.
CONSIDER THE MATERIAL THINGS
When it's time to build, materials are especially valuable, as getting up to make repairs on a rooftop deck are costly and difficult. Luckily, the possibilities are endless.
"A lot of people like traditional wood, [since] it evolves to a different color over time. But the recoating process is about every two years on a normal home, and keep in mind that could be even shorter on a Shore home because of the elements," says Presnell. "There are also aluminum products that hold up very well to that environment and don't require a lot of work."
Keil suggests looking into composite decking, which has become the new go-to product for a lot of our local boardwalks. "At the Shore I would really steer toward composite decks," he says. "There are about 100 different types and they are totally resilient to any salt spray or sun damage."
Fiberglass is another popular option that Shore homeowners are utilizing. "Fiberglass used as a roof surface is walkable and presentable," says Mooney. "[And] the common colors used for fiberglass decks have been engineered to resist UV rays better than most products."
Lighting a rooftop deck is especially important if you want your parties to last well into the evening. "There are a lot of really nice, elegant deck post caps with solar lighting and hard wired lighting," says Keil. "Most of them use LED lighting, which lasts up to 10 years, so it's the last thing you have to worry about."
Whatever route you take on your deck, the experts agree that you want to create a Shore space that adds to your beach-going experience. "You're looking for something that is low maintenance," says Presnell. "You want something usable and functional that also adds to the look of your Shore home."
RESOURCES
Hot Coat Fiberglass
Forked River, N.J.
(609) 549-0650
NJFiberglassDeck.com
Keil Design & Construction LLC
Montclair, N.J.
(973) 902-4396
KeilDesign.us
Presnell Building Group LLC
Carversville, Pa.
(215) 297-0404
PresnellBuildingGroupLLC.com
Published (and copyrighted) in House & Home, Volume 17, Issue 2 (Fall 2016).
For more info on House & Home magazine, click here.
To subscribe to House & Home magazine, click here.
To advertise in House & Home magazine, call 610-272-3120.
Author:
Erica Bauwens
Archives
---
More Articles