Paradise Awaits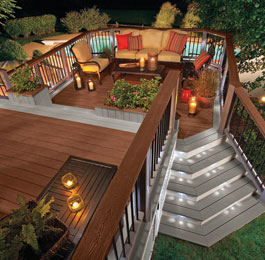 …From the pages of House & Home…
Plan your next outdoor project now for ultimate enjoyment in the warmer months.
Most people in the Delaware Valley came into this winter thinking the same thing: Please don't let it be as harsh as last year's. Last winter, when it seemed like a major snowstorm hit every week, it was almost impossible to spend quality time outside, let alone think about your backyard living space.
But under more tolerable conditions, winter can actually be a time to take important steps in preparing your outdoor paradise. After all, spring will be here sooner than you know it, and you don't want to be overwhelmed with work in your backyard when you could be enjoying it with family and friends.
We spoke to local experts to get tips on the best ways to plan for your backyard oasis during the colder months, from pooling to landscaping and hardscaping.
A perfect time to plan
While cold weather and snow obviously make it difficult for certain tasks, experts agree that this time of year is a great opportunity for the planning phase for your backyard, whether it's a new or existing project.
"There is never a better time to sit down with a designer and start to lay out what your goals are for your outdoor living space," says Nick Nykorczuk, president of Creative Pavers Inc. in West Deptford, N.J., which provides a number of services, including decking, hardscaping and landscaping.
"Too many people rush the design process during the spring, summer and fall seasons in an effort to get the project started, while they should have been spending the time during the winter months to think through things more so they would be ready to install everything once the spring weather hits."
Cameron Kennedy is a project manager for GroundTec Inc. in Warminster, Pa., which specializes in comprehensive design-build projects for outdoor living areas. Although the construction phase obviously slows in the winter, he is constantly meeting with customers to discuss plans.
"We can come out to the customer's house and go over design ideas, go through catalogues and show them samples," he says. "We can even do the actual design, print out a 3D design for them and give them the estimate, and show them exactly where it's going to be in their yard."
Planning during the winter is especially beneficial if your outdoor plans include the addition of a new swimming pool, as paperwork and permits alone can take weeks, if not months, experts say.
"Depending on where you live, and the townships you're dealing with, it can be a drawn-out process," says Dominic Dicesare, general manager of Blue Haven Pools & Spas by Calvitti in Hatfield, Pa. "You have to get a topographical survey done, so you need an engineer out there to survey the property. If we're dealing with any storm water issues, that has to be calculated, and unfortunately you don't know what that is until you have the survey done. And I've been doing this for over 30 years—the permit process used to be a week to 10 days, but now it's a month to two months. So the sooner you can start planning, the better chance of having the project done in spring or early summer."
Others echo Dicesare's warning.
"If you start shopping in March and you finally decide on your contractor and your design and you get your permits, then you're not starting to build the pool until May," adds Mike McCool, general manager of Swim-Mor Pools in Mount Ephraim, N.J. "So this time of year is the perfect time to start, because you can get through all the paperwork and design choices can be made, so when the weather breaks we're ready to go with construction."
There's work to be done
For some projects—like a new deck, paver patio or even a pool—actual work can be accomplished during the winter, as long as the weather's not too harsh.
"You can still work a little bit, as far as doing patios and certain jobs. We can at least prep the jobs," says Kevin Shackleford, president of SLG Group, a full-service landscaping and hardscaping firm in Bear, Del. "Some people take advantage of getting the job done early, if they're going to have a barbecue or a big event at their house [in early spring]. They want to make sure they get it done in enough time. It's about the same [price], but sometimes you can get a discount."
There are certain new installations that can be finished no matter how cold it gets, Nykorczuk adds. For others, you just have to take a wait-and-see approach with the weather.
"Even with colder weather during the winter months, hardscaping projects built out of pavers and retaining walls can be installed due to the interlocking construction process, which is performed without the use of concrete or mortar," he says. "This allows these types of projects to be completed even if the temperatures are below freezing. [But] masonry items such as poured concrete, stucco and stone veneer shouldn't be tackled until the temperatures maintain above freezing through the day and night."
"As long as the ground isn't frozen, we can still do some installs," adds Kennedy. "We just finished up a new patio and we were able to work around rain. We covered the patio with plastic to keep it dry, and we were able to sweep the polymeric sand in, and it worked out. It's just kind of hit or miss when you get to this point in the season."
McCool explains that the heavy snowfall of last year prevented his company from starting new pool construction until about mid-April. But he's optimistic things will be different this year.
"Most years we can start in mid-February, and that's our goal for this year," he says. "If there's a foot of snow on the ground, no, we can't start. But otherwise, we're out there rocking and rolling."
Maintaining your paradise
For homeowners who have already tackled the projects of their dreams, the winter months can be used for taking care of that composite deck or stone walkway, but it's important to do it at the right time.
"I could show you before and after pictures and you wouldn't even think it was the same patio, and all that was done was pressure washing, putting new polymeric sand in the joints and resealing it," Kennedy says. "But the thing is, with those things you really need to be in warmer temperatures, so I wouldn't recommend someone doing that if it's below 40 degrees. In the winter it's wet outside, and to do those things you really need dry, warmer weather."
As for decks, Nykorczuk has similar advice.
"Most decks constructed with composite materials require little, if any, maintenance other than a good hosing or light power washing in the spring to get the winter dirt and grime off of the surface," he says. "If your deck is made from pressure treated wood, cedar, or another type of natural lumber, then first thing in the spring, it is beneficial to apply a protective sealer that is specific to the type of wood that was used."
As far as landscaping, Shackleford says winter is a good time for the removal of dead or unwanted trees, since this doesn't require warm weather. He also points to other important areas to focus on.
"People definitely should be checking their irrigation system, making sure there are no cracks or leaks in the system due to the freezing and thawing cycles of the winter," he says. "They should also make sure their plants didn't experience winter shock and they're bouncing back, that type of thing."
Shackleford adds that it's best to seed your lawn in the fall, mainly because that's the easiest time for the seed to germinate. But it can be done leading into the spring after a rough winter.
"I know some people who get it done twice a year," he says. "Some clients get it done in the springtime if there was plowing in their neighborhood and the plow hit their yard, or if it was a horrible year and their lawn experienced a lot of winter diseases, like winter mold.
"For fertilizing, you should typically start in March, maybe even as early as February, depending on the weather and the conditions. You want it to be at least above 50 degrees outside to start fertilizing, and you don't want it to drop below freezing at night."
When it comes to pools, some people think their work is done after closing down the pool for the season. But that's not necessarily the case.
"You should look at it and do some maintenance, especially the pool cover," Dicesare says. "If it's a solid cover, you want to make sure to pump off the water and keep it clean. If it's a mesh cover, you want to make sure the water level is below the coping so you don't damage your coping. You want to make sure you maintain the proper water levels in the pool through the winter. Then as we get into March and April, when it starts to get warmer and you're getting close to opening your pool, you might want to add some chlorine to the pool water to keep it from turning green."
Both Dicesare and McCool encourage people to start calling their pool experts as early as mid-January to schedule pool openings for the spring, or to handle any tile or equipment issues they might have.
"We start taking calls in January, and we start actually opening pools at the end of March, depending on the type of winter we have," McCool says. "Last year we didn't do it until April, but other years we started in mid-March because it was warm enough and people would rather have it open and running instead of seeing a cover over the pool. The earlier you open it, the better. As the weather warms up and you get more UV light, by that point the winterizing chemicals have worn off and you can get some algae growth. If you open up before the water has warmed up, you don't get that algae growth."
No matter what amenities you already own or what fresh ideas you have for your backyard paradise, experts agree that the cold months aren't a time to forget about your outdoor living space. It might look like a winter wonderland now, but spring is right around the corner.
"Like anything, if you plan ahead and you're on top of it, then everything goes smoother for you," Dicesare says. "If you start doing stuff at the last minute, you might not get what you want, or there are things you didn't think about. … The person who does their homework is going to end up with the best project."
RESOURCES
Blue Haven Pools & Spas by Calvitti
Hatfield, Pa.
(215) 996-0660
BlueHaven.com
Country Barn Construction & Landscape Services Inc.
Malvern, Pa.
(610) 725-0180
CountryBarnConstruction.net
Creative Pavers Inc.
West Deptford, N.J.
(856) 848-7400
CreativePaversInc.com
DiSabatino Landscaping
Wilmington, Del.
(302) 764-0408
DiSabatinoInc.com
Gasper Landscape Design & Construction
Richboro, Pa.
(267) 685-9548
Gasper.net
GroundTec Inc.
Warminster, Pa.
(215) 322-7669
GroundTecInc.com
SLG Group
Bear, Del.
(302) 883-9602
SLGLandscaping.com
Swim-Mor Pools
Mount Ephraim, N.J.
(856) 456-3332
SwimMor.com
Image courtesy of Trex
Published (and copyrighted) in House & Home, Volume 15, Issue 7 (January, 2015).
For more info on House & Home magazine, click here.
To subscribe to House & Home magazine, click here.
To advertise in House & Home magazine, call 610-272-3120.
Article continues below
---
advertisement


---
Author:
Matt Cosentino; image courtesy of Trex
Archives
---
Family Fun
Live from the White House
Collingswood
Stepping Up to the Plate
Local Story
Lingering Questions
Still Fresh
Under the South Jersey Sun
Riverside Retreat
Against All Odds
Like a Girl
Going Her Own Way
Fall In
Aiming to Please
Walk of Fame: Natalie Hope Sommermann
More...