The Foundation: June, 2015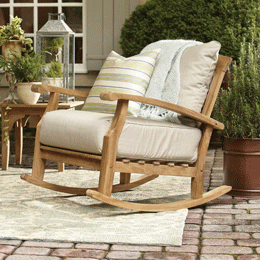 …From the pages of House & Home…
Home Front: The Living's Easy
If the approaching weekend has you thinking about spending time outdoors, we're with you. Drinks, music, sun … it's the perfect equation for a party. Whether you want to lounge with just a few friends or entertain a crowd, we found a few items that will help keep you and your guests comfortable, but not too comfortable. They have to leave sometime, right?
Dibs
Now this is a chair people might fight over. The Birch Lane Summerton Teak Wood Rocking Chair (pictured) is a perfect fit for any comfortable outdoor setting. With its durable construction and the ability to be kept outside year-round, the rocking chair flaunts the elegance of its teak wood frame through both its color and style. Whether you like to keep the wood color dark, or let it weather to a fine gray, the chair will fit anyone's patio perfectly. (Available at BirchLane.com for $629) —Andrew Anastasio
Pretty Pastel
To soften up the look and feel of your deck or patio, we love this Giant Butterflies Indoor/ Outdoor Rug. Hand-hooked of durable, 100 percent poly¬propylene fibers, this rug can easily be hosed off for cleaning. The butterfly design adds a soft touch of pastel color and feels good on bare feet of all ages. (Available at PlowAndHearth.com in a range of sizes and prices from $199.95– $699.95)
Cool & Chic
Coolers are a necessity at any summer party, but they don't need to stick out like a sore thumb. This Rustic Deck Cooler does the job while looking good. It can hold up to 48 cans plus ice in its insulated, galvanized steel cooler box and its solid wood exterior features a carved emblem and bronze colored hardware. And don't worry about misplacing the bottle opener—one comes attached. (Available at CountryDoor.com for $199.95)
Poolside Service
Drinks and snacks go mobile on this Rania Serving Cart. Built of ceramic, steel, metal and cement with a hand-painted design, this cart has multiple tiers, making it perfect for a build-your-own cocktail station. Wheel it wherever guests are congregating to keep them hydrated. When summer's over, move the cart indoors for easy holiday entertaining. (Available at Pier1.com for $299.95)
Dress it Up
Bring some life into your patio space with this Belham Living Richmond Shorea Rectangle Planter. Constructed of solid red shorea, a tropical hardwood, this planter is highly resistant to rot, bugs, the elements and marring. We picture this filled with summery annuals for color or even a blend of mosquito repelling plants such as citronella and marigolds, ideal for any summer hangout—intimate or otherwise—lasting into the night. (Available at Hayneedle.com for $175)
Simplify: Tips & products to declutter and de-stress
Receipt Receptacle: NeatReceipts
Never lose a receipt again with NeatReceipts. The mobile scanner allows you to scan, upload and organize your receipts, documents, and even business cards, making returning items, budgeting, even doing your taxes that much easier.

• Digitize all your receipts with the mobile scanner, which identifies and saves the important information, then organizes it in your very own, searchable "digital filing cabinet."
• Scan in business cards, then send contact information to your address book, or sync to your phone.
• Save important household documents with the mobile scanner, which then organizes documents and even creates searchable PDF files. (Available in both Mac and PC compatibility, $179.95, Store.Neat.com)
Covet: Must-have products for the home
Adorn Vanity
We can never get enough bathroom storage, and this Adorn Vanity with Towel Bar from Robern provides storage space in a chic design. Featuring an effortless push-to-open mechanism, this vanity opens up to reveal enough storage for the items you need to access daily, but don't want cluttering up the countertop. The vanity is built with Brite Aluminum legs and trim and shatter-protected glass drawer bottoms. It is designed to resist extreme moisture and will not degrade or show wear, resulting in long-lasting beauty. Available in a range of colors such as Charcoal Ash Glass (shown) and digital wood and marble patterns, this vanity can be customized with additional accessories such as drawer lighting and electrical outlets. For purchase and pricing information, visit Robern.com.
Who Knew? Unusual uses for common products: Banana peels
Before tossing that banana peel away, use it around the home in the following ways:
• Plant perk up: Rub the inside of a banana peel on potted house plants to buff away dust on leaves and add shine. Additionally, the potassium on the peel provides nutrients to the plant.
• Buff scuffs: The peel's potassium absorbs into leather, making it a natural for getting scuff marks off your shoes. Lightly rub the marks then wipe with a clean cloth.
• Anti-ant: Protect your garden against ants and aphids by cutting up a few peels and burying them near the base of your plants.
Creature Comforts: For pets living in the lap of luxury
Cape Cod Dog Kennel
Your home is a place of comfort and relaxation—a place to spend time with loved ones—but don't forget about your furry friend, Fido. With a kennel from Amish Handcrafted your pet can have its own safe haven out in the backyard without creating an eyesore. These kennels are a resort-like getaway for your dog. They're beautifully American handcrafted by Amish woodworkers who have reinvented the typical wire dog cage, and are available in a variety of sizes and themes such as the Cape Cod Cozy Dog Kennel (shown), making it the perfect retreat when Fido's worn out from a summer party. (Available at DutchCrafters.com for $4,109. Assembly required.)
Bookmark: Add this to your bookshelf
The Nautical Home: Coastline-Inspired Ideas to Decorate with Seaside Spirit
Speaking to the hearts of all water-lovers, interior designer Anna Örnberg tells readers how to bring those sandy shores and big waves into their homes. Using her advice and expertise, Örnberg instructs readers to use seashells, ropes, dark woods, and light-colored walls to turn their home into a waterfront property where they can sit and relax. (Skyhorse Publishing, June 2015, Amazon.com, $15.19)
Educational Elements
What to know about ... decorating your bedroom for summer
This time of year, homeowners typically focus their decorating efforts on the outdoors, but bedrooms could also use a refresher. House & Home spoke to Missy Tannen, co-founder and president of Boll & Branch, the world's first fair trade-certified luxury linen company, for some easy ways to update your bedroom for the summer season. (Visit BollAndBranch.com for more information.)
Lighten up! Summer is a time where we want to feel carefree, and your bedding should reflect that in a light, airy, breezy feel. Sometimes the easiest way to change your bedroom vibe is with a seasonal change of bedding. Your darker bedding will keep you cozy when the weather turns, but they can stay in the linen closet until the bright sunny days of summer are gone. Also, choose a cotton sheet over a sateen or silk as they allow ventilation, keeping you cool and dry in the summer heat.
You can never go wrong with white. Accenting the look with light blues and neutrals is peaceful and calming, or spice it up with fun accent pillows in bright, vibrant colors.
Change your throw blankets. If they are dark colors in thick materials, also store them until next winter. Look for lightweight throws in soft light colors, such as whites and neutrals.
Add flowers. We've made it through the long winter, and there's nothing like treating yourself to some fresh flowers. Just a few in a bud vase will go a long way on your night table. Plus, they'll bring a fresh, new energy into the bedroom.
Green Thumb: What's growing on us this month …
A bee-friendly garden
Bees are the most important pollinators to our plants and flowers and happen to thrive right in our backyards. If you want your garden to be buzzing with life and color this summer, creating a bee-friendly environment is the way to go.
Planting a variety of plants
and flowers that are rich in pollen and nectar is the perfect way to attract an amalgam of bee species to your garden. Bees love flowers with a strong scent that are easy to access from early spring all the way through late summer. Some ideal plants are honey suckle, sunflowers, coneflower, geraniums, butterfly bush and cosmos; and fall bloomers such as asters, zinnias, sedum and goldenrod.
To keep the bees in your garden happy and healthy
avoid spraying weed killers and pesticides in your yard because they can harm plants that the bees utilize as well as the bees themselves.
Another way to protect bees
is to have some type of wooden shelter in your yard. Perhaps a tree stump, logs, or an old, dead tree. Bees are attracted to these types of shelters and will most likely build a nest there. It's also a good idea to have a shallow bird bath or some type of water source where they can get a drink. Place pebbles or twigs in the water for bees to land safely.
Published (and copyrighted) in House & Home, Volume 15, Issue 12 (June, 2015).
For more info on House & Home magazine, click here.
To subscribe to House & Home magazine, click here.
To advertise in House & Home magazine, call 610-272-3120.
Article continues below
---
advertisement


---
Author:
Alex Harward, Kaytlyn Mroz; Edited by Liz Hunter & Rachel Morgan
Archives
---
Family Fun
Live from the White House
Collingswood
Stepping Up to the Plate
Local Story
Lingering Questions
Still Fresh
Under the South Jersey Sun
Riverside Retreat
Against All Odds
Like a Girl
Going Her Own Way
Fall In
Aiming to Please
Walk of Fame: Natalie Hope Sommermann
More...