Collingswood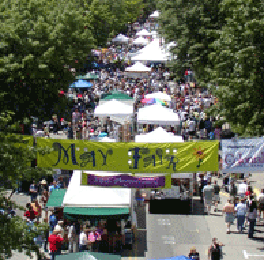 The town of Collingswood was well on its way to becoming a thriving suburban town by the end of the 19th century. Collingswood was easily accessible to Camden and Philadelphia via railroads and roads built throughout the community. Churches and schools were also established, with the First Methodist and Holy Trinity Episcopal churches being chartered in 1886 and the Champion School being established in 1821. Soon after, the Collingswood School, Zane School and Sharp School were built.
The high school's first football team took the field in 1909 and its first graduating class was in 1910. Today, in addition to seven public schools, the town also has private schools including Good Shepherd Regional Catholic School.
Residents of Collingswood also have many recreational activities in which to participate. Back around 1900, ice skating was popular on Newton Lake and Cooper River and until the first organized baseball team was formed, vacant lots were used as fields. Currently, the town boasts soccer and field hockey teams among other fun activities. Knight Park and Cooper River Park offer a driving range, yacht club, bike path, dog park, mini golf course, boat launch, picnic areas, and a matrimony garden.
Roberts Pool is a beautiful complex for summer fun and relaxation. Seasonal and daily tags are available for residents and non residents to purchase. Swim programs for adults and senior citizens are also available. New playground equipment and a new fence have also come to Knight Park Playground. Visit http://www.collingswood.com/recreation/roberts-pool for an order form or call 856-854-0720x110.
Collingswood features a full shopping and dining experience along Haddon Avenue, with stores offering antiques, books, clothing, crafts, gifts, jewelry, and music, among other items.
Today, Collingswood still has plenty to offer for all ages, from street festivals to professional theater and international music talent. Each year the town holds a book festival in October, holiday parade at the end of November, a crafts and fine arts festival in August, a may fair in May, restaurant week in August, along with musical and theater enjoyment throughout the year at the Community Theater.
The Collingswood Farmers Market begins their 18th year of local farmers selling their goods this month. For another year, the market will also host cooking demonstrations and a market/restaurant event. The market will be open every Saturday beginning this month through Thanksgiving. For more information about the market, visit http://collingswoodmarket.com/.
Second Saturday resumes on May 13. This monthly arts event exposes local artists and musicians to the local community. The May 14 event features businesses El Sitio Grill & Café, Galerie Marie, Sara's Produce, All Fired Up as well as musicians. For more information, go to http://www.collingswood.com/arts/second-saturday.
The town's 37th Annual May Fair will be held this year on Saturday, May 27 along Haddon Avenue from 10am-5pm. An estimated 50,000 people attended the 2016 event and this year's event will include 200+ artists, crafters, a KidZone, live music, food and the farmers market. Parking will be available in the PATCO lots and on side streets. For more information, visit http://www.collingswood.com/entertainment/mayfair.
Collingswood's Restaurants will host Farm to Fork week from July 23-28. Keep an eye on http://www.collingswood.com/entertainment/restaurant-week for more information and restaurant participants as it becomes available.
Collingswood's Book Festival will be held on Saturday, October 7 from 10am-4pm. The town is currently looking for people of all ages to help with recruiting authors, publicity, entertainment, children's events and day-of activities. If you're interested in helping, contact Jean Brennan at 856-854-6528 or jeanbrennan32@gmail.com.
The Holiday parade is on Saturday, November 25 at 10am this year. It will run along Haddon Avenue beginning at Zane Avenue and feature seasonal entertainment like marching bands, dancers, holiday characters, stilt walkers, floats, mummers and live music.
For more information about the town of Collingswood, visit http://www.collingswood.com/ or call 856-854-0720.
© SouthJersey.com 2017. All rights reserved. This article or parts thereof may not be reprinted or reproduced by any other party without the express written consent of SouthJersey.com. For more information, please call 856-797-9910. For more South Jersey Town information, visit our South Jersey Town News page.
Article continues below
---
advertisement


---
Author:
Meghan Shott
Archives
---
Family Fun
Live from the White House
Stepping Up to the Plate
Local Story
Lingering Questions
Still Fresh
Under the South Jersey Sun
Riverside Retreat
Against All Odds
Like a Girl
Going Her Own Way
Fall In
Aiming to Please
Walk of Fame: Natalie Hope Sommermann
Catch of the Day
More...