Sink or Swim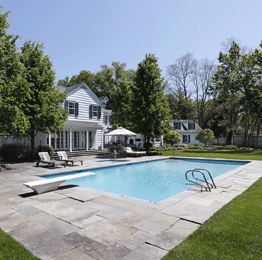 …From the pages of House & Home…
Planning pool updates now will have you swimming sooner come spring.
For homeowners with a swimming pool in their backyard, summer is prime time to throw parties or just float around on a raft on a lazy day. But with the pool taking the spotlight during these scorching months, summer can also be a time to take stock of some of its shortcomings.
Just like a kitchen or bathroom, an older pool can start to show its age and might be in need of renovation. As homeowners are enjoying the final days of the summer in their pool, they may already be thinking about the improvements they want to make for next year.
House & Home spoke to local pool experts about some of the updates they may want to think about, and whether those changes can be made right away or should be put off until next spring.
Converting to a saltwater pool
All of the experts we spoke to agree that almost every new pool construction in today's market is a saltwater pool. A saltwater generator still introduces chlorine into the water to preserve a safe swimming environment, but it eliminates the need for liquid chlorine and leads to a more pleasant pool experience.
"The main benefit is you don't get that chlorine, chemical smell when you're in the water," Rich Cording Sr. of CLC Landscape Design says. "You don't get your eyes burning; kids can swim with their eyes open. Your bathing suit doesn't get stained and turn colors. It's mostly for those kinds of reasons. Is it still just as clean and sanitized? Absolutely. You still have a pool that's germ-free and sanitized, and yet your bathing suit is not discolored, you can swim with your eyes open and you don't come out smelling like chlorine."
For homeowners with a standard chlorinated pool, changing to saltwater is one of the most popular updates; and it's not a difficult process. While it can be done at any point in the year, our experts say the most sensible time to convert is in the spring, as the pool needs to be up and running.
"Most of the time when I'm dealing with salt systems, people generally want to do that early in the spring so everything is fresh when they open the pool," George Piper Jr. of Piper Pools says. "Saltwater is actually a very easy conversion. You get a chlorine generator installed on the pool, which is not a big job. The key thing is that you have to have the pool running so you can get the salt in the pool, and that's why people do it in the early spring. But to convert to salt, you're talking about only a week process of getting the chemicals in and getting everything straightened out until you're good to go."
It might take less than a day to complete.
"It's not a major installation; we've done it in a matter of hours," Dominic DiCesare of Blue Haven Pools says. "Basically you're installing … the unit and a control center, so it's a plumbing connection and you need an electrician to hook up the control center. The saltwater and chlorine are interchangeable, so it's not like you have to drain the pool. You just basically start adding the salt directly into the pool.
"It can be installed at any time, so you can do it in the fall. But you [probably] want to wait until the spring so you can get the pool up and running and you can monitor it."
Make sure you're covered
One equipment change that should be made in the fall is replacing an old or damaged pool cover, especially considering the harsh winters in this region.
"When people take their covers out, they find they have problems because it wasn't put away [correctly,] or they knew about the problem in the spring and figured they could take care of it in the fall," Michael Burke of Pool Designs says. "So we get a lot of covers with rips and tears that need to be fixed or replaced."
If you need a new cover, you don't want to wait too long into the fall, our experts caution. You might also be able to take advantage of sales on covers at this time.
"In the fall, there are a lot of promotions for people to get a new cover on their pool," Piper says. "Getting a solid safety cover is key for opening up to a nice clean pool. A lot of people are upgrading in that regard. They've had what's called a mesh cover, and when they open their pool every year it's like pea soup. So they upgrade to a solid safety cover, and they open up pretty much how they close."
Other possible updates
Many homeowners across the country have invested in a solar pool heating system, which is a cost-effective and eco-friendly alternative to extend the swimming season in the cooler months of the spring or fall. The experts we spoke to have not had a lot of luck in this area, however.
"I'm an advocate of solar heat, but in this part of the country you really need the right kind of exposure, the right amount of roof space or the right backyard to do it," Burke says. "I've done one in all my years of business. It's not something I do, but I'm certainly an advocate because once you buy it, it's free. But you're not going to get anything from solar in October; you still need a heater unless you get really hot days."
An alternative to solar heat might be an electric heat pump.
"With the solar panels, you get some winterization issues, and if they're not winterized properly, you can run into a major cost," DiCesare says. "In our market area, the solar panels aren't really cost-effective. But we sell a tremendous number of [electric] heat pumps for swimming pools, which are economical. In an average-sized swimming pool, you can keep that water in the mid-80s from May 1 until the end of September for $500-$700 in electrical costs, which is very cost-effective."
Other updates include getting a new liner, replacing the filters, having the pool acid-washed, changing the coping or tiling or adding a custom-made slide.
"Or we can put a new design around the pool to make the pool feel like more of the landscape," Cording adds. "That's my main specialty as a landscape architect. We make the whole pool experience more attractive. You can spruce things up, change the shape of the patio a little bit, those sorts of things."
Wait until spring
Aside from a new cover, most experts agree that it's best to wait until the weather warms up in the spring to handle most updates or fixes to the pool.
"The big stuff specifically related to the pool or the water for the pool, most people aren't going to do that before the winter," Cording says. "Why not wait until after the winter in case there's any damage from the cold? You don't put in a new liner in the fall, you wait until the spring."
Of course, pool companies are extremely busy in March, April and May, so the sooner you schedule your repairs or pool openings, the better. It's best to make those plans in the winter months.
"We give a discount if you program your opening way in advance," Burke says. "To us, that's a big bonus to line everybody up, and then we just go out and open them." If you don't beat the rush, you could be waiting a while to enjoy your pool.
"Memorial Day is when everyone wants their pool open, that's our big rush," Piper adds. "So if you get something like your pool liner done in the beginning of May, you're set for the rest of the summer. But if you wait until spring to order your liner, it's not going to be until July [when] you get it. And that doesn't make people very happy."
Fall is the best time to think ahead in case winter weather lingers longer than usual. "Start shopping in the fall and consider what you want to have done," DiCesare adds.
"Then you can wait until early spring to do it. The problem with the spring is that this past season, in the first week of April we still had snow on the ground. So everything was late this year. It was the second straight harsh winter we had, and people had stuff they needed done, so it got really busy. So the sooner you do it, the better off you're going to be."
RESOURCES
Blue Haven Pools & Spas
Colmar, Pa.
(215) 996-0900
BlueHaven.com
CLC Landscape Design
Ringwood, N.J.
(973) 839-6026
CLCDesign.com
Country Club Pools
Hatboro, Pa.
(215) 675-7550
CountryClubPools.com
DS Pool Service Inc.
Royersford, Pa.
(610) 948-2000
DSPoolService.com
Piper Pools
West Berlin, N.J.
(856) 767-5035
PiperPoolsService.com
Pool Designs Inc.
Yardville, N.J.
(609) 324-9900
PoolDesignsInc.com
Published (and copyrighted) in House & Home, Volume 16, Issue 1 (July, 2015).
For more info on House & Home magazine, click here.
To subscribe to House & Home magazine, click here.
To advertise in House & Home magazine, call 610-272-3120.
Article continues below
---
advertisement


---
Author:
Matt Cosentino
Archives
---
Family Fun
Live from the White House
Collingswood
Stepping Up to the Plate
Local Story
Lingering Questions
Still Fresh
Under the South Jersey Sun
Riverside Retreat
Against All Odds
Like a Girl
Going Her Own Way
Fall In
Aiming to Please
Walk of Fame: Natalie Hope Sommermann
More...