Throwing Shade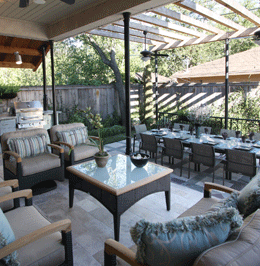 …From the pages of House & Home…
Outdoor structures provide guaranteed entertaining space and shelter from the elements.
For the vast majority of us, summertime is synonymous with outdoor entertaining. When the weather is good and the living is easy, there's nothing better than getting friends and family together outside for a gathering.
The one caveat to that is keeping an eye on the weather, as an exceptionally hot or rainy day can put a damper on any outside plans. That is, unless you have a covered structure attached to or near your home where you can seek shelter.
"One of the beautiful things about having a space outside that is covered is that you can plan to have dinner outside," says Sean McAleer of Deck Remodelers. "If you're planning a Friday night dinner a week in advance and it rains on Friday, you're in trouble. But if you have a covered structure, you're good—you're eating on the deck either way."
There are a number of options you have when you're looking to add a little coverage to your backyard—pergolas, pavilions, gazebos, covered porches and awnings are all recommended by our experts. While your budget, space and intended use are all factors that will determine your ultimate decision, our experts say you really can't go wrong by adding a space that will give you the coverage you're looking for to be able to spend more time outside.
Pergolas, pavilions and gazebos
The three most common structures our experts suggest are pergolas, pavilions and gazebos. Depending on the structure, they can either stand alone or become a part of the home, and provide full or partial coverage from the elements.
"A pergola gives you some shade for a reasonable price," says Dave Stoltzfus of Country Lane Gazebos. "It is less expensive than the full roof pavilion option; however, it does not give full protection from the elements. It also creates a nice oasis or focal point in your backyard or patio."
Stoltzfus says pergolas are easier to install than a pavilion, though neither one is difficult. "A pergola gives you the option to attach to the home and can look like it is an extension of the home," he adds.
McAleer and Deck Remodelers offer a louvered pergola, which has the same slatted roof as a regular pergola, but unlike the regular pergola, the roof can be closed.
"The rafters in it tilt horizontally and it closes off and protects you 100 percent so it's waterproof," McAleer explains. "A rain sensor can even be installed in it so it will shut even if you're not home. So you get the look and the effect of a pergola—and you get the sun and the shade—and you also get a dry space. If you have it over your outdoor kitchen, you can close it in the winter to keep the snow off."
Deck Remodelers is the exclusive New Jersey dealer for Equinox, the original inventors of the louvered pergola; and McAleer says they are quickly becoming a popular option. "It takes care of the—we don't want to put a roof off the back of the house but the wife wants sun and the husband wants shade—problem," he says. "This gives them both options. They're really, really cool."
Pavilions are also popular, according to Madeline Wenz of Garden Oaks Specialties. She says with more people opting to stay home instead of traveling these days, they want the ultimate paradise in their backyards, and covered structures help them to do that.
"Pavilions can have an enclosure on one side so you can put a bar there, and a fire pit," she says, noting homeowners can also opt to put a pavilion over an outside kitchen. "Add a pond out there with the bubbling water and it's very nice."
If you're looking for an aesthetically pleasing option, gazebos are the way to go, says Mike Jerminski of Get Decked. "Gazebos are just an old fashioned work of art that seem to connect the modern homes of today with an artistic structure from the old days," he says. "There is nothing quite like sitting on your Adirondack chair, sipping lemonade, looking up at your cathedral octagonal gazebo roof, admiring the Old World craftsmanship."
Gazebos can also be screened in, Stoltzfus says, and be equipped to basically function as a three-season room.
Covered decks and awnings
While pergolas, pavilions and gazebos offer good coverage options, covered decks are really the best option if optimal coverage is what you're looking for. "A covered deck area can really give you the feel of an outdoor living room," says Randy McHenry of McHenry Decks.
McAleer agrees. "When you put in double doors or sliders out to it, add heaters and ceiling fans, it really becomes like an outdoor great room," he says. "When it's 100 degrees out, you can be sitting out there with the fans on, and on a rainy day, you can relax and read a book on the couch."
If you're not ready to add a permanent structure to your deck, an awning is the perfect option, says Albert Mastrando of Albert's South Jersey Wallpaper. "People are building these beautiful composite decks but you can't sit out there because it's so hot," he says. "They attract heat and you can't even walk on them. But if you put the awning out, it can make them cool to the touch. It basically becomes an extension of the house, and increases the outdoor living space."
Mastrando says awnings vary in widths and projection, running anywhere from 30 feet wide to 13 feet out, and can be controlled by remote.
Budget and space
Before you make any decisions about which option would work best for your home, you do need to consider how much you're willing to spend and where it may fit with your home's exterior.
While it's one of the most practical choices, a covered deck is the most expensive option, and if you don't have the space for it, it's not a viable solution. "Sometimes [covered decks] are not always possible because of roof lines, budget and home design," McAleer says, noting that though it is the most expensive option, it also adds the most value to the home and involves very little maintenance.
McHenry says pergolas are good options with budget in mind, but if you're looking for more coverage, the pergola's slats may not be your answer.
Throwing another consideration into the mix is Bill Wilson of Amazing Decks, who says people also need to consider the fact that the sun is only directly overhead from 10 a.m. to 2 p.m., so during the rest of the day, the angle of the sun can shoot under a roof and pergola structure.
"Many of our customers add a sun shade which can be lowered during the time of the day when the sun is actually shooting under the structure," he says. "Most people use the deck in the late afternoon and evening and the sun shades can be lowered to block the setting sun."
No matter what your budget or space, rest assured there is an option available for you, and those summer days will never be better.
RESOURCES
Albert's South Jersey Wallpaper
Haddon Heights, N.J.
(856) 546-5655
AlbertsWallpaper.com
Amazing Decks
Ambler, Pa.
(215) 654-1886
AnotherAmazingDeck.com
Country Lane Gazebos
New Holland, Pa.
(717) 351-9250
Gazebo.com
Deck Remodelers
Sparta, N.J.
(973) 729-2125
DeckRemodelers.com
Garden Oaks Specialties
Bound Brook, N.J.
(732) 356-7333
GardenOaks.com
Get Decked
Downingtown, Pa.
(610) 948-1625
GetDeckedInc.com
McHenry Decks LLC
Spring City, Pa.
(484) 369-1261
McHenryDecks.com
Published (and copyrighted) in House & Home, Volume 16, Issue 1 (July, 2015).
For more info on House & Home magazine, click here.
To subscribe to House & Home magazine, click here.
To advertise in House & Home magazine, call 610-272-3120.
Article continues below
---
advertisement


---
Author:
Amanda Hamm Hengel
Archives
---
Family Fun
Live from the White House
Collingswood
Stepping Up to the Plate
Local Story
Lingering Questions
Still Fresh
Under the South Jersey Sun
Riverside Retreat
Against All Odds
Like a Girl
Going Her Own Way
Fall In
Aiming to Please
Walk of Fame: Natalie Hope Sommermann
More...