Light up the Night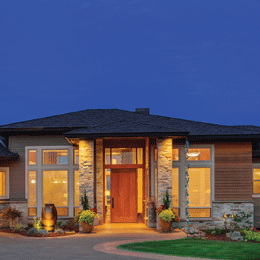 …From the pages of House & Home…
Landscape lighting adds the finishing touch to your outdoor space.
Outdoor lighting has multiple benefits for your home's exterior. While artistic accent lighting enhances the home's appearance and illuminates the landscape, lighting also adds a level of safety and security to your home. A well-lit property will not only help prevent falls, but can even deter intruders. Unfortunately, outdoor lighting is sometimes low on homeowners' priority lists, but we at House & Home think it deserves more attention.
"The truth is that lighting is often a forgotten piece of the puzzle," says Michael Rorvik, president of GroundTec Inc. "It's often thought of as that extra luxury item that can be cut out of the budget. But it's really an integral part of the project and those who leave it out are missing out. The landscape can truly be enhanced with lighting, not to mention it allows you to enjoy its beauty even after dark."
Part of the problem is that homeowners can't visualize what landscape lighting can look like. Instead, they may have an idea in their head of a bad lighting job.
"When homeowners think of landscape lighting, they're often picturing big flood lights and spotlights because that's the kind of thing people install on their own," says Bob McCusker, owner of Outdoor Lighting Perspectives-Delaware Valley, a division of Cider Mill Landscapes. "When we do a demo kit for customers it opens their eyes. They see how beautiful it can really be."
From uplighting trees and the façade of the home, to highlighting key elements of the landscape, outdoor lighting is an art and it can be incredibly beautiful if done well. McCusker says it's all about being subtle. "This isn't the Griswolds' Christmas," he laughs. "In other words, you don't want your whole yard lit up. The key is being subtle."
Bill Vecchione, president of B & G Landscapes, agrees. "It shouldn't look like an airport runway. The landscape should be illuminated in a way that is not overwhelming."
With the right accent lighting, homeowners also get more enjoyment out of their property. Sylvie Mesnier, owner of Outdoor Lighting Perspectives of Northern and Central New Jersey, says that it's a shame when homeowners invest in a gorgeous landscape that they can only see during the day.
"Oftentimes a beautiful landscape project is finished and only then do homeowners realize they can't see it or enjoy it in the evening," Mesnier says. "When we do outdoor lighting, we focus on beauty. Homeowners get so much more enjoyment out of their backyard—particularly into the fall season when the days are shorter. Come October it's not uncommon for it to still be warm outside, but without good lighting, you can't enjoy the outdoors."
Beyond the beauty
Beyond aesthetics, there's also the added benefit of safety and security.
"Landscape lighting can be a very useful addition to your property," Vecchione says. "For instance, the proper lighting of walkways can prevent trip hazards in the dark."
Mesnier says that framing a driveway with the right lighting will help guests see that unexpected curve in your driveway or maybe something that's in their way when pulling in at night. Or, if you have a stone retaining wall along the driveway, lights could be added not only to accent it, but to prevent people from running into it.
"It's that perfect combination of safety and beauty," Mesnier says. "The lights may be serving a very important functional purpose, but they are also beautiful. Lining the top of a stone retaining wall with dome lights that wash over the stone looks really pretty at night."
Lighting is also beneficial from a security standpoint, adds Rorvik.
"There's no question that a well-lit house is absolutely more secure than a pitch black one," Rorvik explains. "An intruder is a lot more likely to move on to another home—one that's not so well-lit—than try to sneak onto your property."
While the artistry of outdoor lighting is constantly evolving, so are the materials. Dave Busch of Greenview Designs says that these days he's using all LED lighting, which has an extremely long bulb life and keeps electricity costs way down. While LED is more expensive up front, it's definitely a money saver in the long run. Not having to frequently change burned out bulbs, perform repair work, or pay high electricity bills makes LED incredibly beneficial.
"LED is so efficient and so low maintenance that it really is cost effective in the long-term," adds McCusker. "I don't install anything but LED."
Features to consider
In terms of what is lit, a good outdoor lighting expert can help create an artistic design that will offer the combined benefits of beauty, safety and security.
Mesnier says that many of her clients do start with the lighting elements that are most critical in terms of safety and then add to their project from there.
"Many of our clients start by lighting pathways and stairs because it's a safety issue," she says. "Homeowners should definitely plan ahead for outdoor lighting—it's a critical part of the design process—but that doesn't mean it can't be installed in stages, if necessary."
When getting into accent lighting, Rorvik says that uplighting can create an incredibly dramatic effect. He recently did a project that included an arbor structure atop a masonry wall, which used uplighting to accent the wood feature and show off the beautiful wall.
Busch adds that there's definitely an artistic touch to the process.
"We might uplight certain trees to cast shadows on the home or uplight the house itself to highlight a beautiful architectural feature," Busch says. "Choosing where lights go and what should be lit takes some know-how. If you have a pool, that's definitely something that could look beautiful at night with the right lighting."
Adding beauty isn't just for the backyard, either. While the front yard is often thought of more in terms of safety and security, landscape lighting can have a beautiful effect on the front of your home.
"Even a simple lighting project can have a drastic effect on your home's curb appeal," Rorvik says. "The right lighting can completely transform your home at night."
RESOURCES
B & G Landscapes
Scotch Plains, N.J.
(732) 882-5456
BGLandscapes.com
Billows Electric Supply
Burlington, N.J.
(215) 332-9700
Billows.com
Greenview Designs
Hopewell, N.J.
(609) 466-3080
GreenviewDesigns.com
GroundTec Inc.
Colmar, Pa.
(215) 322-7669
GroundTecInc.com
Outdoor Lighting Perspectives—Delaware Valley
(302) 588-7050 (Del.)
(610) 874-6630 (Pa.)
OutdoorLights.com
CiderMillLandscapes.com
Outdoor Lighting Perspectives of Northern and Central New Jersey
Dover, N.J.
(973) 486-0819
NewJerseyOutdoorLighting.com
Published (and copyrighted) in House & Home, Volume 16, Issue 1 (July, 2015).
For more info on House & Home magazine, click here.
To subscribe to House & Home magazine, click here.
To advertise in House & Home magazine, call 610-272-3120.
Article continues below
---
advertisement


---
Author:
Lindsey Getz
Archives
---
Family Fun
Live from the White House
Collingswood
Stepping Up to the Plate
Local Story
Lingering Questions
Still Fresh
Under the South Jersey Sun
Riverside Retreat
Against All Odds
Like a Girl
Going Her Own Way
Fall In
Aiming to Please
Walk of Fame: Natalie Hope Sommermann
More...