The Foundation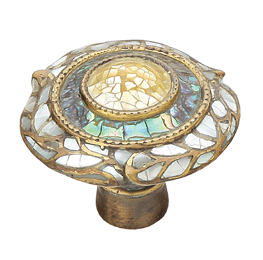 …From the pages of House & Home…
Home Front: Haute Hardware
Sometimes the smallest of details can completely transform an object. Take a look at your cabinet doors or dresser drawers, for instance. The knobs and pulls you touch every day can easily be swapped out for an instant punch of personality. We found a few we wouldn't mind incorporating into our homes immediately.
Perfect Harmony
This knob from Schaub and Company's Symphony collection (pictured) is a shiny piece of eye candy perfect for your china cabinet. The solid brass base is complemented by accents of imperial shell and white mother of pearl with an aged Dover finish for a mosaic-like appearance that catches light at any angle. (Available at SchaubAndCompany.com for $98.95)
Nautical Knob
If your tastes lean toward the coast, these Jute Rope Nautical Knot knobs will fit right in. The non-scratchy jute criss-cross design is at home in any Shore home or any beach-inspired décor, such as a guest bathroom vanity. They're the finishing touch you've been waiting for. (Available at DwyerHomeCollection.com for $8.50 per knob)
Style Shift
Make an old dresser new again with a contemporary spin on the traditional drawer pull. Designed by San Francisco furniture designer Ted Boerner, this asymmetrical Shift Drop Pull from Rocky Mountain Hardware comes in a variety of finishes, including this silicon bronze brushed tone, making it a good choice for adding glam to any dressing table. (Available at RockyMountainHardware.com for $176)
English Inspiration
The colors and shapes in this Canterbury collection of knobs and pulls are reminiscent of 14th century England. The combination of red and black or white and black designs outlined in burnished bronze is as bold and timeless as the stories with which the hardware shares a name. We think this particular set would look best adorning the liquor or cigar cabinet in a man cave. (Available at AtlasHomewares.com for $12.60 for a knob, $17.44 per pull)
Two to Tanga
It's refreshing to see a knob that breaks from the typical round or square option. This Tanga Toggle Knob from Anthropologie is made with white marble, brushed bronze and sheesham wood and measures almost 3 inches in length. The blend of textures is unexpected and earthy, which we think is ideal for a teenage daughter's room. (Available at Anthropologie.com for $18)
Straight Swagger
Make your cabinets ultra modern with this set from Berenson. Featuring pulls and square knobs with beveled angled edges, Swagger's high-shine finishes like chrome or black nickel would look tres chic in an urban kitchen or master bathroom. (Available at BerensonHardware.com for $5.49 to $29.99)
Simplify: Tips & products to declutter and de-stress
Organizational app: Trello
Organize your next party or family get-together with ease—all thanks to organizational app Trello. The project management tool allows users to create a board for each project, assign tasks, and see everything that needs to be done, all in one place. So this Labor Day, don't sweat the small stuff, and let Trello do the work.
* Create specific project boards for household projects, parties, or get-togethers. Stay organized by assigning people tasks and deadlines.
* Access everything on the go, as Trello is fully integrated with all your devices, from tablets to phones, even your desktop computer. (Free, iTunes.Apple.com)
Covet: Must-have products for the home
Suite NY Glas Italia's Seasons Table
Incite the envy of your neighbors with this bespoke piece from Suite NY. Designed by Jean-Marie Massaud, this low table in tempered transparent extra-light glass features a center basin that can be used as a vase, flower box—even a burner in steel inox fueled by bioethanol, for a look that is truly show-stopping. For indoor or outdoor use, each table is made to order in Italy. (Suite NY Glas Italia's Seasons Table with basin, $3,900; glass with burner, $6,032, available at SuiteNY.com)
Who Knew?
Unusual uses for common products: Wine corks
Whether you enjoy a bold red or a sweet white, don't toss that cork. Save it for any number of unique uses, including:
* Cleaning knives. Add a dab of cleanser to your high-carbon knives and scrub with a cork instead of an abrasive pad.
* Starting a fire. Soak corks in rubbing alcohol then toss into the fire pit for quick kindling.
* Protecting floors. Slice corks into thin pieces and place on the bottoms of chairs to avoid scuff marks.
Kids Corner: Liven up the little spaces
Prince Lionheart Wheely Hedgehog
Your little one will be riding in style with this whimsical hedgehog plush ride-on toy. Crafted from stainless steel, renewable plantation timber and non-toxic materials, this adorable little hedgehog has multi-directional wheels for easy riding, helps in development of motor skills and balance, and is built to last for generations to come. (Prince Lionheart Wheely Hedgehog, $85, available at Yoyo.com)
Bookmark: Add this to your bookshelf
William Yeoward at Home: Elegant Living in Town and Country
William Yeoward's third book juxtaposes two very different homes—a country cottage and a city apartment—both diverse settings, but his comforting and unique interior designs ring true in each. Yeoward incorporates beautifully welcoming color, proportion and style to emit a relaxing atmosphere, whether in the country or in the city. (CICO Books, July 2015, $24.65, Amazon.com)
Educational Elements
What to know about ... fall decorating
Somehow, in just a few more weeks, summer will be departing and fall's crisp weather will be creeping in. House & Home spoke with award-winning interior designer Pamela Kofsky, owner of Elegant Interior Designs, LLC in Ambler, Pa., about transitioning your outdoors from one season to the next. Her tips are simple but will make a big impact.
H&H: What do you find inspiring about fall's arrival?
Pamela Kofsky: Before long the air will turn cooler, the days shorter and the nights perfect for sitting by a fire pit or outdoor fireplace. For me, it's a unique opportunity to take interior design outdoors as well as to bring the outdoors inside.
H&H: What are some ways to transition your outdoor space to prepare for cooler weather?
PK: Consider adding a fire pit to your outdoor living space so you can extend the exterior usage of your home into the cooler months. Keep blankets and throws in an easily accessible area to grab on those chilly nights in front of the fire.
Planting seasonal flowers in pots in warm, rich colors at the front door creates a warm and welcoming atmosphere. Mirror the outdoor feel of fall indoors with warm, rich hues of red, gold, pumpkin, butterscotch and cognac tones in your napkins, table cloths and dinnerware to create a more inviting fall atmosphere.
Change up your table, whether it's inside or out, by adding a fall arrangement. For a creative and seasonal feel, cut and hollow a pumpkin and/or squash and fill them with fall flowers. Mums, sunflowers, coneflower and cockscombs look great in these containers.
H&H: What do you recommend for mood lighting?
PK: Whether inside or out, lighting can transform your space and experience. Explore red, yellow and orange colored candles set deep in hurricanes or glass lanterns and even a dimmed light fixture can add an inviting feel to the space. Consider consulting with an interior design professional who can help take your fall decorating from ordinary to extraordinary.
Pamela Kofsky
Elegant Interior Designs, LLC
Ambler, Pa.
(215) 920-9655
ElegantInteriorDesigns.com
Green Thumb
What's growing on us this month … Autumn Perennials
If you enjoy a summer garden that comes to life year after year, consider some of these late-summer to fall blooming perennials to extend your yard's beauty.
* Stonecrop: Requiring full sun, this plant blooms throughout summer and fall; its flowers change from deep pink to copper and attract butterflies.
* Pitcher Sage: These late summer blooms grow in full sun, require well-drained soil (no clay), and boast beautiful blue flowers.
* Red Spider Lillies: The red flowers and green foliage of the plant need partial shade and medium moisture.
* Joe Pye Weed: Possessing pink and purple flower heads, this plant prefers moist, alkaline soil and full sun to grow between 6 to 10 feet.
* Swamp Sunflower: This cheery yellow flower demands sunlight and wet soil. This towering, autumn bloom draws in bees and butterflies.
Published (and copyrighted) in House & Home, Volume 16, Issue 1 (July, 2015).
For more info on House & Home magazine, click here.
To subscribe to House & Home magazine, click here.
To advertise in House & Home magazine, call 610-272-3120.
Article continues below
---
advertisement


---
Author:
Alex Harward, Brianna Howarth; Edited by Liz Hunter & Rachel Morgan
Archives
---
Family Fun
Live from the White House
Collingswood
Stepping Up to the Plate
Local Story
Lingering Questions
Still Fresh
Under the South Jersey Sun
Riverside Retreat
Against All Odds
Like a Girl
Going Her Own Way
Fall In
Aiming to Please
Walk of Fame: Natalie Hope Sommermann
More...