Decking Decisions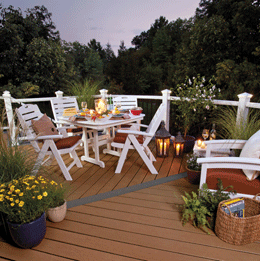 …From the pages of House & Home…
Choosing the right layout, materials and builder for the outdoor space of your dreams.
Many homeowners dream about adding a deck to their backyard, with visions of family dinners in the summer and outdoor parties into the fall dancing through their heads. They know that decks have come such a long way from the simple wooden structures of their youth, evolving into stunning outdoor spaces that are becoming more unique by the season.
But turning your backyard into a magical retreat doesn't just happen overnight. It can be a lengthy process with several steps that homeowners often don't even consider.
We spoke with local experts about the important questions to ask when planning a deck project, the debate about the best materials to use, and other elements that homeowners should think about.
Choosing the right contractor
Like any home improvement project, adding a deck starts with finding the right company to handle the job. While many contractors are certainly capable of building a deck, it may be wise to find one that exclusively works in the backyard.
"If you want to get your roof redone, you don't go to a siding company," says Brad Sensenich, a designer at Keystone Custom Decks. "If you want a good quality deck, you don't go to a concrete company. I think it's very important that if you're looking for a deck or an outdoor project, look for a company that has a lot of experience in that or specializes in just that."
"The first thing I would recommend if somebody's considering building a deck is they should look at people that are primarily deck builders, versus a general contractor that does three or four decks a year," agrees Randy McHenry, owner of McHenry Deck Builders. "I think they'll get a little better expertise from somebody that specializes in decks."
And a good rule of thumb is to not just meet with one experienced deck builder, but several. Find out how they work, get their estimates and choose the one you feel most comfortable with.
"We only want them to talk to us, but it's nice to talk to two or three people," says Joe Oakes of First State Building and Design. "When we go out, we have a customized sales book that is 30 pages long and explains every possible option they have. … It touches on everything a customer may want for their deck. I think a customer should be looking for someone who comes prepared and brings all the samples and is actually able to give them a 3D design, so they know what the deck will look like before they even sign the contract."
Juan Cardona, owner of Archadeck of Chester County, says other helpful tips include finding out if the business is fully licensed and insured; establishing guidelines for material drop-off and cleanup after the job; and making sure you get everything in writing.
"Sometimes customers' eyes just glaze over when you start to talk about those kinds of details; they just want to know how pretty it's going to be," he says. "But at some point in time, whether it's at the beginning, the middle or right before you start construction, the customer should be asking those questions, or the contractor should be touching on all of those things. It's important that the customer understands what to expect."
Cardona adds that communication is crucial throughout the project, so be as specific as possible. "Make sure that you understand what the customer is trying to tell you, because you speak different languages," he says. "You speak technical stuff as a contractor and they don't. Simple things have different meanings for a person that's not a builder. You really need to make sure you ask questions when somebody tells you, 'This is what I want,' so you know what 'this' means."
Another key aspect of the initial phase is getting references from the contractor and speaking to previous clients. "When we go out to an estimate with a customer, we have a vast photo album that we have collected from personal jobs to show them," Sensenich says. "We also have a list of jobs that are open for contact between customer to customer, so they can ask any questions they have or meet up in person to check out the deck. Quite a few people want to contact someone who's been through the process so they know what to expect."
Composite vs. wood
After finding the right contractor, the next big decision is what kind of deck to build. Most of the experts we talked to are willing to work with whatever material the customer is interested in. In today's market, that usually means a manufactured material such as composite or PVC.
"I would say at least 90 to 95 percent of the jobs we do are composite decking," McHenry says. "I seldom use pressure-treated wood anymore for high-end decks. Where I used to do a lot of pricing for both pressure-treated and composite, now in most cases, as soon as you go on the appointment the homeowners already know they want something low-maintenance. So pressure-treated is not really part of the equation.
"Then it just becomes what kind of composite the homeowners want to go with, which can be determined by color, style and price."
The main benefit to composite over wood is that a lot less upkeep is required; these boards usually just need an occasional cleaning. Composite is also durable and appealing to the eye, with plenty of colors available from the leading manufacturers like Trex, Azek and TimberTech.
"It's virtually maintenance-free and there are a lot of options to choose from," says Keith Fry, co-owner of Amazing Decks, whose company is one of the top suppliers of Trex in the country.
The upfront cost for composite is more expensive than pressure-treated wood—about double, according to Cardona—but there won't be expenses for cleaning, sealing and repairing in later years.
"There's a lot less maintenance and most of them come with a very substantial warranty that would cover staining and fading," Sensenich says. "It costs a bit more, but most homeowners are OK with that due to the low-maintenance factor."
As prevalent as composite decking is, however, some experts believe vinyl is an even better choice. Mario Conlin of Great Railing has built more than 5,000 decks since 1982, and now is a distributor of decking and railing to homeowners and contractors. While he sells a lot of composite boards, he always endorses vinyl.
"When we started, everything was wood, wood, wood," he says. "Now we recommend vinyl. Due to the fact that composites are made of multiple items, they still stain and they still grow mold. If you take a kitchen bottle and drop it on a vinyl deck, a composite deck and a wood deck, it's going to stain the composite and the wood, but on the vinyl you can wipe it right off. … That's the advantage of the vinyl decking—it stays clean.
"But the biggest advantage of solid vinyl decks is that the PVC stands for polyvinyl chloride … and that reflects heats. All the composites are now polyethylene, and I've seen composite decks in the dark colors hit well over 165 degrees. The PVC deck sitting right next to it was only 111 degrees."
Vinyl can also be a lot easier to install than composite, Conlin says. "They say vinyl is final. If somebody screws it up, whether it be a homeowner or a contractor, it hides all your sins because it's forgiving and it just goes together. My kid was 5 years old putting it together with a screw gun, because everything was pre-cut and pre-spaced. If you do wood or composite, you have to lay everything out."
"We prefer working with PVC, because you can make the joints a lot nicer, a lot tighter and there's not as much mushrooming when you screw it in," Oakes adds. "I know they advertise mushroom-free screws, but that's not true at all. When you use composite, the board does mushroom. PVC does not have that. That's a good thing about wood as well, obviously there's no mushrooming with that."
One of the downsides to using PVC is that it might not be as aesthetically pleasing. "There are PVC boards out there that look like wood, but you're going to pay for it," Oakes says. "Composite does have that over PVC, the [affordable] wood look."
Other considerations
Some homeowners like to take on the task of building their own deck, and that's certainly a viable option. But there are elements of design they might not know about that an experienced contractor can help with.
"We know what we run into as far as issues of traffic on the deck, where steps are better located, where an outdoor kitchen might be better located, what part of a deck might be better for shade," Cardona says. "Very often, customers don't know; they'll just say they want to build a deck, but they don't know where or how or why. So we'll run through the various options and help them with those decisions, and in most cases they're very appreciative of that."
Outdoor kitchens have become a popular feature for decks, but it's important to take into account wind direction for the grill, as well as proximity to the house.
"For an outdoor kitchen, we try to figure out if it's something they really want to use," Fry says. "Sometimes people just want a nice thing outside, but other times people are really advocates of grilling and want to grill all the time. If that's the case, we want to keep it close to the kitchen, make it so it's easier to get to in the winter, because you can grill all year round."
McHenry thinks something that's often overlooked is making the deck look like a natural extension of the house.
"It should look like the deck was intended as part of the original house design, and not something that doesn't fit the house," he says. "In that respect, size and shape can be important, and also the contour of the yard. In a lot of cases, we may split a deck into a couple levels to try and get a connection between the deck and the backyard area."
Conlin's tips include using the right-sized boards for the deck so you're not wasting material; adding elements like deck-over-rail boards, a place to hang planters or set your food or drink; and using a plug and play lighting system, an affordable and simple way to light the deck without wiring.
But perhaps the most important step, whether a homeowner is building a deck on their own or with the help of a contractor, is having a strategy for the overall project.
"The biggest mistake that people make is lack of planning, like where they put their steps or the shape of their deck," Conlin says. "I've seen people with their door on the right side put their steps on the left side, so they have to walk all the way across the deck to get off it. Any furniture that's out there, they're climbing over it to get to the steps. With a deck, you want somebody who knows what they're doing to lay it out, so when you finally do put it together, you have usable space."
Resources
First State Building and Design
Newark, Del.
(302) 898-5183
FSBD.co
Great Railing
Williamstown, N.J.
(856) 875-0050
DeckBuilder.com
Keystone Custom Decks
New Holland, Pa.
(717) 355-0592
KeystoneCustomDecks.com
McHenry Deck Builders
Spring City, Pa.
(484) 369-1261
McHenryDecks.com
Published (and copyrighted) in House & Home, Volume 15, Issue 9 (March, 2015).
For more info on House & Home magazine, click here.
To subscribe to House & Home magazine, click here.
To advertise in House & Home magazine, call 610-272-3120.
Article continues below
---
advertisement


---
Author:
Matt Cosentino; Photo courtesy of Trex | Trex.com
Archives
---
Family Fun
Live from the White House
Collingswood
Stepping Up to the Plate
Local Story
Lingering Questions
Still Fresh
Under the South Jersey Sun
Riverside Retreat
Against All Odds
Like a Girl
Going Her Own Way
Fall In
Aiming to Please
Walk of Fame: Natalie Hope Sommermann
More...