Working Together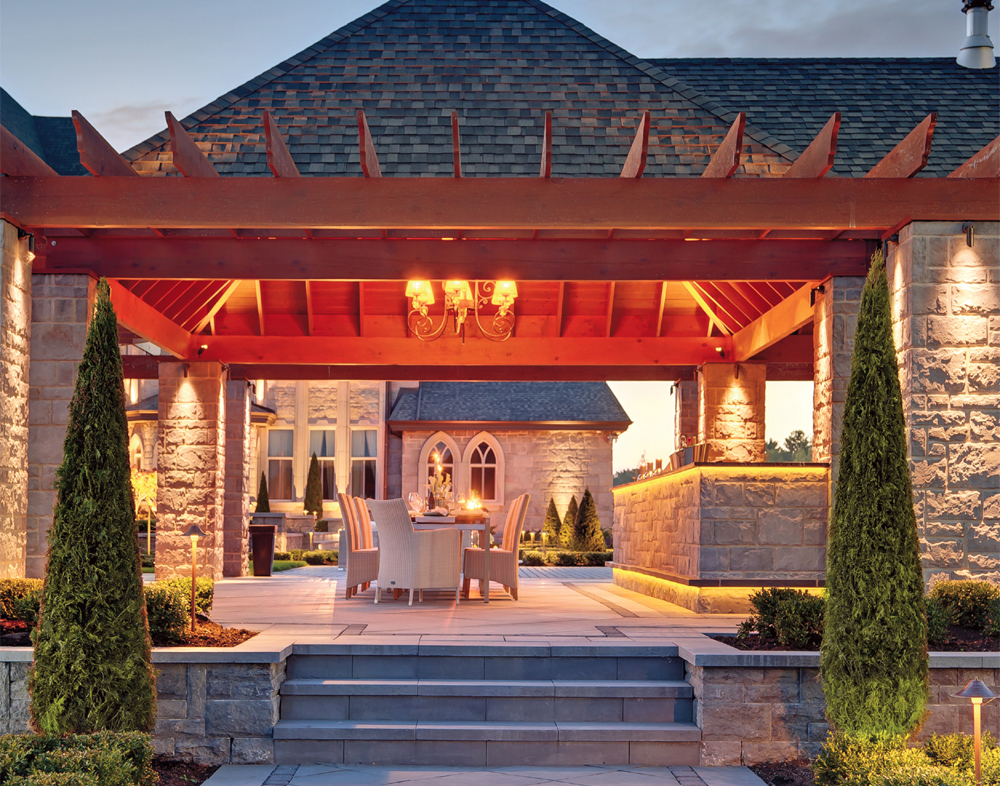 ...From the pages of House & Home Magazine...
For those of us who enjoy being outside, our backyards are the place we go to relax and enjoy with our friends and family—extensions of our home, if you will. But how do we get that "homey" feeling to transfer from inside of the house to outside?
The key is in using hardscaping elements like stone, wood, gravel and structures in concert with softscaping elements like flowers, shrubs and trees.
"I feel it is important to have the right balance between the hardscaping and softscaping elements," says Nick Nykorczuk, president of Creative Pavers. "Outdoor living spaces may consist of the different areas created with stone and wood, but without the correct amount of plants and lighting mixed in, you won't be capturing the naturalistic feeling that you want when spending time outdoors."
Keeping this in mind, Nykorczuk tells his clients that they should start to think about how they want to utilize their outdoor space. It is good to think about whether you are using your outdoor space to entertain a lot of guests, as an area for the kids to play or just as a retreat in the summertime. Once you figure this out, landscape designers are able to create the proper hardscape layout to accommodate the style of living that you desire so that it will fit all of your needs.
"We incorporate the right blend of landscape and soft lighting to tie everything together while focusing on how the different plantings will look at different times throughout the year," says Nykorczuk. "It's important to consider all elements of the softscape and really think about how it will affect the surroundings."
Nykorczuk asks his homeowners to think about certain combinations of plants with the structures when they start planning out their outdoor living spaces. "You won't want a large cluster of flowering shrubs attracting bees next to the children's play area just like you don't want too many large deciduous leave-dropping trees right next to a pool or spa," says Nykorczuk. "All of these things must be considered to ensure that you aren't designing something that might look nice at first, but just doesn't serve the proper function that it needs to."
Ed Swietanski, designer and sales manager at Gill's Landscaping, says depending on the type of hardscaping element a homeowner wants to use in their landscape, they need to be wary of certain plants. "If you are creating a seating area, you may want to steer clear of something like roses that may infringe on the seating space or traffic area—especially when young children are present—to avoid scrapes and cuts by thorny plant material," he says.
If a client is sensitive or allergic to bees, Swietanski says a lot of flowering plants in the same scenario as the rose bush would not be ideal. He says a combination of ornamental grasses and leafy multicolored perennials would work best in this case.
When you think of hard- scape elements, they go far beyond just gazebos and benches; Swietanski says he has been incorporating softscaping touches to the likes of patios, fire features, cooking areas and more.
Steve Compton, general manager at CKC Landscaping, says homeowners need to think about the types of combinations that they prefer in relation to placement when designing their landscapes. A homeowner may decide to get a gazebo or pavilion for a shady spot in their yard and want it to be accompanied with vines or other plants, but if the area of the yard has too much sun exposure they could easily die. Compton says these areas, along with pool settings, would be good for roses, knockout roses, tall grasses and different types of hydrangeas depending on the different sides of the structure and where the sun hits throughout the day.
"I wouldn't say there's a specific rule of thumb," Compton says when it comes to hard and soft combinations of elements, "... however, if there is a natural stone or a paver, sometimes there are designs that lean more toward symmetry, sharper angles, smooth clean lines, smooth stones, that maybe have a little bit more of a modern-feel to it. Then, yes, there are certain shrubs [we suggest] like a nice maintained hedge of boxwood or nice, tightly maintained holly."
Compton says when his clients are leaning toward a more English-style garden there are stones that are more fitting for that style and he would lay out the flow of a patio and outdoor space that will have that type of feel to it. "At that point [we decide] are we looking at different types of ground cover or are we look- ing at different perennials like putting in some bleeding hearts or daisies?" says Compton. "I'm not going to pick a list [of plant choices] that is heavy on shrubs that need to be tightly maintained and pruned. Certain ivies will do well in that English garden feel."
Another tip when considering your hardscape elements, Swietanski says, "Make sure you [over plan] your project. An experienced company will take into consideration future potential needs such as sleeves for irrigation and lighting to spaces that may become in- accessible after your hardscaping is installed."
The possibilities for your outdoor living space are end- less; just remember that combining hard elements with soft into your landscape is the key to a successful environment. "If you try to accomplish an outdoor living environment or even try to accomplish upping the curb appeal of your property and choose to focus on one of those elements," says Compton, "... you are going to fall short and you're not go- ing to get the environment that you want."
RESOURCES
Article continues below
---
advertisement


---
CKC Landscaping Inc.
West Chester, Pa.
(610) 436-1810
CKCLandscapingInc.com
Creative Pavers Inc.
Gibbstown, N.J.
(856) 848-7400
CreativePaversInc.com
Gill's Landscaping Inc.
Mullica Hill, N.J.
(609) 223-9770
GillsLandscaping.com
Photo Courtesy of Techo-Bloc
Published (and copyrighted) in House & Home, Volume 17, Issue 2 (Fall 2016).
For more info on House & Home magazine, click here.
To subscribe to House & Home magazine, click here.
To advertise in House & Home magazine, call 610-272-3120.
Author:
Kaytlyn Mroz
Archives
---
More Articles