Rutgers Hits Rock Bottom with Last...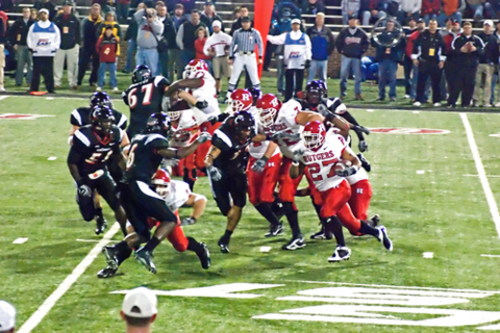 Rutgers Hits Rock Bottom with Last Two Football Losses
These are lean times for Rutgers football and it may not get better for quite some time. First-year coach Chris Ash came to Rutgers and brought so much excitement and maybe eventually he will be able to turn the program around but there is so much work to do and the fans have no choice but to be patient.
Ash came from Ohio State, where he was an assistant coach, so he knew the type of competition that Rutgers would be facing in the Big 10.
And yet Ash or anybody else couldn't have thought it would be this bad.
The Scarlet Knights are 2-4 after losing 78-0 at home to Michigan. No, that isn't a misprint. Michigan bombarded the Scarlet Knights and wasn't trying to run up the score.
Rutgers punted 16 times in the game, and was outgained in total yards, 600 to 39.
It wasn't much better the week before when Ohio State smothered Rutgers, 58-0.
That makes it 136-0 over the last two weeks.
Now, Rutgers had the misfortune of playing two teams in successive weeks who are national title contenders.
And Rutgers also opened the season with another contender, Washington, an underrated team from the Pac-12 that beat the Scarlet Knights 48-13.
So Rutgers has had to play three teams in this week's Associated Press Top 5. Ohio State is second, Michigan is fourth and Washington has earned the No. 5 spot.
The only wins by Rutgers are over Howard (1-5) and New Mexico (2-3).
Here are the final opponents for Rutgers: Illinois (1-4), Minnesota (3-2), Indiana (3-2), Michigan State (2-3), Penn State (4-2) and Maryland (4-1).
Maybe there is one win in there, but it's doubtful there are anymore. In fact the best chance might be this week when the Scarlet Knights host Illinois.
The Scarlet Knights finished 4-8 in Kyle Flood's last season a year ago.
And while most will pin a lot of the blame on Flood, he did go 8-5 in 2014, which was Rutgers first year in the Big 10.
Actually, joining the Big 10 was both a good/bad scenario for Rutgers. It was good because Rutgers will earn much more cash as a member of the Big 10, but bad because the Scarlet Knights will be playing teams that are for the most part, well above them in the talent department.
Ash and his staff have been aggressive recruiting and the key to the future success will be to keep recruiting well in New Jersey, which has loads of talent.
For instance, Michigan's top player and a major Heisman Trophy candidate is Jabrill Peppers from New Jersey's Paramus Catholic. Those are the type of players that Rutgers has to win out on, no easy task.
So the Scarlet Knights have their work cut out and considering the competition that his team faces on a yearly basis, he has one of the biggest challenges in the country as he tries to turn this program around.
Photo Credit: rick seeney / Shutterstock.com
© SouthJersey.com 2016. All rights reserved. This article or parts thereof may not be reprinted or reproduced by any other party without the express written consent of SouthJersey.com. For more information, please call 856-797-9910.
For more Local Sports features, visit our South Jersey Sports page.
Article continues below
---
advertisement


---
Author:
Marc Narducci
Archives
---
More Articles