Pitman High School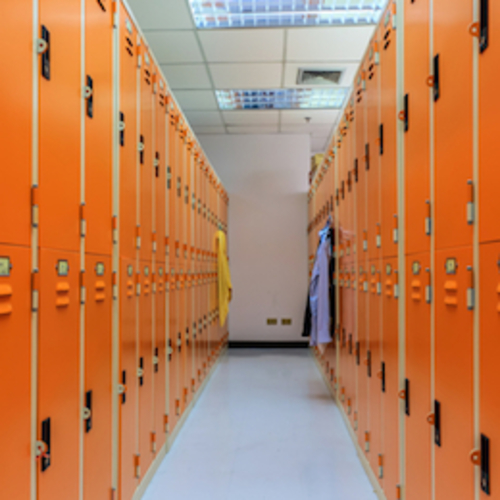 Pitman High School has over 450 students walk through its doors each day in grades nine through 12. Although one of the smaller schools in Gloucester County, students are still provided with a top-notch education and countless course, extra curricular and athletic offerings.
The original Pitman High School was built in 1922. Prior to the new school, students attended high school in Glassboro and Woodbury, according to the PHS website. The first graduating class in June 1926 consisted of 50 students. A new high school was built in 1972 and the original high school became Pitman Middle School.
Pitman was ranked in the top 50% of public high schools statewide in New Jersey Monthly magazine's September 2016 story on Top Public High Schools, coming in at No. 154 out of 339 high schools in the state.
PHS competes in the Tri-County Conference for athletics. Teams throughout the school have captured regional and state titles throughout the last few decades, and the school boasts some of the top athletes in southern New Jersey. Sports at Pitman High School include football, soccer, tennis, track, cross county, cheerleading, golf, wrestling, basketball, field hockey, softball, baseball, swimming, and winter track.
Pitman Panthers this fall season include Goanio Chavarria, Aaron Green, Joseph Chavarria, Nick Harmer, Gavyn Stone, Nick Kargman, Gavin Callahan, Dan Powell, Anthony Bevilacqua, Dominic Iannella, Phil Iannella, Freddie Georgette, Alex Mennella, Adam Good, Shane McFadden, Dan Lynam, Jacob Campbell, Richie Zadrago, Brian Zimmer, Jacob Martin, Aaron Orcutt, James McPeak, Griffin Clark, Anna Depaul, Annie Sanker, Autumn Maier, Chanice Eley, Emily Galvin, Giordana Griggs, Hadley Cressman, Hannah Derby, Isabella Villari, Julia Devaney, Katie Stanwood, Keri Leach, Krista Rollins, Lindsey Boyd, Madison Shalaway, Madison Smith, Makayla Montenaro, Meg Sigmund-Kramer, Nicole Spaeth, Paige McKenna, Peyton Canna, Sarah Horner, Taylor Milward and Zoe Weaver, plus others.
Student activities at the school include Student Council, Modern Music Masters Honor Society, Madrigals, Marching Band, Jazz Ensemble, National Honor Society, Outdoor Club, Renaissance Club, Foreign Language Club, and more than 10 additional student organizations.
The PHS Drama Club will be hosting a Talent Competition on February 11. Students who sing, play an instrument, have a band, dance, rap, do spoken word, swing a flag or have another talent are encouraged to sing up by February 1 to participate. First prize will be $100, second is $75 and third earns $50. Proceeds from $5 admission fees collected benefit the Drama Club.
Stay up to date on current events that community members post on the unofficial Facebook page for Pitman High School: https://www.facebook.com/pages/Pitman-High-School.
Pitman High School is located at 225 Linden Avenue in Pitman. For more information about the school, visit pitmanhigh.nj.pph.schoolinsites.com or call 856-589-2121.
© SouthJersey.com 2016. All rights reserved. This article or parts thereof may not be reprinted or reproduced by any other party without the express written consent of SouthJersey.com. For more information, please call 856-797-9910.
For more information about what's going on in our local schools and what today's students are up to, visit our South Jersey Schools page.
Article continues below
---
advertisement


---
Author:
Meghan Shott
Archives
---
More Articles