Home & Garden: What's Underfoot?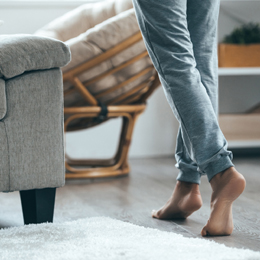 ...From the pages of House & Home magazine...
From the foyer to the kitchen to the bathroom, flooring can be a crucial aspect of your home's overall look. Different types of flooring fit different spaces, and not every option is appropriate for every lifestyle. House & Home spoke with experts in the flooring industry about what factors to consider in your decision and what styles are in—and out.
Considerations to make
As with any other purchase, homeowners should carefully weigh all of the important factors when it comes to choosing the right product.
"When considering flooring, you need to understand your life," says Damien W. Massa, owner of Floors Just For You. "Do you have kids, do you entertain a lot, do you have pets, do you have a wheelchair, is the home your vacation home or main residence, etc.? Flooring needs to be tailored to meet your life needs." After all, the floor you choose will last for years to come.
"Things [homeowners need] to consider are their budget, climate, preferences on look, feel, durability, level of care required, what the space will be used for," adds Natale Moore, marketing coordinator for Miller Flooring Residential. The flooring use includes determining if it'll be a luxury space primarily used for quiet activities, or one destined to become a high-traffic area.
Susan Gherardi of Mill Direct Flooring agrees. "[It's about] lifestyle. Shoes versus no shoes in the house, pets, children," she says. And don't forget personal preference and resale value.
"People make decisions based on budget and how the flooring will perform in the room," says Elmer Stoltzfus of Heritage Floors. "Take ceramic tile. It is scratch-resistant and wears well, but it is hard and cold and not that foot-friendly. For Shore houses, ceramic makes a lot of sense. It's durable and OK for when people track sand in. If they don't like this, I suggest luxury vinyl tile. That's warmer, softer and won't shatter as quickly."
Carpet is another option that adds warmth.
"If you're putting something directly on concrete, you have to ask yourself if you really want that [cold] on your feet," says Ray Phillips, owner of Dynamic Carpets. "To combat the cold, you can put in a heated floor, but that's very expensive. And if you have dogs, I try not to recommend hardwood. They scratch it and it isn't easy on their feet."
What's in style
Article continues below
---
advertisement


---
Hardwood seems to be the conventional favorite in homes, but it comes with its own set of caveats.
"I have seen a lot more hardwood, and in all areas of the house," says Stoltzfus. "However, I only recommend [to customers] after sharing all the pros and cons. It's beautiful but it responds to water and does scratch, for example."
Phillips backs up this point. "Lots of people are putting hardwood in the kitchen," says Phillips. "But you have to worry about water. Some products are waterproof so I suggest those first. COREtec Plus, for example, has a hardwood look and doesn't scratch easily. We sell a lot of COREtec One, Plus, HD. They hide imperfections in the subfloor, too."
Stolzfus names luxury vinyl tile as an alternative that's gaining traction. "It's really taking off for us. It is groutable and really looks like ceramic tile."
Despite these concerns, Massa doesn't see the hardwood favorability going away. "Hardwood has been very popular for the last five-plus years and I don't see it stopping anytime soon," he says. "[It has] natural beauty. And now with technology changes, the beauty can withstand some of the toughest households. The best thing with hardwood is that you can sand and refinish without replacing the floor, which is a great way to revamp your floors and give it a great refreshed look. Twenty-five percent of our business is refinishing hardwood floors," he says.
Like hardwood, stone floors continue to hold their own across the home.
"Natural stone will always have a place in the market," says Chelsey Johnson, marketing manager for Genesis Marble & Granite Refinishing Company. "Natural stones such as marble, granite and limestone have timeless appeal."
Many other materials are gaining in popularity, says Moore. "Engineered hardwood offers a huge convenience in care and durability as well as acclimates well to most environments. Classic looks use new technology, [such as] factory-finished reclaimed hardwood with a hand-scraped look. Cork [is growing] thanks to its sound-insulating qualities, plus its comfort and color options. Cut and loop carpets [also] add beautiful texture and variation," she says.
What's out
If flooring is an investment you plan on making soon, there are some styles to avoid.
"Sheet vinyl is a dying trend and I really don't see it being in the industry within the next 10 years," says Massa. "Luxury vinyl plank is the new product that will take the place of vinyl, and in some cases where water and moisture is an issue, hardwood."
Large-width planks are becoming more predominant, therefore making smaller width planks trend downward, says Moore. "The honey/blonde oak hardwood look is not as popular as it once was," she adds. "Smaller tiles, especially when it comes to floors or walls, are not being chosen, either. People are siding with larger slabs of 12-by-24 or even larger. Not as much grout to clean," she says. Also, Berber carpets are on the outs. "People are moving on to cut-and-loop and various ink-dyed or woven geometrical patterns," she says.
RESOURCES
Dynamic Carpets
Warminster, Pa.
(215) 442-7847
DynamicCarpets.com
Floors Just For You
Blackwood, N.J.
(844) 874-3766
FloorsJustForYou.com
Genesis Marble & Granite Refinishing Company
Egg Harbor Township, N.J.
(609) 204-3179
GenesisMarbleAndGranite.com
Heritage Floors
Ronks, Pa.
(717) 687-7906
CarpetLancasterPA.com
Mill Direct Flooring
Flemington, N.J.
(908) 788-1095
MillDirectFlooringNJ.com
Miller Flooring Residential
West Chester, Pa.
(610) 793-3100
MillerResidential.com
Published (and copyrighted) in House & Home, Volume 17, Issue 7 (Special Edition Spring 2017).
For more info on House & Home magazine, click here.
To subscribe to House & Home magazine, click here.
To advertise in House & Home magazine, call 610-272-3120.
Author:
Daniel Sean Kaye
Archives
---
More Articles