Inside Out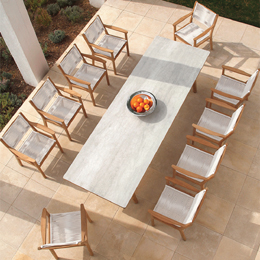 ...From the pages of House & Home magazine...
Today, there is little reason to retreat indoors due to nightfall or chillier temperatures. Modern technology has changed all that. And thanks to developing ideas, you can bring comfort, flair and your own personal taste to that area right outside.
BRINGING THE INSIDE OUTSIDE
The inside of a home is a carefully curated collection of style preferences, unique to those who live there. That should be no different when designing an outdoor living space.
"Homeowners surround themselves with a look, a feel inside that is an expression of their interests and personality. By bringing that same thought and desire outside, their personality follows them," says Charles W. Hessler, executive vice president, Barlow Tyrie Outdoor Furniture. "It is comfortable and gratifying."
And thanks to the mild spring and fall weather in our region, homeowners can get more out of this space than just in the summer.
"With the climates we deal with in the Northeast, we can have folks enjoy their outdoor space as much as nine months of the year," says Jay Strong, president of Salter's Fireplace, Patio & Grill. He adds that when people are looking at their outdoors, they ask themselves: "What do I enjoy or is most comfortable to me about my indoor space?"
This could be couches, large dining tables or a bar setup.
"[People] are looking to enjoy the great outdoors while still feeling as comfortable as they would indoors. With the variety of seating arrangements available, both living and dining, they can find low-maintenance furniture that can fit their needs and space," says Jeff Gruber, vice president of Fran's Wicker.
High-end customers especially like connecting the inside and outdoor living area, says Bill Lecorchick of Legends Home Improvements. "They like the outdoor kitchen with a bar attached. That way they can enjoy the party. If the kitchen is inside, they are catering. But when it's outside they become part of the party," he says.
And on days where it is just a bit too hot or too cold, there is still no excuse to go inside.
John Keller, owner of Sequoia Out Back, says, "A lot of people like having roofs on structures and enclosed porches. This gives them more opportunities to be out there."
FEATURES THAT PROVIDE COMFORT
Article continues below
---
advertisement


---
Outdoors, people expect to find the same creature comforts they would inside. To help decide what kind of space you would like to create, focus on style, says Gruber. "Once that's determined, you can move on to the colors [and furniture] that work best for you," he says. "You want the comfort of an indoor space while enjoying the outdoors."
People want their friends to come see their beautiful outside, and maybe watch the game, too, says Stuart Weiss of Viking Casual Furniture. The things they find to bring that living room outside are varied. "They choose sectionals and outdoor wicker, but they add to it fire pits, a bar or tiki bar and items that provide shade, like cantilever off-set umbrellas," he says.
The materials available today are much more comfortable and durable, says Rob Dougherty, patio furniture specialist at Green Lea Garden Center & Patio Furniture. "[There are] vinyl wicker that requires no maintenance, no-fade Sunbrella cushions [and] outdoor recliners for customers who have outdoor televisions and want to watch in style," he says. There are also faux wood finishes that mimic wood grain and are made of recycled milk jugs, which require no staining or painting, and propane fire pit tables, which allow outdoor rooms to be used later into fall and are much easier to light than a wood-burning fire pit, he says.
"As a furniture manufacturer, we design our products to fit a wide range of lifestyles and tastes," says Hessler, whose company offers very traditional English Garden furniture to the latest in contemporary stainless steel outdoor furnishings.
"People want to relax and congregate around an open space," says Jose Bautista of Pelican Swim & Ski Center. "That's why sectionals and sofas are so popular." He adds that mixing aluminum furniture and wicker is good for outdoors, and for colors and styles homeowners should pick out what works for their style—traditional, modern, country.
Make sure you hit all areas: grilling, dining, entertaining, gaming, warmth and comfort, fire features, water elements, media equipment and TVs, suggests Strong. "Prioritize these items and decide which are 'must haves.'" Shade is also important. "Whether it's a cantilever umbrella over your deep seating or dining collection, an awning, gazebo or similar structure, quality umbrellas can extend your time outside in normal rain conditions," he says.
Lecorchick agrees providing respite from the sun and elements can't be overlooked. "If I had my way, all outdoor spaces would have a roof," he says. "And at least part of it would be screened in. We want to enjoy outside, enjoy the open air away from bugs and heat and this would help do that."
If you can't invest in a screened in section to keep bugs at bay, Keller says to consider an air curtain. "It blows air in front of the door, pushing bugs out and keeping the area cool," he says.
TRENDS
Every year, new products and trends start to emerge as popular requests from clients, say our experts. They range from heat lamps and electronics to new fabric patterns or building materials.
Dougherty suggests "a smart outdoor speaker product that attaches to outdoor umbrellas, and doubles as a light and Bluetooth speaker. The lights are LED, requiring less electric, and best of all, the item is rechargeable so you do not need an electrical outlet nearby. The speaker can be connected to your smartphone, and used to stream music in your outdoor area," he says.
Outdoor fire features could be "fire and water, spiraling fire tempest torches, linear fireplaces, custom site-built structures with glass, river stones, lava rock or traditional logs," says Strong. He suggests consulting a professional before building or designing a site-built fire feature, due to important safety issues and township regulations that must be followed.
Fireplaces are popular, says Lecorchick, "but gas ones don't give the snap-crackle-pop that wood ones do, and they don't get as hot, either. However they do almost double the useful time of the living areas."
Bautista says if you want your outside furniture to last a long time, purchase higherquality furniture. "Just cover it for the winter and bring cushions inside. Also, today's fabrics are Scotchguarded and are made from durable fabrics or varied colors," he says. Other items Bautista suggests are gel lanterns you can position around your property, outdoor rugs and umbrella lights.
Weiss agrees. "Really focus on quality, durable, comfortable furniture. You don't want it to break on you and have to replace it every year," he says, reminding customers that while big-box stores mark down furniture after July 4, generally their products are not made for durability.
As for color trends, "greys are popular," says Weiss. They started out big in California and the East Coast is usually a season behind, he says.
Stay comforted by the vast array of items and finishes to help make your outside a beautiful connection to the rest of your home.
RESOURCES
Barlow Tyrie Outdoor Furniture
Moorestown, N.J.
(800) 451-7467
BTUSAStore.com
Fran's Wicker
Succasunna, N.J.
(973) 584-2230
FransWicker.com
Green Lea Garden Center & Patio Furniture
Voorhees, N.J.
(856) 767-4413
MyGreenLea.com
Legends Home Improvements
East Brunswick, N.J.
(732) 955-6321
LegendsBuilt.com
Pelican Swim & Ski Center
Whitehouse, N.J.
(908) 534-2534
PelicanShops.com
Salter's Fireplace, Patio & Grill
Eagleville, Pa. | (610) 631-9372
Hatfield, Pa. | (215) 362-2443
SaltersFireplace.com
Sequoia Out Back
Hatfield, Pa.
(866) 650-DECK
DeckSupplies.com
Viking Casual Furniture
Maple Shade, N.J.
(856) 486-1880
VikingCasual.com
First photo courtesy of Barlow Tyrie Outdoor Furniture
Second photo courtesy of Green Lea Garden Center & Patio Furniture
Third photo courtesy of Trex Company
Published (and copyrighted) in House & Home, Volume 17, Issue 10 (May, 2017).
For more info on House & Home magazine, click here.
To subscribe to House & Home magazine, click here.
To advertise in House & Home magazine, call 610-272-3120.
Author:
Daniel Sean Kaye
Archives
---
More Articles