76ers Have Plenty of Options Ahead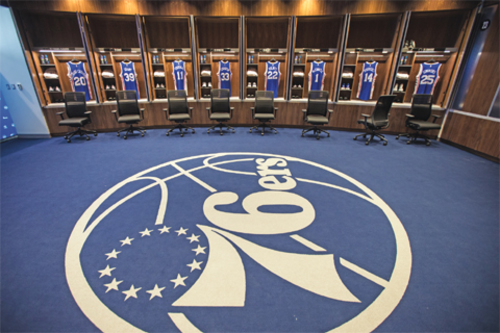 The lottery didn't go as hoped for the 76ers but they still did better coming out then they were going in. With the fourth worst record in the NBA, the Sixers will be picking third in the upcoming NBA draft. Actually Sacramento earned the third pick but a previous trade in which the Sixers had the option to switch picks with the Kings was exercised. Had the Sixers not made the trade, they would have selected fifth.
The Sixers would have received the Los Angeles Lakers first pick if it fell outside of the top three. The Lakers earned the second pick and thus will keep it, but as part of the trade between the teams, the Sixers will receive the Lakers unprotected first rounder next year.
The Sixers also own Sacramento's unprotected first round pick in 2019.
So the Sixers have plenty of assets for the future.
Now comes the hard decision for Sixers president of basketball operations Bryan Colangelo. Should the Sixers continue to be patient and take advantage of what should be some high future first round picks, or should they package some of those picks for some veteran players.
If the Sixers make no other moves but to exercise their first round pick this year, many feel that could be enough to make them a contender for a playoff spot next year. (We're not so sure about that, because the Sixers have to prove they can stay healthy).
As everybody knows top overall pick Ben Simmons missed the entire season with a fractured right foot. Joel Embiid, who missed his first two years following foot surgeries, played just 31 games this season. He had meniscus surgery on his left knee on March 24 and said at the Lottery that he was doing well and could be back on the court within three weeks.
Embiid says he won't play in the summer league for the Sixers. Simmons isn' t expected to play in the summer, but the team is counting on both to be at full strength when training camp opens in late September.
What will be interesting to see is if the Sixers opt to get into the free agent bidding game. Toronto Raptors all-star point guard and Philadelphia product Kyle Lowry is a free agent.
Lowry, who turned 31 in March, has earned an all-star berth in each of the last three seasons. He has also encountered some late-season injuries and hasn't played more than 70 games in any of those three years. Sixers coach Brett Brown has announced that the 6-foot-10 Simmons would be the point guard.
Would that change if Lowry is brought on board, or would the two exist as co-points?
The Sixers likely need some type of veteran to come in to help this young team.
One thing is for sure. It doesn't appear as if Colangelo will stand pat. The Sixers have the chance and the salary cap space to make moves. There is no doubt they would rather draft Markelle Fultz, the point guard from Washington, but he likely will go No. 1 to Boston (or a team that trades with the Celtics).
The Sixers will still get an excellent player at No. 3 and many figure it to be Kansas forward Josh Jackson. We'll go through the candidates in a few weeks, but the Sixers have many options at their disposal and how Colangelo handles this offseason will determine if the team is indeed a playoff team next year.
© SouthJersey.com 2017. All rights reserved. This article or parts thereof may not be reprinted or reproduced by any other party without the express written consent of SouthJersey.com. For more information, please call 856-797-9910.
For more Local Sports features, visit our South Jersey Sports page.
Article continues below
---
advertisement


---
Author:
Marc Narducci
Archives
---
Continuing the Difficult Climb
Something to Build On?
Who's Who in Real Estate
Colonial Liberty is highly competitive in South Jersey Girls' Soccer
South Jersey Football Games of the Week
South Jersey Coronavirus (COVID-19) Developments (September 20)
Still way too early for Eagles conclusions
Sixers and Ben Simmons have plenty of training camp intrigue
Best of Home and Garden
Top Physicians 2021
Back to School
Former Ocean City standout Delaney Lappin making her mark at Drexel
South Jersey Coronavirus (COVID-19) Developments (September 13)
South Jersey Football Games of the Week
Eagles Enter a Season with Justified Optimism
More...