Couple Stuck On Rising Drawbridge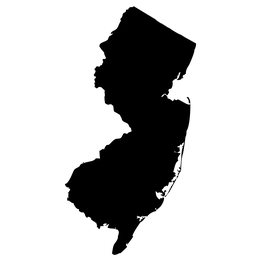 CAPE MAY COUNTY, N.J. (CBS)—One family in South Jersey says they're lucky to be alive after a terrifying incident while crossing the Middle Thorofare Bridge which connects Wildwood and Cape May.
It happened on Aug. 1, when the Naphys family was heading to Cape May to shop and eat.
When the bridge started to open, driver Terrance Naphys says he barely had time to think, so he gunned the engine and cleared the opening.
"My wife said, 'I think the bridge is opening,'" said Terrence
"He accelerated, and of course then we landed with a big impact on the concrete on the side," said Jackie Naphys.
According to the New Jersey State Police, Naphys just finished paying the toll when they continued toward the top of the bridge.
But that's when police say one employee of the bridge commission flipped a switch to activate the flashing red lights and flashing rails on the bridge.
With the Naphys family on the steel grate, police say the bridge began rising approximately 3 to 6 feet in the air, due to a large vessel trying to cross.
"I'm thankful we're still here because I think if we went in the water or stayed on the bridge we wouldn't still be here, or we'd be seriously, seriously injured,' said Terrence Naphys.
"An employee for the Cape May County Bridge Commission stated that a large vessel was approaching the bridge and they had no contact with that vessel due to their radio being down," state police said in their report.
The report indicates that one bridge employee, who was in control of raising and lowering the steel grate, may have been dealing with a sunglare.
"[The employee] advised me that he anticipated all vehicles being clear, and all rails being down, but wasn't sure due to a strong sun glare," said police.
Authorities have determined that the Cape May County Bridge Commission was at fault for not being aware of the surroundings, by raising the steel grate while vehicles were between the flashing red rails.
There was minor damage to the front under carriage of the Naphys' vehicle. There was no damage to the Middle Thorofare Bridge
In a statement sent to CBS3, the Cape May County Bridge Commission says they are also investigating this incident.
"The Cape May County Bridge Commission and the County of Cape May are currently conducting an investigation into the situation that occurred on August 1st at the Middle Thorofare Bridge. We take the safety of the traveling public very seriously and systems are in place to prevent incidents like the one that has been reported from occurring. Once the results of our investigation are complete we will take any and all necessary action to insure the continued safety of our customers."
But the Naphys say no one from the bridge commission has reached out to them.
"Not anyone from the bridge commission. No one. Not a soul from the bridge commission," said Terrence. "Basically we would like to see something happen. People cross that all the time. We won't again, but a lot of people do."
Article continues below
---
advertisement


---
Author:
http://philadelphia.cbslocal.com/2017/08/17/couple-stuck-drawbridge-south-jersey/ - Brandon Longo
Archives
---
South Jersey Coronavirus (COVID-19) Developments (February 26)
South Jersey Coronavirus (COVID-19) Developments (February 23)
South Jersey Coronavirus (COVID-19) Developments (February 19)
South Jersey Coronavirus (COVID-19) Developments (February 12)
South Jersey Coronavirus (COVID-19) Developments (February 5)
South Jersey Coronavirus (COVID-19) Developments (February 1)
South Jersey Coronavirus (COVID-19) Developments (January 29)
South Jersey Coronavirus (COVID-19) Developments (January 28)
South Jersey Coronavirus (COVID-19) Developments (January 22)
South Jersey Coronavirus (COVID-19) Developments (January 21)
South Jersey Coronavirus (COVID-19) Developments (January 14)
South Jersey Coronavirus (COVID-19) Developments (January 8)
South Jersey Coronavirus (COVID-19) Developments (January 4)
South Jersey Coronavirus (COVID-19) Developments (December 23)
South Jersey Coronavirus (COVID-19) Developments (December 21)
More Articles