Remembering Her Roots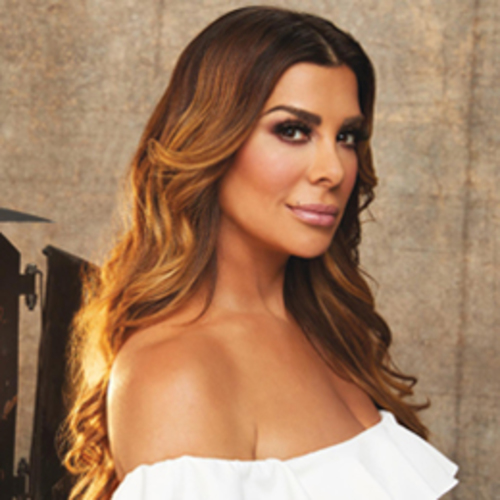 ...From the Pages of South Jersey Magazine...
For motivational speaker, relationship expert and Real Housewives of New Jersey cast member Siggy Flicker, she will never forget her Cherry Hill roots, as it helped make her into the woman she is today. While she was born in Israel and moved to Cherry Hill at a young age, Flicker looks back at her childhood in South Jersey with overwhelming nostalgia—she fondly remembers working at Bamberger's in the Cherry Hill Mall and Ponzio's remains her favorite diner.
Now residing in Tenafly with her family, Flicker still finds time to come back south—whether it's to catch up with high school girlfriends, make a weekend trip out to Margate or to give a special lecture at the Katz JCC in Cherry Hill, which she did this past summer.
"I grew up in Cherry Hill on Cooper Landing Road and when my father was offered the position [to run] Yad Vashem [in Israel], I decided to stay here and continue my education [at Cherry Hill West]," explains Flicker, who is also the author of Write Your Own Fairy Tale: The New Rules for Dating, Relationships, and Finding Love On Your Terms."I grew up very humble— I shared a room with my brother and sister—and I always say, money can't buy your health or your happiness.
"I got accepted to Monmouth University on a special program for low-income families, it was called the Equal Opportunity Funding program. … I remember not having money for a comforter and sheets and the JCC gave me a check for $300 so I could go and buy stuff for my dorm room," she continues. "I went back to Cherry Hill because I wanted to thank them and it was an amazing lecture, but it was very emotional for me to be there because all my Cherry Hill West girlfriends came [and] all my friends from Margate drove up. It was a beyond fabulous event."
With Season 8 premiering on Bravo this month, Flicker candidly spoke with South Jersey Magazine about her childhood memories in Cherry Hill, what to expect this year on RHoNJ and how she turned her talent into a successful career.
On growing up in Cherry Hill
Article continues below
---
advertisement


---

I have very good memories of Cherry Hill.
… I was on the softball and volleyball [teams at Cherry Hill West]. As a freshman, I went to the senior prom with Scott Mitnick, who was my first boyfriend. Everyone used to go to Harrah's … [and] we used to all go down to Margate [and] Lucy the Elephant.
... Margate and Cherry Hill [are] everything that has to do with my childhood.

Her start on RhoNJ
I used to have my own show on VH1, Why Am I Still Single?!, and [when] the show ended after one season, I did the rounds. People called me for my expertise from Fox News to CNN, Dr. Phil, Today Show to a very special Jersey girl by the name of Wendy Williams. … I would [also] go to events and one event, which was Dr. Oz's event, I sat at table with Jacqueline Laurita, Kathy Wakile and Melissa Gorga. At that time, Teresa [Giudice] was still in jail and we started talking and they said, 'Why don't you come join us?'
… but it was Jacqueline, 100 percent, who brought me around to have talks with Bravo about joining the cast.

On the upcoming season
This season, the theme is standing up for what you believe in and not backing down to bullies. … For viewers, it's going to be relatable to anyone who is watching the show this season
… because we've all had toxic people in our lives. … It's all about the chemistry between two people and how that affects the group as a whole and what you will see [are] lines being drawn, betrayal, picking sides—all of that comes into play.

On filming
My favorite part of filming is when I'm with Dolores Catania. When I'm with her [and] we're filming together, I am the happiest. I feel the safest, I can be myself, I don't feel like she's judgmental, but the best part about filming Housewives, in general, is the fabulous trips we go on. This year we take a trip to Boca Raton and that's my second home. That's where [my children], Joshua and Sophie, were born. … Then of course, how do you beat Italy? We also went to Milan, so I say that our trips we take are just beyond fabulous.

What she brings to the table
I've only been on the show one season and I made a mark. I started in Season 7 and I'm the first Jewish Jersey housewife.
... But I bring a lot in this season with my family. My father ran Yad Vashem in Israel for 27 years [and] I bring a lot of Jewish heritage, as well as being married to a half-Jewish, half- Italian man. So I can have Kiddush on Friday night and I also showcase pasta dinners on Sunday afternoon.

On taking her career to the next level
A lot of people say, why did you do a show like this? Very easy: You'll never find a country in the world that doesn't watch Housewives or doesn't relate to it. People love the show whether they admit it or not, so having said that, not only did I get my message out— and my goal is to always inspire and motivate others—I'm able to actually practice what I preach. … I'm far from perfect, I don't have a magical barrier around me that negative energy doesn't hit me [so] I'm able to lead by example. I do events [where] I'm asked to speak about topics of love, divorce, bullying or whatever it is. … Now I'm looking to take it to the next level and do weekend retreats four times a year … with a takeaway on how to really recognize what is going on in your life and how to fix it.

On becoming a life coach and relationship expert
Ever since I was a young girl, even in Cherry Hill, no one could understand how Siggy Flicker—or back then it was Sigalit Paldiel—was going to the senior prom with the most adorable Scott Mitnick. … I was overweight, I had pimples, I had curly hair, I had buck teeth … and I used to say, it comes from your inside [and] love yourself first—my mother raised me to always walk and stand high. People used to come to me for advice and when I give people advice, I know I'm changing their life for better.

So I just continued and then I started charging for it and now I can't even take any more clients. … It's what I do best: give advice and change other people's lives. Now, having said that, on the other hand, if you cross me, then you're going to see the Israeli in me! But I've been doing this since a young age and it's something that I think is a talent God gave me. You don't need to go to school to give great advice to people or to uplift them. It's just a gift that I've had since the age of 6, I really started using it at 14 and from [then], I've made a fabulous career, a lot of money doing it and it makes me happy at the end of the day.
Season 8 of The Real Housewives of New Jersey premieres Wednesday, Oct. 4 on Bravo at 9 p.m.

Published (and copyrighted) in South Jersey Magazine, Volume 14, Issue 7 (October, 2017). 
For more info on South Jersey Magazine, click here. 
To subscribe to South Jersey Magazine, click here. 
To advertise in South Jersey Magazine, click here.

Author:

Josephine Cusumano
Archives
---
More Articles