Teen Murder Suspect Back In Custody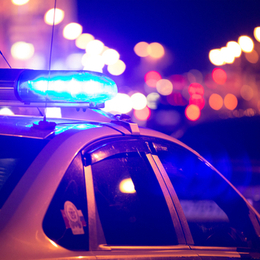 BRIDGETON, N.J. (CBS) — A teen murder suspect who escaped from a youth detention center is back in custody.
michael huggins Teen Murder Suspect Back In Custody After Escaping Youth Detention Center Photo of Michael Huggins. (credit: CBS3) Michael Huggins, 18, was taken into custody by the Atlantic County Prosecutor's Office in the 100 block of North South Carolina Avenue.
Huggins escaped with three other teens — Stephine Woodley, Raymir Lampkin, and Donovan Nickerson – from the Harborfields Youth Detention facility shortly after midnight on Wednesday after assaulting and overpowering a guard.
Woodley, Lampkin and Nickerson were captured near the Amity Heights apartment complex on Pamphylia Avenue in Bridgeton around 9 a.m. on Wednesday.
The manhunt for Huggins continued for more than 24 hours. It is not known how Huggins was able to travel to Atlantic City.
Huggins was being held for the October 2016 murder of 21-year-old Davonte Lee in Bridgeton.
Shirley Battle is angrier than most that Huggins escaped since he's accused of killing her grandson.
"When I found out that it was him that escaped and they haven't found him yet, it was devastating news because we all thought he was somewhere he couldn't get out," said Shirley Battle, Lee's grandmother.
Atlantic County Sheriff Mike Petuskey said the four male teens assaulted and overpowered a corrections officer, stole a set of keys and then escaped from the Harborfields Youth Detention Center in a stolen car.
Surveillance video shows a red Kia Optima containing some or all of the four teens that escaped from the detention center. The video shows the car hitting Joseph Luna's jeep before coming to a stop against apartments on the 900 block of Buerger Street in Egg Harbor City. The suspects then ran off.
"Well, I heard the big crash and boom, and when I went out to investigate, I saw the car wreck into that building and when I walked up to it there was nobody inside," said Luna.
Several schools were closed Wednesday as a result of the escape.
Article continues below
---
advertisement


---
Author:
http://philadelphia.cbslocal.com/2017/11/16/michael-huggins-back-in-custody/
Archives
---
South Jersey Biz Digital Edition
Man Accused Of Trying To Kill Toms River Police Detective
School Bus Driver Charged In Crash That Injured 8 Students In South Jersey
Man Gets 40-Year Sentence For Killing Couple In Their Camden Home
Police Searching For Man Who Allegedly Sexually Assaulted Woman In Camden Home
Gov. Murphy Says Bill To Legalize Recreational Marijuana In NJ Short On Votes
Lindenwold Man Sentenced For Shooting Camden County Metro Officer In Leg
1 Dead, 3 Injured In Shooting At Camden After-Hours Club
Camden City Council Puts Brakes On Limiting Roadside Memorials After Hearing From Grieving Families
Increased Security At Clearview Regional Middle School After Bomb Threat Discovered In Bathroom
Homeless Veteran Johnny Bobbitt Pleads Guilty In State Court For Role In GoFundMe Scam
Driver Killed In Single-Vehicle Crash After Truck Found Overturned On Field Near High School In Woolwich Township
2 Dead In Multi-Vehicle Crash In Gloucester County During Winter Storm
Prosecutors Probe Slayings Of 2 Shot In Idling Car In Camden
Gloucester County Dealing With Recent Spike In Hepatitis A Cases
More Articles