Search Continues For Teen Murder Suspect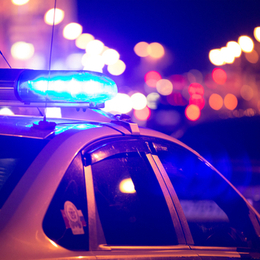 ATLANTIC COUNTY, N.J. (CBS) — The manhunt continues for an accused killer who broke out of a youth detention center overnight with three other teens.
"Michael Huggins should be considered dangerous and if he's seen in public we're asking the public not to approach him and to call 911," said Cumberland County Prosecutor Jennifer Webb-McRae during a press conference Wednesday.
Police have arrested three of the four teens who escaped early Wednesday morning. The three teens — Stephine Woodley, Raymir Lampkin, and Donovan Nickerson — were captured near the Amity Heights apartment complex on Pamphylia Avenue in Bridgeton, New Jersey, around 9 a.m. They were taken into custody by Bridgeton police and are awaiting to be extradited back to Atlantic County by New Jersey State Police. It took a lot of police power to track down the escapees, according to acting Atlantic County Sheriff Mike Petuskey.
"We've got a hundred officers out here, have over 26 canine teams," Petuskey said. "We had the New Jersey State Police helicopter, the Atlantic County Prosecutor's Office and multiple agencies."
Authorities say Huggins was being held on murder charges. Webb-McRae says Huggins is being sought in the area of the Southlands State Prison in Bridgeton. He was being held for the October 2016 murder of 21-year-old Davonte Lee in Bridgeton. He is considered dangerous and should not be approached if seen.
Shirley Battle is angrier than most that Huggins escaped since he's accused of killing her grandson.
"When I found out that it was him that escaped and they haven't found him yet, it was devastating news because we all thought he was somewhere he couldn't get out," said Shirley Battle, Lee's grandmother.
A massive search kicked off overnight for the four teenagers.
Petuskey said the four male teens assaulted and overpowered a corrections officer, stole a set of keys and then escaped from the Harborfields Youth Detention Center in a stolen car.
Surveillance video shows a red Kia Optima containing some or all of the four teens that escaped from the detention center. The video shows the car hitting Joseph Luna's jeep before coming to a stop against apartments on the 900 block of Buerger Street in Egg Harbor City. The suspects then ran off.
"Well, I heard the big crash and boom, and when I went out to investigate, I saw the car wreck into that building and when I walked up to it there was nobody inside," said Luna.
Police were concerned the teens may try to break into homes to get clothes or warm up, as they are not dressed for the cold weather.
Egg Harbor City Schools closed Wednesday as a precaution.
"Due to an unsafe situation, the police have requested schools be closed today. There is no school today, November 15, 2017," the Egg Harbor City School District posted on their website.
In addition, the Greater Egg Harbor Regional School District, Hamilton Township School District, Galloway Township Public Schools and Mullica Township School District were also closed.
The Hamilton Township School District says school will be open Thursday.
"We have received the 'all clear' and we will be resuming our regular school schedule tomorrow morning. Students should report to their bus stops at their regular time," said the district in a statement.
The injured corrections officer was treated at a local hospital and is expected to be OK.
Residents in the area are being asked to stay on alert and to call police if you have any information.
"There is what we would consider to be a dangerous individual at large and we want to make sure that people are aware of what he looks like," said Webb-McRae.
Article continues below
---
advertisement


---
Author:
http://philadelphia.cbslocal.com/2017/11/15/4-juveniles-escape-detention-center/
Archives
---
More Articles