Eagles Draft's Impact on Fans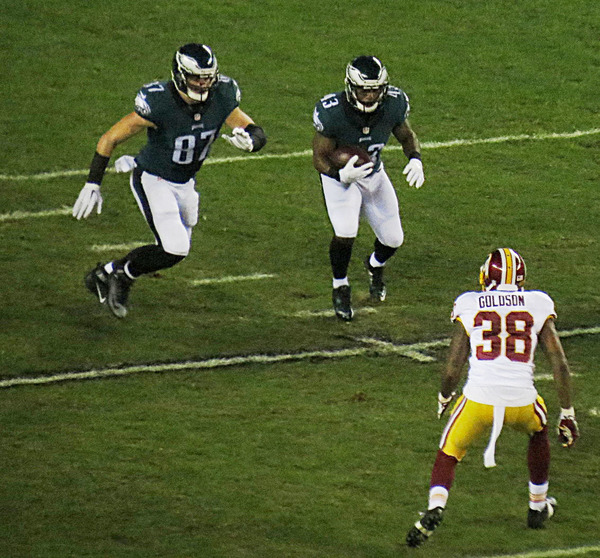 Eagles Draft's Impact on Fans was Lessened After Super Bowl Win
Remember when the NFL draft was scrutinized so closely by Eagles fans? That wasn't the case this year. That is what winning a Super Bowl will do for a fan base.
Before the Eagles beat New England for the first Super Bowl championship in franchise history, the draft was scrutinized heavily by fans.
Even in winning, the draft is just as important, but it's just that the fans didn't view it with a live-and-death attitude this year.
That said, if the Eagles are going to continue to stay at the top – no easy task in the NFL salary cap era – they will have to hit on the draft.
This year the Eagles only had five choices, so don't expect their "draft grade" by the so-called experts to be overly high.
Except that they did some really good things this draft, including setting themselves up for next year's draft.
First off, by trading the last pick in the first round (No. 32 overall) to Baltimore, the Eagles moved back 20 spots in the second round, but also picked up a 2019 second round pick.
In addition, last year they chose cornerback Sidney Jones in the second round, knowing fully well that he likely wasn't going to play in 2018 following Achilles tendon surgery. Jones didn't play, but figures to be a major contributor this year.
He has first round talent and will seriously challenge for a starting job.
As for this year's draft, the headliner was second round tight end Dallas Goedert out of South Dakota State. Anybody who has seen his one-handed catches in highlight films, has to be excited about the potential of Goedert as a second tight end along with Pro Bowler Zach Ertz. The rest of the draft won't get the fan base overly excited, but one would have to trust GM Howie Roseman and vice president of player personnel Joe Douglas and the Eagles personnel department, who have done an excellent job.
The Eagles only had five picks in the draft due to previous trades for players such as Carson Wentz, Ronald Darby and Jay Ajayi and would anybody want to give any of those players back?
Here are the draft picks:
Article continues below
---
advertisement


---
2nd round: TE Dallas Goedert, 6-5, 265, South Dakota State
4th round: CB Avonte Maddox, 5-9, 184, Pitt
4th round: DE Josh Sweat, 6-5, 250, Florida State
6th round: Mat Pryor, 6-7, 335 OL TCU
7th round: Jordan Mailata, 6-8, 345 OL Australia
The seventh rounder Mailata, is the most interesting pick. He has never played football. Mailata is a rugby player. This is a serious gamble, but if one is going to do that, the time to take chances is the seventh round.
The Eagles also announced that Darren Sproles, who missed most of last season when he tore the anterior cruciate ligament in his left knee, has re-signed with the team. That is a major boost.
In addition, they have reportedly signed Notre Dame running back Josh Adams as an undrafted free agent.
Adams could make an impact, the way Glassboro product Corey Clement did last season as an undrafted Eagles free agent running back.
The Eagles will need these draft picks to be contributors, if not their first year, then in the future. The draft is the lifeblood of any championship team. It's just that this year, the fans weren't as excited.
© SouthJersey.com 2018. All rights reserved. This article or parts thereof may not be reprinted or reproduced by any other party without the express written consent of SouthJersey.com. For more information, please call 856-797-9910.
For more Local Sports features, visit our South Jersey Sports page.
Author:
Marc Narducci; Photo by Marc Narducci
Archives
---
Phillies' Realmuto is heating up
SJ pitcher is 37th pick in MLB draft
Mainland grad fully enjoys MLB draft
Millville's Kenndy moving up the minor league ladder
Phillies not in a bad position at the All-Star break
Memorable season for Bishop Eustace baseball
TOP DENTISTS 2021
Another distinguished award for Rowan baseball program
Help Wanted
A TALE OF THREE WEDDINGS
Who's Who in Health Care
Two South Jersey pitchers headed for potential first-day selections in MLB draft
Colleges After COVID
Family Fun Outdoor Movies Events Near You
South Jersey 4th of July Shore events guide
More...