Phillies Poor September Showings Led to Gabe Kapler's Firing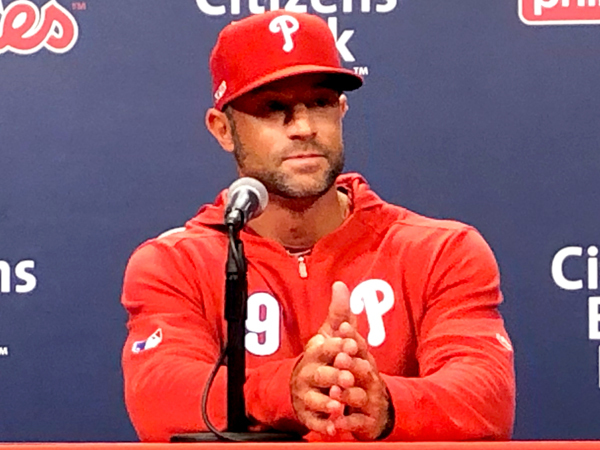 It's very easy to blame the manager for the struggles of a team, and certainly former Phillies manager Gabe Kapler had his faults, but the blame for his disappointing two-year reign that ended with last week's firing, should be shared by many.
Kapler is an analytics disciple yet there was one simple stat that led to his demise – 20-36. That was the Phillies won-loss record in each of the last two Septembers, when they entered the month in serious playoff contention both years.
A team manager guiding a team that fades that much down the stretch, is likely to hit the unemployment line.
There were other problems that led to the demise.
Kapler, by all accounts was liked by the players, but there was a cry for discipline. On more than one occasion shortstop Jean Segura didn't run out balls and cost his team. He wasn't benched.
Second baseman Cesar Hernandez also showed a lack of hustle, after hitting a ball hit off the wall in Miami on August 25. Hernandez didn't run out of the box, thinking it would be a home run, and admiring his hit. Instead of having an easy double, he was limited to a single.
Hernandez was benched the next day, but he told the media that he thought it was just a day off. Kapler then tried to tell the media that it wasn't a punishment.
There were also some in-game decisions over the two years that were head-scratchers. Kapler would often defend his decision based on analytics.
Kapler played parts of 12 major league baseball seasons with six teams, so he wasn't just some analytics geek who didn't have a feel for the game.
Yet, he tended to overly rely on analytics for decisions.
The Phillies, will talk about injuries for this year's , and yes, their bullpen was depleted, and losing outfielder Andrew McCutheon on June 3 with a season-ending torn ACL, was a big blow.
Yet other teams have had to endure injuries. Not team suffered more injuries than the New York Yankees and they kept mowing down opponents.
Where the Phillies failed most, however, was starting pitching and that was on general manger Matt Klentak. In the offseason Klentak made tremendous acquisitions for position players, trading for catcher J.T. Realmuto and signing Bryce Harper to a 13-year, $330 million free agent contract.
Those two were the Phillies two best players by a long margin.
The starting pitching wasn't addressed and other than Aaron Nola, who enjoyed a good year, but not as dominant as 2018, the Phillies didn't have a reliable starting pitcher.
No matter who the next manager is, the starting pitching problem remains a major issue.
The Phillies should go after Houston Astros righthander Gerrit Cole, a free agent after the playoffs, who is expected to command a $200 million deal.
Going after a pitcher is risky, especially one who will likely demand a six or seven-year deal, but that is a story for another day.
One final note on Kapler. He never was beloved by the fans in Philadelphia, but he became a sympathetic figure at the end. That's because he wasn't fired until 11 days after the regular season. Kapler was even still coming to work at Citizens Bank Park.
That said, managers are hired to be fired and this year is a clear example, with eight openings. Maybe Kapler will get one of them. Published reports say he has a managerial interview with the San Francisco Giants.
Two years isn't a long time, but that is the way the business works. Results do matter as Kapler and the other ex-mangers have discovered.

Article continues below

---
advertisement


---
© SouthJersey.com 2019. All rights reserved. This article or parts thereof may not be reprinted or reproduced by any other party without the express written consent of SouthJersey.com. For more information, please call 856-797-9910.


For more Local Sports features, visit our
South Jersey Sports
page.
Author:
Marc Narducci; Photo by Marc Narducci
Archives
---
Who's Who in Health Care
Camden County College welcomes Baseball Hall of Fame
South Jersey Football Games of the Week
Out & About
QB Ronnie Borden is Back in the Game
Should fans be worried for the Phillies bullpen?
South Jersey Football Games of the Week
A look at South Jersey's Top H.S. Girls' Soccer Teams
Out & About
Eagles will be fine after close call in opener
High School Football Games of the Week
Is it Super Bowl or bust for the Eagles?
What's New in South Jersey?
From New Jersey to Nashville
Frustrating times for Millville's Mike Trout
More...