This Calls for a Collaboration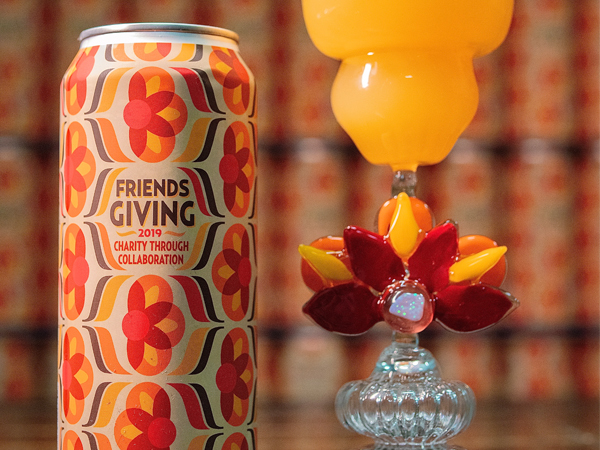 Double Nickel Brewing Company and friends turn their creative beers into a charitable initiative.

Beer and community go together naturally. Whether it's that happy hour pint on Fridays or the six-pack shared at a tailgate, beer is best enjoyed with others—and it's often best created with others, too.
Beer collaborations (also called "collabs") bring together two or more breweries that might otherwise be competing with each other to create a unique recipe with shared branding. While collabs are nothing new to the craft beer industry, in recent years, these beers have generated a significant amount of buzz, and the often limited supply puts them in high demand.
Last fall, Double Nickel Brewing Company, based in Pennsauken, launched a collaboration project with some friends while brainstorming names for its November beer release. "When someone said 'Friends Giving,' the thought came up that it could be a cool name for a collaboration between multiple breweries rather than what has more traditionally been between just two breweries," says Drew Perry, Double Nickel's head brewer. "As we talked about it some more, the 'Giving' piece naturally fell into place as the suggestion of doing it as a charity fundraiser was brought to the table."
"Once we got going with the idea for Friends Giving and turning it into a fundraiser, we knew we wanted to work with the breweries we're friendliest with," says John Dalsey, director of marketing at Double Nickel.
The phone calls to their peers at Cape May Brewing Company, Tonewood Brewing Company in Oaklyn and Philadelphia's Urban Village Brewing Company were easy, says Brian Needham, head of sales. "They were immediately on board with the idea and the fact that it would go toward charity. Each of these breweries is very much involved in their local communities so it was a natural fit."
In order to help the proceeds go further for the cause, the team asked suppliers and vendors to donate and they didn't disappoint. "Everything from the malt and hops to the can carriers and distribution was donated or discounted by our partners," says Dalsey. Even Dietz & Watson got on board, tripling a portion of the proceeds in wholesale meat and food products.
And if they thought the response to the idea of Friends Giving was well-received within the industry, they weren't prepared for the consumer response. The inaugural Friends Giving release—dubbed a "potluck-style IPA"—sold out in Double Nickel's tasting room in two days, and raised over $75,000 for three charities: Cathedral Kitchen, Sacred Heart Church of Camden and Philabundance.
Since then, the initiative has become much bigger than just a one-off beer; it's now under the umbrella of a nonprofit called CollaborAID. "Our mission is to turn creativity, camaraderie, community and collaboration into support for local families who are struggling to put food on the table," says Dalsey.
Energized by the response, Double Nickel once again collaborated with those same breweries for a spring beer, and this time their circle of friends grew larger. They partnered with Whole Foods markets for fresh honey from Fruitwood Orchards in Monroeville and fresh malts from Rabbit Hill Farm in Shiloh to create The Bee's Knees, a hazy IPA with orange blossom honey. A portion of the proceeds went to Virtua's Mobile Farmers Market, as well as Philabundance.
This went perfectly with CollaborAID's mission, using local ingredients and local partners to help the food insecure close to home. "These collaborations don't just have to be within the beer industry—they can be across industries as well," says Needham.
Along with Double Nickel's summertime Fourth & Friends Craft Beer Festival—which they hope to make an annual event to benefit CollaborAID—approximately $100,000 has been raised through the organization's efforts, and now that 2019's Friends Giving is available, it's only expected to grow.
In anticipation of demand, twice as much Friends Giving was brewed this year, says Dalsey, and the hop profile has changed a bit from last year to keep things interesting, as every brewer showed up with an undisclosed hop variety to add to the brewing process. Proceeds this year will benefit Philabundance, Cathedral Kitchen and Virtua's Mobile Farmers Market. Needham says they hope to keep adding charities into the mix in the future, and it's been nice to see the difference their efforts have made so far.
Last year, $10,000 went toward buying a new dishwasher for Cathedral Kitchen, which might seem trivial to some, but not to those working there. "The dishwasher had been broken for a couple of years and dishes were being done by hand by a man named Carl," says Needham. "It was amazing to see how excited he was and the impact it had." He says CollaborAID is also trying to set up a day where people from the breweries come and volunteer within one of the organizations to get the full experience.
"It's nice to find a way to give back where it has a tangible value," says Dalsey. "You actually see where the money is going. And this issue of food insecurity is so important. It's hard for people to work on other issues in their life if they don't know where their next meal is coming from."
Needham says people are genuinely excited about the project. "It's definitely something that's cool to be part of, but aside from raising money, it's also raising awareness about the problem and people are eager to get behind it," he says. "It's really unique and different in that sense."
Article continues below
---
advertisement


---

They hint at some big things for 2020, including another project in the spring that isn't far enough along to release details, as well as ideas to expand Friends Giving. "Just looking at how much we've grown in two years, we're hoping to get organized sooner and make it bigger and better going into next year," adds Needham.


To read the digital edition of South Jersey Magazine, click
here
.


Published (and copyrighted) in South Jersey Magazine, Volume 16, Issue 9 (December 2019).


For more info on South Jersey Magazine, click
here
.

To subscribe to South Jersey Magazine, click
here
.

To advertise in South Jersey Magazine, click
here
.
Author:
Liz Hunter
Archives
---
Who's Who in Health Care
Crowd Pleaser
Can the Eagles Regain Their Winning Way?
A Bight Future Ahead for Glassboro Football
The Big Impact of Small Businesses
Eagles Need to Reset
Feeling Festive
Another dominating season for Delsea football
Mainland's Historic Football Season
A Rooting Interest
Eagles Continue to Fly High
Raising the Bar
Thanksgiving Football Continues
Hotstovers to honor All-SJ Baseball and new HOF inductees
South Jersey Football Games of the Week
More...