A Teachable Moment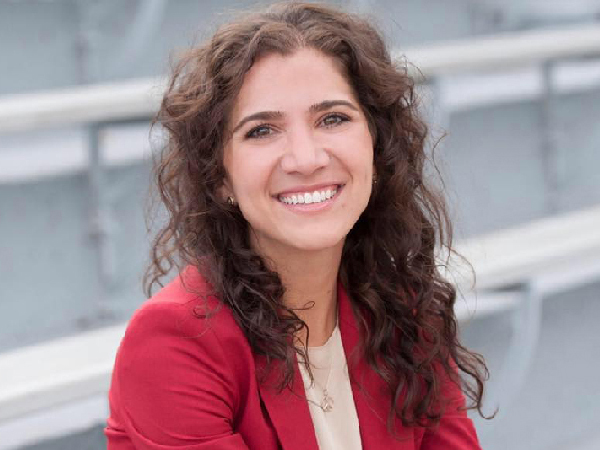 Haddonfield Memorial's Kimberly Dickstein Hughes is using her platform as New Jersey's Teacher of the Year to effect change.

Kimberly Dickstein Hughes is on the move. When we catch her by phone, the Haddonfield Memorial High School educator is driving from a conference in Baltimore to another event in East Brunswick. There, she was slated to present with a professor from North Carolina State University and Garang Buk Buk, a former child soldier in South Sudan who is now working to obtain his master's degree from Emory University—a feat made possible thanks to Dickstein Hughes' successful campaign to raise more than $90,000 for his education.

Both exhausted and exuberant, it's just another day in the life for the feted English instructor who has been in pretty high demand ever since being named the New Jersey State Teacher of the Year last October.

The distinction brings great responsibility, and Dickstein Hughes is spending the next several months on sabbatical in an effort to work with the New Jersey Department of Education (NJDOE) on various training initiatives and opportunities. She'll even make the trek to Washington, D.C., for a meet and greet with the president and other teachers of the year from across the country.
Article continues below
---
advertisement


---


It's been quite the whirlwind for the 33-year-old Voorhees resident, who was awarded the Camden County Martin Luther King Jr. Freedom Medal last year. She was also the recipient of Princeton University's Distinguished Secondary School award in May and was named Camden County Teacher of the Year in August.

And a week prior to receiving the state honor, she married her husband, Phil. Their ceremony was a fitting one, held at Haddonfield Memorial with most of her students in attendance.

Additionally, Dickstein Hughes is the youth leadership council advisor on the community advisory board for the Alicia Rose Victorious Foundation (ARVF). The foundation was created in honor of her best friend, Alicia DiNatale, who lost her life battling a rare form of leukemia at the age of 16.

"Alicia's been with me on this journey and through all of these accomplishments," Dickstein Hughes says. "Even before her passing, Alicia had an energy that you could not capture. It was so expansive, so contagious, so radiant, and I've only channeled just a small portion of that in my life and will continue to harness all of that for good for the rest of my life."

Since DiNatale's passing, Dickstein Hughes has made it her mission to help others and spread awareness not just of teen cancer, but to spread her passion and dedication of advocacy and social justice to her students so they can continue to pay it forward as well. So far, this has paid dividends. Her students have fed off her energy, as many of them have volunteered with ARVF and got hands-on experience making a difference in the lives of others.

We spoke to Dickstein Hughes about what she hopes to accomplish and found out why she's more determined than ever to make a lasting impact.

Her proudest achievement of 2019...
My marriage. That is my greatest commitment and my greatest life achievement. I promised myself to someone and am dedicating my life to make the world a better place with that person; all those other awards are a reflection of that kind of commitment.

When I think about it, it is a reflection. If I want to continue in advocacy work, social justice and education, I'm going to need the support of my partner, so that's the greatest honor. And my husband wants to invest and believes in me, and is there with me. Princeton chose me by giving me that honor. Camden County showed me that, as well as the state of New Jersey, but Phil picked me for a lifetime. All those individuals and organizations picked me for a moment.

Trading school bells for wedding bells…
I went to my student advisor's wedding from high school a few years ago and I'll never forget that; I wanted to create that for my own students. My students and their parents came. People who don't even have students at the high school; it was a celebration of togetherness. My vision was that anyone off the street could come to our wedding ceremony and walk out happy. If I could do that for anyone, that was special to me; it added to our union.

Students handed out programs; our German teacher, students and parents built the chuppah; our crew team set up the chairs for the ceremony; parents put flowers in the courtyard, our student-run a capella group sang and one of my former students was my event-day coordinator. It was a very special day and I think the universe rallied on Sept. 28 for our wedding.

On being named New Jersey State Teacher of the Year…
The first narrative that goes through your mind is, "Why me?" What I realized then is that I need to not doubt my own abilities and embrace this moment as this really wonderful opportunity and great gift to give back to all of the educators in New Jersey. How can I bring all 200,000 educators along with me on this journey? I think any successful person experiences doubt along the way because successful people truly and deeply care about the work that they do.

When I experience doubt now, I look doubt in the face and say not this time, and I've committed myself to that promise. There is a Shakespeare quote, "Our doubts are traitors and make us lose the good we oft might win by fearing to attempt." I really need to live by that quote because when you take risks, you experience a lot of doubt. When I won, I refused to doubt myself and just say, you know what Kim, you are No. 1. You deserve to be recognized and celebrate other people. Living that way is super liberating because if we can't celebrate ourselves, we won't be able to celebrate others. I think everybody needs that moment of recognition.

What comes next…
The NJDOE wants me to be a representative of the profession and elevate the profession such that I help them develop programming that retains teachers. Whether that's by having a seat at the table with a discussion on policy or visiting teacher colleges in the state; it could be a wide range of things. They also give me a lot of freedom with my platform.

I realized the platform should not be about me. My platform should be about sharing my access to power, and what that means is reaching out to all 200,000 educators in the state of New Jersey and celebrating recognition; recognizing educators' needs and success fairly. Let's listen to them. Let's listen to the success of the classroom. We need a recognition program for teachers, by teachers.

Alicia's impact on her life…
I had every intention of bringing Alicia with me on this journey. Togetherness and connecting people, that too is about bringing advocacy to ARVF with me. Alicia was often quoted with saying, "I am confident and unafraid." I live by that present every day. I am grateful to have had Alicia in my life and have her in my life for all of these experiences that she will not be able to live in human form, but in spirit.

Alicia shows up time and time again whenever I need her most to remind me to be confident and unafraid. I've learned you have to show up. Showing up in life is one of the most important lessons you can learn, and you will do your best work that day.

Living in the moment…
I think it's unhealthy to say 2019 was the best year of my life. If you ask me in 2020, I'll tell you 2020 is the best year of my life. I think the moment I am in is the best moment in my life. But 2019, was certainly one for the books. We could call it the year of the teacher. … I want to be focused.

The focus is right now. You have to be in your moment—you do better work when you're in your moment.

To read the digital edition of South Jersey Magazine, click here.

Published (and copyrighted) in South Jersey Magazine, Volume 16, Issue 11 (February 2020).

For more info on South Jersey Magazine, click here.
To subscribe to South Jersey Magazine, click here.
To advertise in South Jersey Magazine, click here. Author:

Julie Shannon
Archives
---
Who's Who in Health Care
Former Shawnee star Doolittle Calls It A Career
Camden County College welcomes Baseball Hall of Fame
South Jersey Football Games of the Week
Out & About
QB Ronnie Borden is Back in the Game
Should fans be worried for the Phillies bullpen?
South Jersey Football Games of the Week
A look at South Jersey's Top H.S. Girls' Soccer Teams
Out & About
Eagles will be fine after close call in opener
High School Football Games of the Week
Is it Super Bowl or bust for the Eagles?
What's New in South Jersey?
From New Jersey to Nashville
More...