Drafting of a Second Round Quarterback Questioned by Eagles Fans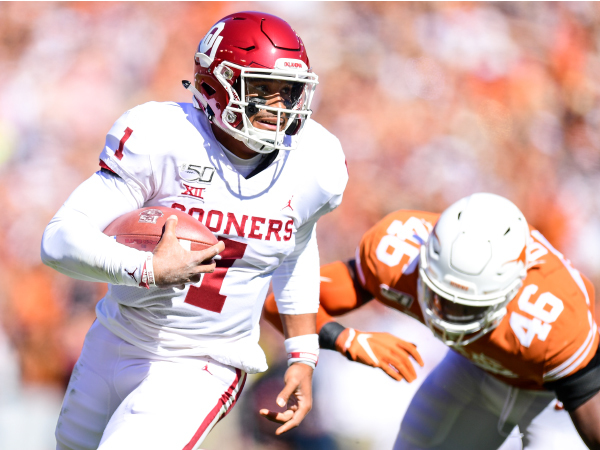 It might have been the most surprising draft picks in, well, the history of surprising draft picks. Never has a second-round pick brought out so much emotion, certainly in Philadelphia and maybe anywhere.
The fan meter shows that Eagles GM Howie Roseman wasn't very popular after choosing Oklahoma quarterback Jalen Hurts in the second round of last week's NFL draft.
Poor Hurts.
He enjoyed an exemplary college career at two of the nation's perennial powerhouses and worked hard for his big evening, only to be ripped by the majority of Eagles fans.
In fairness, there were some fans that felt this was a good move for the Eagles, looking to develop a viable backup quarterback to Carson Wentz who has had a well-documented injury history in his first four seasons.
Wentz has not been able to finish the last three seasons. There was the ACL injury in the Super Bowl year of 2017. Then he suffered a back injury late in 2018 and missed the postseason for a second straight year.
Last year he suffered a concussion after being hit by Jadeveon Clowney early in the Eagles opening round 17-9 playoff loss to the Seattle Seahawks.
Josh McCown came in relief of Wentz and played admirably if not very well. At 40, he tore his hamstring during the game and continued to play.
It was a courageous effort, but the Eagles realized that they should have a better option for a backup than a greybeard quarterback.
The Eagles have Nate Sudfeld, who appeared ready to assume the backup role before breaking his wrist last preseason, and thus causing the signing of McCown.
Now the Eagles hope to groom Hurts and also use him in various packages.
One has to ask how this will affect Wentz, who will turn 28 in December.
This is supposed to be Wentz's prime, but will he be looking over his shoulder?
He will be beginning a four-year $128 million extension, next season, so the Eagles clearly see him as their quarterback of the future.
Yet if that is the case, why use a second-round pick on somebody who is not projected to play more a few plays per game?
The Eagles liked to compare Hurts to Taysom Hill, the jack-of-all-trades quarterback-special teams standout for the New Orleans Saints.
This is not a fair comparison.
First off, Hill was signed as an undrafted free agent. He will be 30 in August. Hill is also expected to back up future Hall of Famer Drew Brees, who will be 41.
The Eagles have drafted a much younger player, to back up a much younger quarterback.
Hurts, who was second in the Heisman Trophy voting in his only season at Oklahoma after beginning his career at Alabama, threw for 80 career touchdown passes and ran for another 43, showing outstanding dual threat ability in college.
There are some who still question his consistency as a passer, but many did the same two years ago for Lamar Jackson and all the Baltimore Ravens quarterback did in his second season was become the NFL's MVP.
That is not to suggest that Hurts is another Jackson, but there is a lot to work with.
Now the question comes whether Wentz will be looking over his shoulder.
The Eagles already prospered before when Wentz's backup shined, with Nick Foles leading the Eagles to the Super Bowl after the 2017 regular season.
Some felt that even though Wentz and Foles got along well, that Wentz felt a little bit threatened by having a Super Bowl MVP as his backup.
What has to bug Wentz is that the Eagles used a second-round pick on a player who likely only has a chance to shine is if Wentz himself gets hurt.
That second-round pick could have gone toward a player who could help he Eagles as a starter.
On the surface, choosing a player as a backup and maybe mixing in a few gadget plays a game doesn't seem like the best way to use a second round selection.
The Eagles own Hurts' rights for four seasons.
Still, Hurts should be given a chance. The Eagles are likely to have packages when both Wentz and Hurts are on the field together.
Defenses will wonder who is going to throw the ball?
Yet, will Wentz be looking over his shoulder?
Will Hurts be given a big enough sample of plays to truly develop?
Can the two co-exist?
So many questions and while we don't know the answers, one thing for sure is that the subject will be brought up frequently over the next four years, if the two are teammates that long.
Article continues below
---
advertisement


---
© SouthJersey.com 2020. All rights reserved. This article or parts thereof may not be reprinted or reproduced by any other party without the express written consent of SouthJersey.com. For more information, please call 856-797-9910.


For more Local Sports features, visit our
South Jersey Sports
page.
Author:
Marc Narducci; Photo courtesy of Joshua Gateley/SoonerSports.com
Archives
---
Eastern and Cinnaminson are top girls' and boys' seeds in South Jersey Soccer Coaches Tournament
Healthy People, Healthy Business
South Jersey highschool football games of the week
Best of Home and Garden
Back to School
Ready to Take Flight
Bishop Eustace's Danny O'Rourke a model of stability
Who's Who in Real Estate
Special Delivery
South Jersey Football Games of the Week
Eagles saved their season with win over Carolina
A Difficult Loss
Top Physicians 2021
Phillies wasted lights-out seasons from Bryce Harper and Zack Wheeler
Another strong season for Olympic American Girls' Soccer
More...