Ready to Play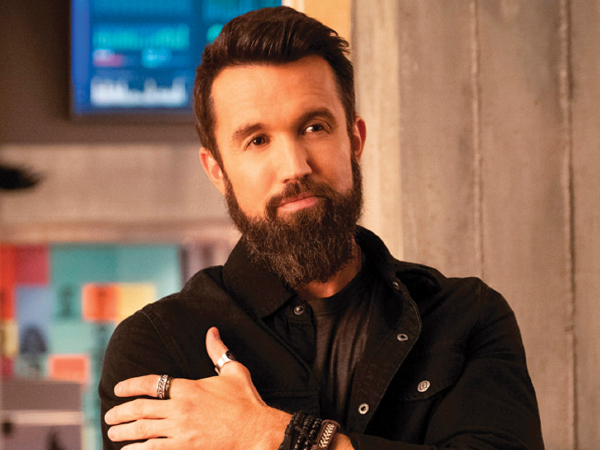 Rob McElhenney remembers Chase Utley Night at Citizens Bank Park as one of the most emotional—and unforgettable—nights of his life. It was pure Philadelphia magic.
The date: June 21, 2019. The Phillies had asked McElhenney if he wanted to fulfill an obsession of Ronald "Mac" McDonald, his character on the long-running comedy It's Always Sunny in Philadelphia: "to just have a catch" with his baseball idol. That night marked the culmination of a 10-year Sunny storyline involving Mac's "love letter" to Utley, with the Phils' former star second baseman going along with the gag. Utley would throw the first pitch, and McElhenney would be the catcher.
"Even though I am older than Chase," he says, "just hearing this made me feel like a little boy."
McElhenney, 43, and his favorite ballplayer have a lot in common; they share local hero status, are devoted family men, and they work extremely hard in their respective careers. They're also considered by their respective "teammates" to be humble guys.
That, however, is where their paths diverge. Along with his team of collaborators, McElhenney creates unique worlds for viewers to fall in love with, and he continually ups his game with clever shows that feel fresh, unique, and, more often than not, right on the edge.
McElhenney is best known for portraying irascible and self-absorbed TV characters—namely, Mac on Sunny, and Ian Grimm on Mythic Quest: Raven's Banquet, his new show on Apple TV+. Even so, many friends and co-stars say his off-camera personality is the exact opposite.
"The fish stinks from the head," says F. Murray Abraham, who shares the screen with McElhenney in Mythic Quest. "When Rob is on the set, I have the sense that everybody feels more comfortable. He gets things done. There are decisions to be made and you can count on Rob to make them—to take the heat and to also the take the credit."
The Next Home Run
The road to Mythic Quest began three years ago, more or less, when the gaming company Ubisoft asked McElhenney to create a TV series around the development of a video game. His initial reaction was to turn down the offer, but while touring the company's headquarters in Montreal, he told his team that he found their next home run.
Along with Sunny's Charlie Day and Megan Ganz, he began writing the series in July 2018. The show's first season began streaming on Apple TV+ in February, and the second season has already been ordered. Best described as a clever workplace comedy, the story revolves around the team behind the biggest multiplayer video game of all time. It may sound "geeky," but the show will likely appeal to gamers and non-gamers alike.
"Mythic Quest was borne out of wanting to do something different," McElhenney says. "I think we could do a show about the video game industry that felt very analogous to Sunny. We could literally just pick up Sunny-esque characters, or that tone of humor, and put it in the gaming industry."
Instead, they wanted to do a show about real human beings.
"It's not that we don't respect the humor of Sunny," he explains. "It's because we've already done Sunny, we're going to keep doing Sunny, and this is something different."
Ganz says McElhenney's creativity and vision made her believe in Mythic Quest.
"From the first moment I walked into [Sunny], I felt the energy in the room because it was so warm and welcoming, maybe because they put all the nastiness on the screen so they don't have to have it off-camera," she says. "That's why when they came to me with another show, I said, 'Sign me up,' because I just want to keep working with these people forever."
If that's the case, then how do less than "warm and welcoming" characters such as Mythic Quest's Ian Grimm come to be?
"All of the characters I've ever played have aspects of my own personality in them," McElhenney says. "So, I would say with Mac, and now with Ian, both of them share some of the worst aspects of my personality. Then I get to go to work and just let it all out. But at the end of the day when I'm exhausted with being an egomaniacal, narcissistic boss, I get to go back to what I am really like at home."
Speaking of home, McElhenney now lives in Los Angeles. He may no longer live in Philadelphia, but he left a big piece of himself behind. In a case of life imitating art, McElhenney opened his own bar, Mac's Tavern in Philadelphia's Old City neighborhood. He likes to drop in whenever he's back in town.
McElhenney looks back fondly on Utley's retirement ceremony, when he took his place behind the plate at Citizens Bank Park. He still gets choked up when he thinks about it.
"So, I get there and at one point Phillies PA announcer Dan Baker says, 'We have a special guest, from It's Always Sunny …' and before he finished, they started the theme song and the entire stadium of some 50,000 people began cheering. I walked out to the words, 'Philadelphia's own Rob McElhenney …' and it was all about the ownership that the folks around here feel for anybody from our city that goes off and achieves something major. The fact they recognize me as an emissary for Philadelphia is something I found to be extremely profound."
He then glances over at Kaitlin Olson, his wife and Sunny co-star, and shares this: "I realized, 'Oh [crap], now I've got to catch this ball because 50,000 people are out there, and if I drop it, I'm going to ruin this whole thing.' But I caught it! Luckily, it was being thrown by my baseball hero, so all I had to do was hold my glove out and there it was."
Come of age in Philly 'shaped exactly who I am,' McElhenney says.
Ask Rob McElhenney about how Philadelphia influences his everyday life, and he responds without a breath: "I'm 100 percent Philly!"
"I grew up in the city with my Jesuit Catholic upbringing in the 1980s and '90s, which really shaped exactly who I am," he says. "I also lived partly in the gay community, being raised by two women, and by a single dad on the side. I was exposed at a very early age to so many different cultures, personalities, and disparate points of view."
In addition, he has held on to "the edge and toughness that is inherent in Philadelphia," which he considers vital.
"You need those kinds of traits to be successful in our particular business, which is the ability to recognize that your perspective is not the only one that matters," he says. "You have to be tough enough to recognize that you are going to fail and you are going to get knocked down over and over."
More to the point, growing up in Philadelphia taught him this: "You have to keep getting up."


Click here
to subscribe to the free digital editions of South Jersey Magazine.

To read the digital edition of South Jersey Magazine, click here.

Published and copyrighted in South Jersey Magazine, Volume 17, Issue 3 (June 2020).

For more info on South Jersey Magazine,

click here
.

To subscribe to South Jersey Magazine, click here.
To advertise in South Jersey Magazine,
click here.
Author:
Debra Wallace; Photograph courtesy of Apple TV+
Archives
---
Who's Who in Health Care
Former Shawnee star Doolittle Calls It A Career
Camden County College welcomes Baseball Hall of Fame
South Jersey Football Games of the Week
Out & About
QB Ronnie Borden is Back in the Game
Should fans be worried for the Phillies bullpen?
South Jersey Football Games of the Week
A look at South Jersey's Top H.S. Girls' Soccer Teams
Out & About
Eagles will be fine after close call in opener
High School Football Games of the Week
Is it Super Bowl or bust for the Eagles?
What's New in South Jersey?
From New Jersey to Nashville
More...