The Shore Report: Reopening and Remaining Hopeful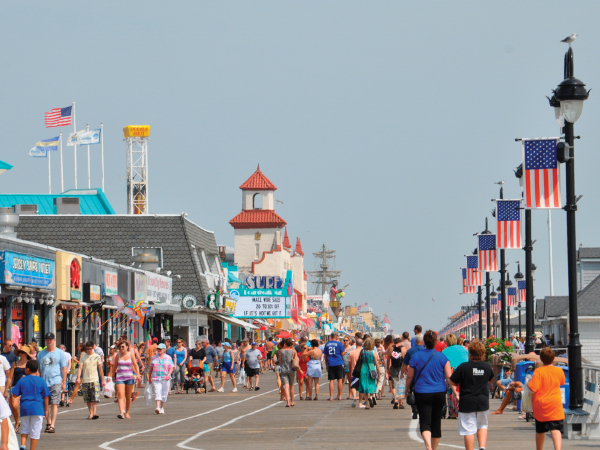 How the Shore business community is rallying to welcome customers and provide service safely this summer.
March and April are like spring training for Shore businesses. Although the weather is cool and unpredictable, this time is used for onboarding new employees, testing new methods or menu items and generally getting prepared for their bread-and-butter season—summer. This year, however, many business owners were unable to open their doors for spring and the economic and emotional toll is being felt from LBI to Cape May.
"COVID-19 causing businesses to close happened at the time seasonal businesses started to reopen. There would never have been a good time, but this was a bad time," says Vicki Clark, president of the Cape May County Chamber of Commerce. "Spring tourism is considered to be a bonus time. The weather is questionable, but there are a lot of weekend events that bring second homeowners and those who live just a short drive away. We lost all of that."
Maggie Day has owned Nesting, a baby and children's retail shop in Stone Harbor, for 10 years. Although Nesting is open year-round with limited hours November through February, as of March 1, the store goes full-time, seven days a week. "March is always a decent month because we take massive orders for spring and summer," says Day. "No sooner had I opened than I had to close."
Although Nesting technically fell under the "essential" businesses classified in Gov. Phil Murphy's executive order, Day felt it would be irresponsible to open with everything going on. "Most of my employees are retired women who are older and I didn't want to put them at risk," she says. In the meantime, online orders continued with a slight increase. After 50 days, Nesting reopened. "I am grateful to be able to do that, but it's nothing like it should be. It's no longer a shopping destination, there's no foot traffic."
The Shore communities also felt frustration at the amount of restrictions placed on them in light of how few cases of COVID-19 have been reported in these towns. Cape May Mayor Clarence "Chuck" Lear says residents were surprised by the need to hunker down, but were not frightened by the news coming out of areas like Washington state. "That sense of comfort and anxiety changed somewhat quickly as we heard reports of the overwhelming number of COVID cases in New York City. As the numbers began to climb in northern New Jersey, people in Cape May were resolute about the merit of staying put," he says.
Lear, who is also a retired police officer, says, "As the weeks passed, there were increasing reports of disappointed locals who wanted to be out and about and of some who were disgruntled by what they saw as inappropriate arrivals of people from northern New Jersey and from nearby states. By this time, Gov. Murphy and the governors of surrounding states had issued 'stay-in-place' orders. Some local people saw those orders as taking precedence over whether the 'intruders' owned a second home at the Shore. The fact that the first reported case of COVID-19 in Cape May County involved a person from New York did not help dispel concerns about out-of-state visitors."
Exhaustion and impatience are familiar feelings. "As time has passed, I have become less patient and more eager to see us get beyond the unpleasant aspects of being quarantined, and wanting to be out and about in our beach community," Lear continues, adding that his condolences go out to everyone who has lost a family member or friend, and hopes for a quick recovery for those who are ill. "I am most eager to move on to whatever our 'new normal' will be and I hope there is no backsliding."
Day, who is also the president of the Stone Harbor Chamber of Commerce, says the business community is exasperated by the lack of acknowledgement of small businesses by the state government. "I understand making decisions for health and safety, but the governor is speaking from on high, telling families what they can and can't do. … Each one of these small businesses is essential to the owner and their family. After 80 days of being closed, having an income is more essential than health and safety. We've had zero cases in this town and we're fighting for people who aren't open. … It's almost as if they don't understand their decisions are affecting people's lives so greatly. I was born and raised here and my parents had a small business so this is close to my heart. To see those stores closed on Memorial Day weekend, I had tears in my eyes."
Coming Together
With a loss in confidence in higher tiers of government, business owners are looking to local leaders and organizations to forge ahead with resources and support for a reopening strategy.
Lear says Cape May city administrators and business partners have worked together for weeks on what plans to put in place for reopening as the governor makes announcements. "The theme and byword for this work is #CapeMayStrong," he says. "We invite everyone to go online to the CapeMayStrong.org website to learn more about COVID protocols and the status of retail stores, dining, lodging, events and activities as we prepare for the summer season with a great deal of enthusiasm and hope." Also available on the website are T-shirts for purchase, with 100 percent of the proceeds going to the Cape May Community Food Closet.
Cape May County's freeholders created a county-wide recovery initiative and were the first to submit a detailed reopening plan to the governor's office. In it, they highlight the county's impact on tourism in the state—$6 billion in direct tourism revenue annually. In 2018 the county's tourism-related businesses created more than 26,000 jobs, according to the proposal, and it outpaces all other counties in revenue for food and beverage, retail, recreation and second home rentals.
"There is no part of New Jersey where tourism is as important as it is in Cape May County," says Clark, who was on the task force for the recovery initiative. "The proposal is deliberate and thoughtful, containing a combination of guidance documents from various industry segments in the major entities of tourism—hotels, restaurants, camping, fishing, boating, breweries and distilleries—and the best ways to open these types of businesses while maintaining social distancing and hygiene in accordance with the Centers for Disease Control and state and local health professional recommendations."
Clark says business owners are anxious to have guided documents to open safely and bring people back to work. "Unfortunately, some have made the decision not to open at all. They feel the regulatory environment is too overwhelming for them," she says. "After 10 weeks of this shutdown, a lot of businesses have not been able to get the PPP loan or any other program support being offered. The longer this goes on, the harder it is for small, independent businesses to hang on."
The hit to tourism revenue, which amounts to some $22 billion for the four Shore counties combined, is eventually going to have a greater impact on the state's economy as a whole.
Lori Pepenella, CEO of the Southern Ocean County Chamber of Commerce, says the organization is helping its 600 members access loans, unemployment claims and CARES Act resources, as well as creating webinars to keep everyone informed.
With a good deal of businesses offering takeout or curbside pickup, the chamber is directing visitors to an online directory. "Recently we were able to launch a tourism-oriented website. It allows people to search by town, find their favorite place to stay, shows a takeout tour," says Pepenella. "We feel very much a part of keeping the business community together, keeping visitors and residents and consumers alert to some of the things they need to feel confident. Our history has always been to provide this continual line [of communication]."
The Shore is resilient, as proven in past recessions or the devastation of Hurricane Sandy, but this time feels different for those who have weathered it all. "It has an overwhelming reach because there are some businesses that haven't yet reopened and are still trying to figure out what that looks like," Pepenella says. "Economically, as far as representing both interests of the business and consumer, it's challenging, and we want to make sure everybody comes out of this ahead. We're moving in the right direction but moving at different paces."
No matter what, summer will happen. "We are confident summer can be reclaimed, people will come down when the weather warms up and they will find comfort in a place they know and have been representing for generations," Pepenella says. "We're sure we can give people a summer they will be comfortable with and feel confident with."

Article continues below

---
advertisement


---
Click here to subscribe to the free digital editions of South Jersey Magazine.

To read the digital edition of South Jersey Magazine, click here.

Published and copyrighted in South Jersey Magazine, Volume 17, Issue 3 (June 2020).

For more info on South Jersey Magazine, click here.
To subscribe to South Jersey Magazine, click here.
To advertise in South Jersey Magazine, click here.
Author:
Liz Hunter
Archives
---
Just Getting Started
South Jersey Coronavirus (COVID-19) Developments (January 14)
Big Season for Timber Creek grad Devin Leary of N.C. State
Camden-Lenape highlights the best of South Jersey boys' basketball
Just Getting Started
Growkowski, Jalen Hurts the two big keys in Eagles-Bucs playoff
Women to Watch 2022
Bringing out the Best
Top Children's Physicians 2022
Girls Basketball Tournament recap
Top Attorneys 2021
Stealing the Show
South Jersey Coronavirus (COVID-19) Developments (January 4)
Boys basketball tournament recap
Back on Top
More...