Executives of the Year 2020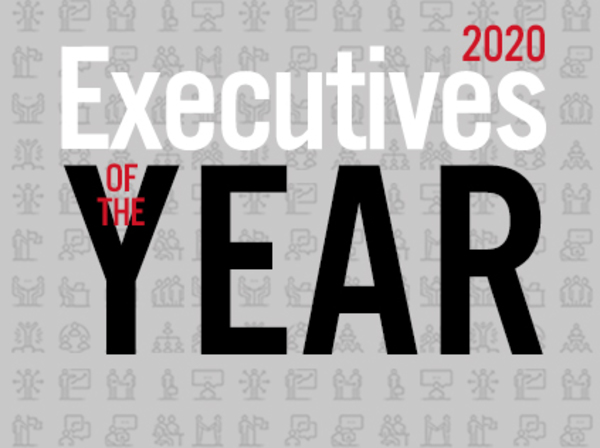 Twenty executives helping shape the future of business in South Jersey.

There's no question the pandemic has changed the business landscape in our region and leaders have had to learn and adapt. The men and women before you have done just that and much more, creating opportunities for their employees and giving them the resources they need to succeed during this ever-changing situation. These 20 professionals shared with us insights on how the pandemic has changed the way their business is conducted, the turning point of their careers, how they view success, and as a fun way to cap off their responses, the apps they can't live without.

Chris Warren, Senior Vice President/Team Leader, Commercial Banking, Investors Bank
A banking executive with more than four decades of experience, Warren currently leads Investors Bank's commercial lending team in South Jersey.

The turning point of my career was while I was working at a large international bank in 1989, I was asked to relocate to Sydney, Australia, to become the managing director of the bank's merchant banking subsidiary. This assignment opened my eyes to the global economy and gave me a new perspective on the banking industry.
Article continues below
---
advertisement


---


Success is a level of achievement measured by the improvement in the quality of other people's lives. First and foremost, the lives of my family and then, the lives of people in my community who are less fortunate, at-risk and uniquely vulnerable.



The apps I couldn't live without are the Investors Bank Mobile App which enables me to bank at any time from anywhere, and Waze because my responsibilities include [face-to-face time] with customers and other business leaders, so there is an immense amount of travel involved, frequently on a tight schedule.

Melissa Orsen, Senior Vice President, South Jersey Industries


Orsen has been with South Jersey Industries (SJI) since 2017 and this past summer she was named the president and chief operations officer for its subsidiary South Jersey Gas.



I get excited about the potential for our business to transform and grow through our people. I continue to be impressed with our workforce, and I look forward to seeing where our talent and leadership take us.

Personally, success is always trying to perfect the work-life balance. Professionally, success looks like transforming our natural gas utility to satisfy the state's laudable energy efficiency objectives, renewable energy and environmental goals, while still delivering on our commitment to meeting the energy needs of our customers in a safe, reliable and affordable manner.

The app I couldn't live without hands down is iFit for running workouts and training. Running is my go-to outlet to help reduce stress and manage the work-life balance. Beyond work and my family, it is my designated time for self-care.

Patrick Jeffery, Chief Operating Officer, T&M Associates

Jeffery has been with T&M for nearly a decade and he took over the reins as COO earlier this year after most recently serving as the company's New Jersey regional operations manager.

The turning point in my career was my promotion to chief operating officer. However, it was all of my previous PE experience and my role as an ops manager and then regional ops manager where I learned how to manage in a leadership role.

What still excites me about my job is the future! The potential our business has to grow and create opportunity for our employees and our clients drives me every day. Having the privilege to realize that potential with an engaging and supportive team provides me with the motivation to continue moving forward.

The biggest lesson I've learned over the years is the importance of being open-minded and adaptable. The value of these abilities couldn't have been more enforced than this past March when COVID hit. There were many unknowns and the company had to navigate the ever-changing regulations while continuing to provide top-rate services to our clients.

Brian M. Lynn, Managing Partner, Claritas Financial Partners

This Haddonfield native spent his days at Tulane University envisioning running his own firm and now has more than 25 years of experience in the financial services industry.

The turning point in my career was moving back to South Jersey from Washington, D.C., in 2002. I changed firms and location all during a three-year bear market, and my wife and I were expecting our second child. Being back in the community where I was raised, close to family, gave me the foundation to build back my business even stronger than before.

I believe personal service and understanding is the biggest differentiator in the coming years. Although the communication tool may change with the pandemic, there is no substitute for a personal relationship. We strive to understand our clients' goals, expectations and risk tolerance. We've created a business culture that is centered around the client experience.

What still excites me about my job is seeing clients achieve their goals—retirement and saving for college—and knowing I had an impact in that.

Cheryl Norton, President, New Jersey American Water

In addition to being the principal external contact for the 2.7 million people New Jersey American Water serves, Norton also serves as senior vice president of the company's Eastern Division and its chief environmental officer.

The turning point in my career was the opportunity to move into a leadership position. American Water took a risk and allowed me to lead our centralized water quality testing facility. In that role, I gained priceless leadership experience and a powerful network that prepared me for future opportunities to move throughout the business.

I love our mission—providing a high-quality and reliable service that people need to survive. The people I work with every day are passionate about that responsibility and keep me excited about the future. When I see the talent and dedication of our team, I can only imagine what we will accomplish in the future.

Success for me is seeing my team accomplish more than they thought possible. I've been so fortunate in my career to work with amazing people who have supported and taught me—now I want to give back. I love seeing people I have mentored and worked with move up through the organization.

Dan Rhoton, Executive Director, Hopeworks

Rhoton started working with this Camden nonprofit as its chief impact director in 2012, before becoming the organization's second-ever executive director less than three years later.

As more jobs become fully remote and more companies seek to diversify their employment pipelines, the young people at Hopeworks and communities in Camden, Philadelphia and elsewhere really can become economic and innovation engines. The ongoing virtualization of work means that Camden and parts of Philadelphia and similar places across the country can be the winners in this new economy.

Working at Hopeworks is like being an extra in an inspirational movie every day. I get to watch as young people transform their lives, families and communities. It is not a bad gig!

The biggest lesson I've learned over the years is to count on young people. They will never let you down.



Meggan Ciaccia, President, NAWBO - South Jersey
A shareholder of Montecino & Ciaccia, P.A. with over 15 years of diversified accounting experience, Ciaccia has been a NAWBO member since 2017 and prides herself on working to empower the next generation of female business leaders.

Joining NAWBO South Jersey was a very big turning point in my career. I surrounded and aligned myself with other professional women who have supported, encouraged me and genuinely wanted to help me succeed as a business owner.

As the president of NAWBO South Jersey, I still love connecting with people and learning about themselves and their business. I love hearing the why of what they do, how they got started and what excites them about their business.

The biggest lesson I've learned over the years is: create your own opportunities. We cannot sit back and wait for someone else to create them for us.

Art Leiby, Co-founder and Principal, Lerepco IT Group

Leiby has used his technology expertise and passion for providing clients with seamless and uninterrupted availability to help turn Lerepco into a leading service provider.

The turning point in my career was more than 30 years ago when I was hired as an IT manager in a relatively new organization. It provided me with the opportunity to hire and manage staff, manage an IT departmental budget and shape the business processes of an organization.

The continuous evolution and innovation of technology still excites me about my job. It allows us to solve so many problems for our clients and create so many efficiencies in our daily lives.

I believe that technology has been integral to us being able to work safely and remotely, so I envision the practice of moving on-premise data centers to the "cloud" accelerating, and the adoption of remote worker solutions such as VPN, Teams/Zoom and virtual cloud workstations becoming commonplace.

Janet Garraty, Director, Gloucester County Chamber of Commerce

With a varied past that includes helping open up one of Atlantic City's first casinos, working as a newspaper reporter and running her own small business, Garraty now uses her many acquired skills to help community business leaders succeed.

The pandemic has certainly changed the way we conduct business. Chambers are a network marketing strategy. Prohibited from holding in-person events has forced us to look at our model differently. Virtual events have taken root in our model, but we are developing new options to help our members boost their visibility in the marketplace.

Since I am in the first year of my new job, everything about it excites me. But as always, what I get most excited about is meeting our members and learning their stories and what they do. Learning from others never gets old.

In business, success is when you are known by your clients and community as that trusted advisor that they cannot do without. Personally, success is when you bring a smile to your family and friends' faces every time you walk in the front door.

Lou Amiano Jr., President, Amiano & Son Design-Build

Since taking over the family-owned construction company in 2009, Amiano has successfully combined the knowledge and lessons learned from his father with modern-day thinking to create an award-winning business.

The turning point of my career was the opening of our first showroom. It was intimidating to take on that overhead, but we made it work. It took my company to an entirely new level that I never imagined it could go.

I cannot live without Buildertrend, which is an app that allows communication between my entire company. From when the call originates to the sale, then it is heavily used in the field for my staff to constantly communicate on one platform between the office staff, the field, the subs, the clients and management.

What still excited me about my job is seeing the internal growth of our company. They strive with me to make our company better and I strive to learn more for them. I try to learn new ways to make their jobs easier and safer during the current pandemic.

Jeremy Conner, CEO, National Energy Partners


Conner is also a co-founder of National Energy Partners and plays an intricate role in the company's project acquisition. His work has helped the company secure a pipeline of over 100MW of projects.

I still have excitement in working with nonprofits to help them save money through our solar program. We typically are able to save our nonprofit customers at least 60% on their electric costs. These savings can provide significant financial support for them to be able to expand their mission.

Our company offers solar energy solutions to customers at a considerable discount from what they are currently paying for their electric costs. As the pandemic continues and companies see lower revenues then in the past, this savings can give significant assistance during these times.

The biggest lesson I've learned over the years is: a

daptation—being able to adapt to outside conditions, like COVID, that you can't always plan for and seeing the light at the end of the tunnel.

Dennis Vogt, Shareholder, Alloy Silverstein

A member of Alloy Silverstein since 1974, Vogt is regarded as a versatile tax and finance expert who is known to work closely with clients to resolve their auditing, litigation or retirement planning needs.

The pandemic has certainly required all to make changes to the way our business and just about all business is now done. Our geographic practice area has increased overnight to nationwide and worldwide. There are no longer any thoughts by potential clients that we're too far away.

I define success as a great reputation in one's profession and community; being able to provide to the people you do business with and the things that they need in a correct and timely fashion.

The apps I couldn't live without are online banking, newspapers, journals and our firm's remote cloud access app. They are very important to me and I use them every day.

Marie Mascherin, Chief Operating Officer, New Jersey Community Capital

Mascherin joined New Jersey Community Capital as its chief lending officer in 2008 after serving on the board of directors for nine years. She currently oversees the Address Yourself mortgage platform, compliance, local government relations and lending activities.

Before the pandemic, only folks in the community development field knew of New Jersey Community Capital or even understood what we did. Unknowingly, COVID-19 provided us with an opportunity to demonstrate the value of nonprofits in communities and quite frankly, our ability to respond to their needs and those of small businesses quickly and responsibly while bringing value to both ecosystems.

What still excites me about my job is being able to work with a dedicated, intelligent and resourceful team and witnessing the direct impact of our work, which includes keeping businesses open and thriving; providing affordable housing; and granting homeownership opportunities to families and individuals.

The biggest lesson I've learned over the years is mistakes or failure are not the end. You can move on and be successful.

Stephen Saukaitis, CEO, Consensus Health

Saukaitis has more than 15 years of experience in developing solutions that deliver high-yield organizational outcomes and in less than a year after launching, he helped Consensus Health exceed its original growth projections.

The turning point in my career was when I made the decision to leave a wonderful job and took a risk on an opportunity that looked incredibly fascinating. At the time it was perhaps a bit risky, but it worked out well and has allowed me the opportunity to make a significant impact on our organization and on practices in New Jersey.

One of the positives coming out of the pandemic has been the reimbursement for telemedicine visits by Medicare and commercial insurance companies. The opportunity for patients to see their doctor virtually and the ability to be reimbursed for those services creates significant opportunities for health care providers.

I am passionate about health care and I want to be part of helping to solve some of the industry's most daunting challenges. I believe at Consensus Health we are building solutions to solve some of these challenges and know that our organization is going to play a major role in being part of the solution.



Brian Bovio, President and CEO, Bovio Heating Plumbing Cooling Insulation

Bovio is

an experienced chief executive officer with a demonstrated history of working in the facilities services industry and his company's presence is felt across New Jersey as the pre-eminent energy conservation experts in the state.

As an HVAC company many home and business owners don't realize that we control the quality of air in your building. We've had a decent adoption of air cleaning/fresh air/air purification/duct cleaning services on the commercial side, and I feel that residential will follow.

What still excites me about my job is some of the larger companies have folded into each other, and as a mid-size provider that is growing aggressively, I enjoy being able to still have relationships with my clients and having the resources to serve all of their needs.

The biggest lesson I've learned over the years is to know your strengths, but more importantly, know your weaknesses. Build your team to address your weaknesses, not your strengths.

Regan Young, President, RYEBREAD Architects

Young founded his firm with the goal of creating buildings, interiors and communities that are more safe, productive, healthy, distinctive and efficient. He works in all facets, from administration and marketing to planning and quality control.

This pause certainly has the potential for greater good. It has engendered creativity, reinvention, patience and hopefully, compassion. It has revolutionized the way we work and has reminded people of our need for connection with ourselves, our loved ones, Mother Nature and the future.

What still excites me about my job is to see a project start with the aspirations of a client and the inspiration of the architect, and see the process through to a new or renovated building. I'm still proud when I see drawings of my firm's projects accomplished through the collaboration of colleagues, clients, contractors and code officials.

The biggest lesson I've learned over the years is to never rush a good meal, an expensive bottle of wine or a big decision.

Michael Zumpino, President and CEO, Triad Associates

Zumpino founded Triad in 1978 and during his tenure as CEO, the company has secured more than $870 million in grants and other project financing, resulting in billions of dollars in new investments to revitalize local communities.

I get up every day energized by the fact that we have a role to play that affects in many ways how a community will be able to address the ever-changing demands in the 21st century. All of this is in the context of challenges that require applying decades of experience, resourcefulness, innovation and the creativity of the Triad team.

I think the pandemic has required a re-focus on how we interact with our clients. It seems that they, as have we, have found that quite often a virtual meeting will accomplish as much, if not more, in considerably less time.

The biggest lesson I've learned over the years isthe value of being deliberate in how we view people—to discover the talents and abilities that we as a firm and as individuals can complement and build upon in providing services.

Jeff Backal, President, Team Builders Plus

Backal co-founded Team Builders Plus in 1991 and now leads its parent company, Take Flight Learning. His clients range from small businesses to 60% of the current Fortune 100 companies.

I define success by happiness and the ability to put a smile on the faces of those around me.

The biggest lesson I've learned over the years is you can't stress over things that are out of your control.

One of the apps I couldn't live without is TED because there is always something new to learn and it allows me to learn from anywhere at any time. and the Philadelphia Eagles app. I grew up going to Eagles games with my father and brothers and the Eagles are a part of our family.

Anthony Sartor, Executive Chairman, PS&S

Having first gotten his start in environmental engineering in the early '70s, Sartor is considered a pioneer in the industry.

PS&S had to adjust in a big way with the pandemic. Now that offices are opening again, we are coming back on a limited basis, but we still have the ability to work from home very successfully. The company has made changes to enable employees to work from anywhere. Staying ahead of that trend has been key.

Success to me is being happy in what you're doing. Sure, monetary aspects and prestige are important, but you've got to be happy.

The biggest lesson I've learned over the years is you've got to work with people, and you've got to be able to adapt to different situations.

Harry D. Madonna, President and CEO, Republic Bank

Since 1988, Madonna has served as executive chairman, CEO and president of Republic First BanCorp., Inc. and has seen the bank experience substantial growth as a result of surpassing customer expectations.

I genuinely enjoy coming to work every day because of the incredible team we have built. It is a pleasure to watch the people you hired grow professionally and contribute to the success of the bank. We all believe we're building something special, and that bonds us.

People aren't using cash anymore. Because of that, I think we'll see a lot more card products emerge over the next few years. I also believe more people will start taking advantage of online and mobile banking tools. This is an opportunity for us because it allows us to broaden our base of operation and reach customers wherever they are.


The app I can't live without would have to be the Messenger app. It's the only way my family and friends under 40 communicate, especially my grandchildren! My grandchildren have also convinced me to download Venmo, which I use quite frequently. I enjoy scrolling through the Wall Street Journal app to read news, and of course, I use the Republic Bank app to take care of all my banking needs.



Click here to subscribe to the free digital editions of South Jersey Biz.

To read the digital edition of South Jersey Biz, click here.

Published (and copyrighted) in South Jersey Biz, Volume 10, Issue 11 (November 2020).

For more info on South Jersey Biz, click here.
To subscribe to South Jersey Biz, click here.
To advertise in South Jersey Biz, click here.

Author:

Deanna Pineiro, Kayla Rundstrom and Julie Shannon
Archives
---
Staying the Course
On the Move
Biz in Brief
Women to Watch 2021
Take it to the Bank
A Long Shot
Finding Its Way
Close of Biz: Thinking Outside the Cube
On the Move
A Matter of Survival
Steering the Ship: Top CEOs/CFOs 2021
Biz in Brief
2021 Annual Resource Directory
Looking Ahead
On the Move
More Articles