Spotlight: Celebrating the Harlem Renaissance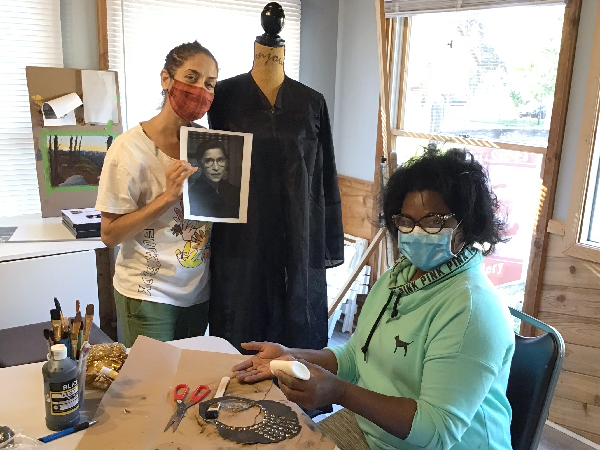 Medford Arts Center's United Through Arts program is hosting its first exhibit called "Celebrating the Harlem Renaissance." Currently there are about 30 pieces ranging from poetry, music and visual arts. Social injustice is what brought this creation to life.
"It all really started with the killing of George Floyd and looking at the social injustice that we have been watching in our lifetime," says Lesha Moore, executive director of the Medford Arts Center.
The program aims to help create cultural awareness as well as offer some insight to how various black artists have influenced American culture. People from around Medford and across the state—including someone from Nigeria—submitted work for the exhibit.
"Black artists have been completely underrepresented. Those amazing artists had such a powerful influence on how we all experience music, poetry and the visual arts today and we have them to thank for a lot of this," says Moore. "There's so many things to cover that we couldn't. We have years-worth of material.
Next up, the center is planning on its next exhibit which will showcase the art of Japan. Moore says she hopes to have that installation in place by September.

Article continues below

---
advertisement


---
Click here
to subscribe to the free digital editions of South Jersey Magazine.
To read the digital edition of South Jersey Magazine,
click here.
Published and copyrighted in South Jersey Magazine, Volume 17, Issue 11 (February 2021).
For more info on South Jersey Magazine,
click here
.


To subscribe to South Jersey Magazine,
click here.

To advertise in South Jersey Magazine,
click here.
Author:
South Jersey Magazine
Archives
---
Power 50
Cryptocurrency: Seeing Through the Hype
(Almost) Business as Usual
Putting the Success in Succession
Phillies' Realmuto is heating up
SJ pitcher is 37th pick in MLB draft
Mainland grad fully enjoys MLB draft
Millville's Kenndy moving up the minor league ladder
Phillies not in a bad position at the All-Star break
Memorable season for Bishop Eustace baseball
TOP DENTISTS 2021
Another distinguished award for Rowan baseball program
Help Wanted
A TALE OF THREE WEDDINGS
Who's Who in Health Care
More...