Giant Steps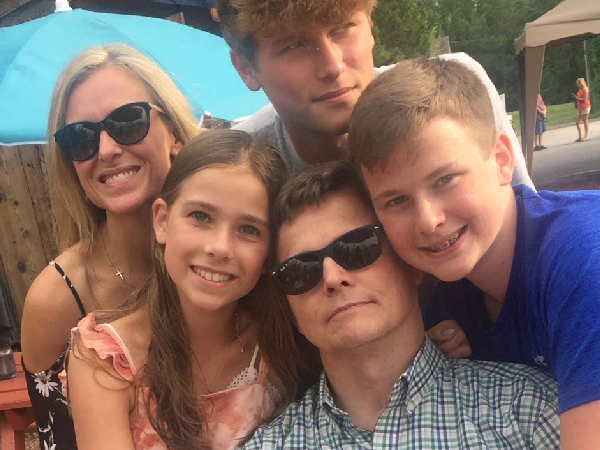 One Voorhees man's journey through stroke recovery has gained the support of the community.

Mike Shimp had been ill and battling what he thought was the flu for a few days, but felt like with one more day of rest, he'd turn the corner and be back to work. The next morning, as his wife Traci got ready to leave the house, she went to check on Mike and was frightened when she was unable to wake him.
Without any prior warning signs, Mike had suffered a series of strokes due to an infected heart valve and blood infection. He woke up a week later in a hospital bed and spent the following six months beginning his long road to recovery, which has included learning how to walk and talk again. He's now been home for a year-and-a-half and has received a tremendous amount of love and support from his friends and the surrounding community which has had a major impact on the Voorhees family.
"It's extremely uplifting and we feel very blessed," Traci says, with Mike nearby listening in. "We would not be here today without the support we have."
Of course, that support system starts at home, where Traci says their three teenage children have been amazing in keeping up with their school work while also being her biggest helpers. And while most families have been struggling to cope with being cooped up together in the house during the pandemic, the Shimps have a different perspective.
"I've said multiple times that we may be the only family where 2020 was better than 2019 because Mike's here," says Traci, adding that having the kids at home has been a big part of Mike's rehab. "The conversations … having them around all the time and having the stimulation, it's been a blessing in disguise."
One of the more remarkable things to take place during Mike's recovery process happened just weeks ago. Since he has returned home, he has used a stair lift to get up and down every day. But one recent night, he decided it was time to walk up the stairs on his own.
"He said, 'I'll go, I'll walk,'" Traci recalls. "Once he got moving, all of the teaching on how to do steps went out the window and it was pure adrenaline."
With Traci standing closely behind him, Mike successfully made his way to the top, pumping himself up with each triumphant step. The moment was caught on video by his children, who along with Traci have been documenting his progress over the past two years.
The emotionally powerful video was quickly shared with family and friends, one of whom decided to send it along to the Dan Marino Foundation. Mike, a longtime fan of the NFL Hall of Fame quarterback, just so happened to be donning his sports hero's shirt in the clip, and the organization got in touch to let the Shimps know that they were inspired by the video and there was a good chance it would make its way to Marino.
To know that his favorite player would see his monumental moment was thrilling, but what came next was nothing that Mike could ever expected.
Another week or so after their first call, the foundation reached out to Traci and asked her to check her email inbox with Mike—and to be sure to record the moment.
Much to their surprise, the email was a video recording of Marino praising Mike for his breakthrough and encouraging him to keep up all his hard work. He even suggested that maybe someday in the future the two would throw the football around. Mike, overcome with elation, pounded his fist on the kitchen table as he looked on in amazement.
Now, to build off that excitement, Traci says the biggest goal now is for Mike to regain a sense of independence. But after two years of dedicating themselves to his recovery, she equates the process to grass growing.
"The progress is very slow and the process is long. Mike still has a way to go, but we have amazing support of our community, family and friends," Traci says.

Article continues below

---
advertisement


---
Click here
to subscribe to the free digital editions of South Jersey Magazine.


To read the digital edition of South Jersey Magazine,
click here.


Published and copyrighted in South Jersey Magazine, Volume 17, Issue 12 (March 2021).


For more info on South Jersey Magazine,
click here
.

To subscribe to South Jersey Magazine,
click here.

To advertise in South Jersey Magazine,
click here.
Author:
Peter Proko
Archives
---
Who's Who in Health Care
Former Shawnee star Doolittle Calls It A Career
Camden County College welcomes Baseball Hall of Fame
South Jersey Football Games of the Week
Out & About
QB Ronnie Borden is Back in the Game
Should fans be worried for the Phillies bullpen?
South Jersey Football Games of the Week
A look at South Jersey's Top H.S. Girls' Soccer Teams
Out & About
Eagles will be fine after close call in opener
High School Football Games of the Week
Is it Super Bowl or bust for the Eagles?
What's New in South Jersey?
From New Jersey to Nashville
More...