Petty is a must-see player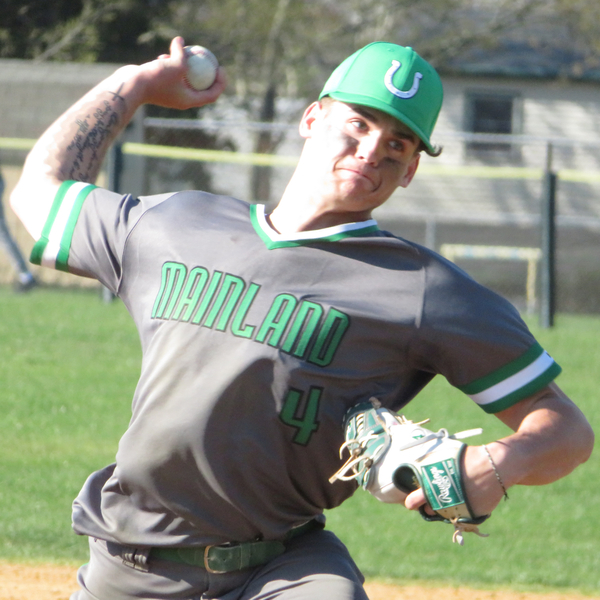 There is always a great element of excitement when a high school team has a baseball player who is considered a potential first round draft choice in the MLB draft.
When the player throws triple-digits on the radar gun, it only adds to the attraction.
That is what makes watching Mainland 6-foot-1, 185-pound senior righthander Chase Petty a must-see attraction this season.
Petty has accepted a scholarship to the University of Florida, but he is considered one of the top pitchers in the country, and that includes college players.
In its most recent mock draft, MLB.com's Jonathan Mayo, one of the leading experts evaluating top prospects, has Petty being selected No. 18 in the first round of his mock draft.
How much is at stake to be a first round pick? Well, last year, No. 18 choice Duke pitcher Bryce Jarvis signed for a $2.65 million bonus with the Arizona Diamondbacks, according to MLB.com.
So players like Petty and others in high school and college who are considered to prospects have so much at stake each outing.
Petty didn't seem bothered one bit by the pressure. In his first start last week, he pitched a complete game during Mainland's 5-2 victory over Holy Spirit in a game featuring two of the top teams in South Jersey and the state.
Petty struck out 13. He registered as high as 102 MPH on the radar gun and his final pitch of the game was clocked at 98 MPH.
"This was my game to show who I am on the mound and I did that and that was a big thing for us," an excited Petty said afterwards. "The atmosphere was phenomenal."
Oh yes, the atmosphere.
There were an estimated 50 MLB scouts in attendance, most sitting behind the plate with radar guns, monitoring each of the 89 pitches that Petty threw.
There was also an overflow crowd at the game.
It simply had a big-game atmosphere and Petty was able to deliver.
There is immense pressure on a top prospect and some thrive on it while others at time succumb to it. Petty certainly thrived in the situation.
He said he tried to block out all the scouts in attendance, but really, that is almost impossible. Still, he did a great job of concentrating on the task at hand.
When asked if he noticed the scouts at all, he said, "A little bit, but I tried to just focus and have tunnel vision with the catcher and that is really all."
Petty got plenty of attention in a preseason game against St. Augustine. He said about 45-50 scouts attended that game. He knows that there will be constant scrutiny and the players who can perform under such pressure are usually the ones selected in the first round.
Afterwards, it seemed as if Petty still wanted to pitch more.
"I feel great, the adrenaline was just rushing to my body the entire time, it was just great," Petty said. "This was by far the best experience I have had these past few years."
Article continues below
---
advertisement


---
Author:
Marc Narducci
Archives
---
Eastern and Cinnaminson are top girls' and boys' seeds in South Jersey Soccer Coaches Tournament
Healthy People, Healthy Business
South Jersey highschool football games of the week
Best of Home and Garden
Back to School
Ready to Take Flight
Bishop Eustace's Danny O'Rourke a model of stability
Who's Who in Real Estate
Special Delivery
South Jersey Football Games of the Week
Eagles saved their season with win over Carolina
A Difficult Loss
Top Physicians 2021
Phillies wasted lights-out seasons from Bryce Harper and Zack Wheeler
Another strong season for Olympic American Girls' Soccer
More...