In the Groove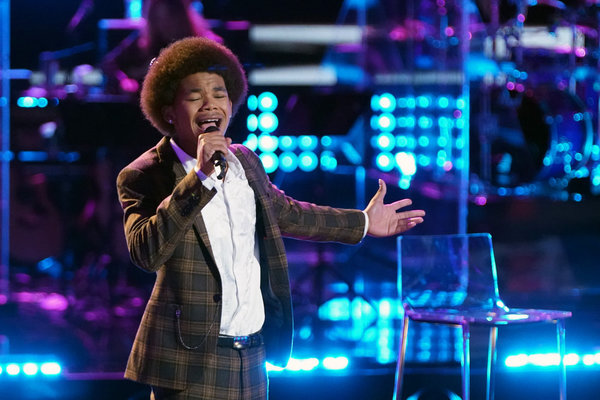 What do Blake Shelton, Nick Jonas and John Legend all have in common?
All three believe that Cam Anthony is the real deal. As judges on NBC's The Voice, all three sung the praises of the 19-year-old North Philadelphia native since the beginning of the show's 20th season, which Anthony went on to win.
"Watching this guy perform, you realize you are looking at a big star," Shelton said recently. "What's not to like about Cam's voice?"
Anthony learned the power of his voice at an early age. He was 4 years old when his parents heard him sing the Folgers jingle and encouraged him to develop his talents, which he did with help from his family and the church choir. At 11, his life took a dramatic turn when a video of him singing a Bruno Mars song went viral.
He would go on to perform on The Ellen DeGeneres Show and at The White House. He signed with Dr. Dre's Aftermath/Interscope record label at age 12, and spent his teen years recording and performing.

We spoke with Anthony about his sources of inspiration, what it's like to collaborate with an entertainment legend and his favorite thing to eat when he's back home in Philly.
Q&A
Who were some of your musical inspirations growing up?
Initially, I was really inspired by my surroundings, my family and a lot of the people that were around me. I grew up in a musical household. My grandfather was a singer and a writer, and he was in a band. I didn't get to meet him, but he passed his gifts and abilities down to my mother and my aunts. When I was younger, my mom started to train me and teach me in the church, so I got these roots from my church.
Where do you think your confidence came from as a young performer?
My confidence has come from the support of my family. And then I also just had to keep this one thing in the back of my mind, that I was doing something bigger. When I was younger, I didn't understand how much I was affecting people until I was able to see the messages and hear from people. When I started to see how music could really influence people, it took on a different light.
What are you looking for career-wise?
Music is therapy for me. It's something that speaks when I don't necessarily have the words. I feel like that's a powerful thing because it transcends all those languages. …
I am hoping to be able to make music my lifelong thing, and to be able to take my singing career to another level. I've been consistent with my growth, but I want to be able to live off this endeavor and get my family in a better situation.
Talk about working with Blake Shelton on The Voice.
Working with Blake was an awesome experience. He has a very chill demeanor, so his down-to-earth vibe took all the anxiety out of the room and he gave me room to stretch and express myself. … To be around so many amazing artists made me a better singer. I can't even imagine how different I would be if I hadn't gone through this experience. I'm 100% grateful for this.
Why did you pick "Lay Me Down" by Sam Smith for your first audition?
A lot of people can understand the idea of just wanting to be around someone that you love and to be able to be there for them in the ways that they need you to. I could relate it to my uncle who passed away in 2018, who I didn't get to spend as much time as I wanted with. It was also about understanding that a lot of people have just gone through a lot over the past year, and I think
it was a good song to just send out with a nice message.
What are a few of your favorite places in Philadelphia?
I have a lot of nice childhood memories. I like to go to Kelly Drive just to clear my mind. … I've had some really good Thai food in Philly. I like to get the shrimp pad thai, and I enjoy going to Max's for one of the best cheesesteaks ever.
What advice would you give someone who wants to get on The Voice?
I would say you need to take your time to figure out what you want and who you are and how you want to be perceived before you decide to jump into this.
Click here to subscribe to the free digital editions of South Jersey Magazine
To read the digital edition of South Jersey Magazine, click here.
Article continues below
---
advertisement


---

Published and copyrighted in South Jersey Magazine, Volume 18, Issue 7 (July 2021)

For more info on South Jersey Magazine, click here.
To subscribe to South Jersey Magazine, click here.
To advertise in South Jersey Magazine, click here.

Author:

Debra Wallace
Archives
---
Who's Who in Health Care
Former Shawnee star Doolittle Calls It A Career
Camden County College welcomes Baseball Hall of Fame
South Jersey Football Games of the Week
Out & About
QB Ronnie Borden is Back in the Game
Should fans be worried for the Phillies bullpen?
South Jersey Football Games of the Week
A look at South Jersey's Top H.S. Girls' Soccer Teams
Out & About
Eagles will be fine after close call in opener
High School Football Games of the Week
Is it Super Bowl or bust for the Eagles?
What's New in South Jersey?
From New Jersey to Nashville
More...