Ben Simmons uncomfortable stay with the 76ers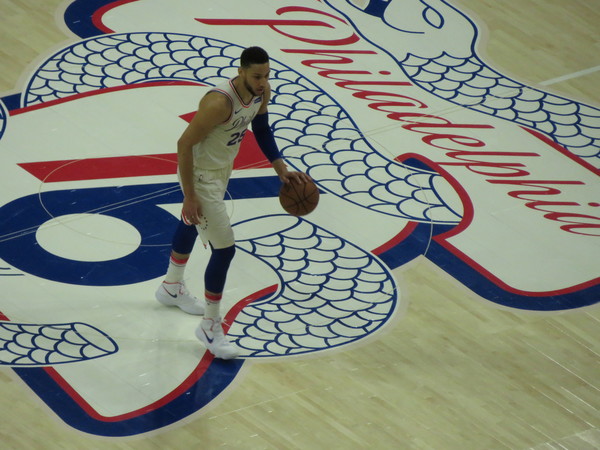 There were many predicting that Ben Simmons would be traded by the 76ers during last week's NBA draft, but it should have come as no surprise that he is still with the team.
Most feel that Simmons will eventually be dealt but it made no sense to do it now and the reason is simple.
The one player that the Sixers are targeting the most is Portland Trail Blazers six-time All-Star guard Damian Lillard.
While there have been rumblings that Lillard wants out of Portland, he said prior to the Olympics that he has not made up his choice.
One of the reasons he is so desirable is that he has three years remaining on his contract, plus a player option in the fourth season for $54.25 million, according to Hoopshype.com salaries.
Lillard is playing the best basketball of his career, which is saying something.
He just turned 31 so any team acquiring him may see some decline toward the end of the contract, but it shouldn't be dramatic. He keeps himself in excellent shape and is hungry for a title.
Pairing Lillard with Joel Embiid would be a dangerous duo.
As for Simmons, it would be difficult to see him coming back to the Sixers. While there were leaks that his value was high, nobody has made an offer yet to the liking of the Sixers.
We also have our doubts about how high his value is.
Yes, Simmons is already a three-time All-Star and he just turned 25, but his struggles in the playoffs, especially this past season, have to make teams pause.
Simmons shot just 25-for-73 from the foul line this past postseason (34.2 percent). He was even worse in the seven-game Eastern Conference semifinal loss to the Atlanta Hawks, hitting just 15-of-45 (33 percent).
The free throw shooting affected his entire game. Simmons will forever be reminded of the dunk he wouldn't attempt in the Sixers' Game 7 loss to the Hawks.
It was apparent that Simmons was afraid to shoot in late-game situations because he didn't want to go to the free throw line. During the seven game series with Atlanta, he attempted just three fourth quarter field goals and none in the last four games.
While many are suggesting that a change of scenery is needed, if Simmons doesn't regain his confidence, his value won't be as high as the Sixers seem to think at the moment.
There are many things to like about Simmons' game. He is a two-time first-team all-NBA defensive selection and was runnerup for Defensive Player of the Year this past season. At 6-foot-10, he has the ability to defend any position on the court.
During the Atlanta series, he was often beaten off the dribble by Trae Young, but there might not be any defender in the NBA who can constantly stay with the Atlanta point guard.
Simmons also is a great rebounder and can become a one-man fast break. He is explosive taking it to the basket, although doesn't always finish well.
He has great passing ability, the type of unselfish teammate that most would love to play for.
Yet, his reluctance to shoot the ball, especially in the playoffs, has been a detriment. In the playoffs, the transition opportunities are often fewer as the game slows down.
Too many times, with Simmons on the floor, the Sixers were playing 4-against-5 on offense.
Teams weren't worried about guarding Simmons and that enabled them to double-team Joel Embiid.
So now it will be a game of chicken between the Sixers and prospective trade partners.
Still, until the Lillard situation is determined, we would expect the Sixers to wait things out.
Article continues below
---
advertisement


---
Author:
Marc Narducci
Archives
---
Just Getting Started
South Jersey Coronavirus (COVID-19) Developments (January 14)
Big Season for Timber Creek grad Devin Leary of N.C. State
Camden-Lenape highlights the best of South Jersey boys' basketball
Just Getting Started
Growkowski, Jalen Hurts the two big keys in Eagles-Bucs playoff
Women to Watch 2022
Bringing out the Best
Top Children's Physicians 2022
Girls Basketball Tournament recap
Top Attorneys 2021
Stealing the Show
South Jersey Coronavirus (COVID-19) Developments (January 4)
Boys basketball tournament recap
Back on Top
More...