Sixers and Ben Simmons have plenty of training camp intrigue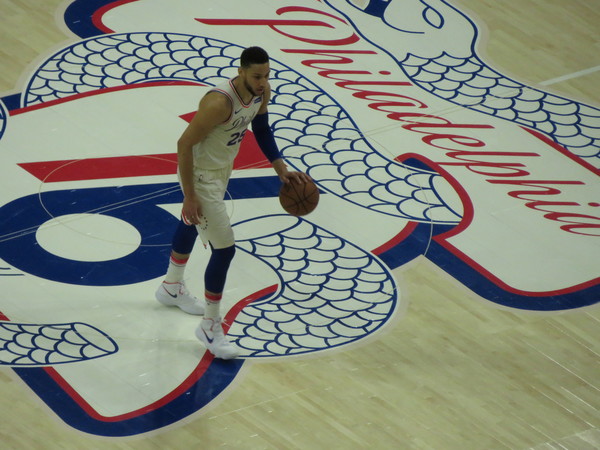 It was earlier reported by outstanding beat writer Keith Pompey of The Philadelphia Inquirer that Simmons no longer wants to be a Sixer and doesn't plan to report to training camp.
So now the simple question is what happens?
There is no simple answer.
There have been many reports that Sixers president of basketball operations Daryl Morey has put a high price on a Simmons trade.
Those reports came before it was known that Simmons wanted out.
One thing is for sure – Morey and by extension the Sixers, haven't been behind Simmons for quite some time.
It is no secret that the Sixers tried to acquire James Harden at the trade deadline from Houston, with Simmons as the main part of the proposed deal. The Rockets, of course dealt Harden to the Brooklyn Nets.
Simmons' struggles are well documented. Throughout his Sixers career, he has struggled mightily during the second round of the NBA playoffs.
This year it hit its peak when he shot 15-for-45 from the foul line in the seven-game series loss with the Atlanta Hawks.
The knock on Simmons was that he wouldn't attempt three-pointers, but against the Hawks, he was afraid to shoot from all distances, for fear of going to the foul line.
When he famously passed up a dunk in Game 7, it was a sign of a player who had lost total confidence.
Then there was the comment after the game by coach Doc Rivers. When asked if a team could win a championship with Simmons at point guard, Rivers responded, "I don't know."
Simmons obviously feels the team isn't backing him, but it was Rivers who defended him like no other person throughout the entire season.
And to be frank, what has Simmons done to deserve the team's backing?
Up until the Game 7 loss, Rivers had constantly said that Simmons didn't need to shoot, that he did so many other things to help a team win and the coach was right – in the regular season.
Simmons, 25, is a three-time All-Star, a two-time first-team all-NBA Defensive selection and this year was runnerup for NBA Defensive Player of the Year.
That said, it's difficult to imagine Simmons ever playing another game with the Sixers.
So what should the Sixers do?
Simmons would be fined heavily for holding out. If he attends training camp, Simmons would be a major distraction.
The conventional wisdom is that if the Sixers traded Simmons before training camp, that they would be getting 40 cents on the dollar.
So don't expect Morey to make a trade that he doesn't consider advantageous.
What would help all parties is if Simmons reported. His value would be higher if he comes in and plays well, something he has done in the regular season. This doesn't appear likely to happen.
It's hard to see the fans getting in Simmons' corner and that is part of the problem.
Simmons always says he isn't concerned about what the fans say about him, but nothing could be further from the truth.
One of the reasons it seems that he has been a reluctant shooter even before the recent free throw woes, is that he is afraid of failure.
That is why in his four seasons he has only attempted a total of 34 three-pointers.
And if Simmons doesn't care about what people think, why have there been videos released the past few summers, including this year, or him making jump shots in the gym.
While it has been suggested that Simmons didn't release the videos of him shooting this summer, if he didn't want them out there, they wouldn't be.
The other mistake Simmons made this summer was not competing for Australia in the Olympics. He could have done wonders to increase his reputation. Simmons, instead said that he wanted to work on his game.
Was he afraid of possibly failing on an international stage?
Instead we saw photos of Simmons with a girlfriend at Wimbledon.
There are plenty of teams that would trade for Simmons, but not for what they feel is an inflated price.
So this is a game of chicken and we will see who blinks first.
What appears abundantly clear is that Simmons has played his final game as a Sixer, which is best for both parties at this point.
Article continues below
---
advertisement


---
Author:
Marc Narducci
Archives
---
Who's Who in Health Care
Former Shawnee star Doolittle Calls It A Career
Camden County College welcomes Baseball Hall of Fame
South Jersey Football Games of the Week
Out & About
QB Ronnie Borden is Back in the Game
Should fans be worried for the Phillies bullpen?
South Jersey Football Games of the Week
A look at South Jersey's Top H.S. Girls' Soccer Teams
Out & About
Eagles will be fine after close call in opener
High School Football Games of the Week
Is it Super Bowl or bust for the Eagles?
What's New in South Jersey?
From New Jersey to Nashville
More...